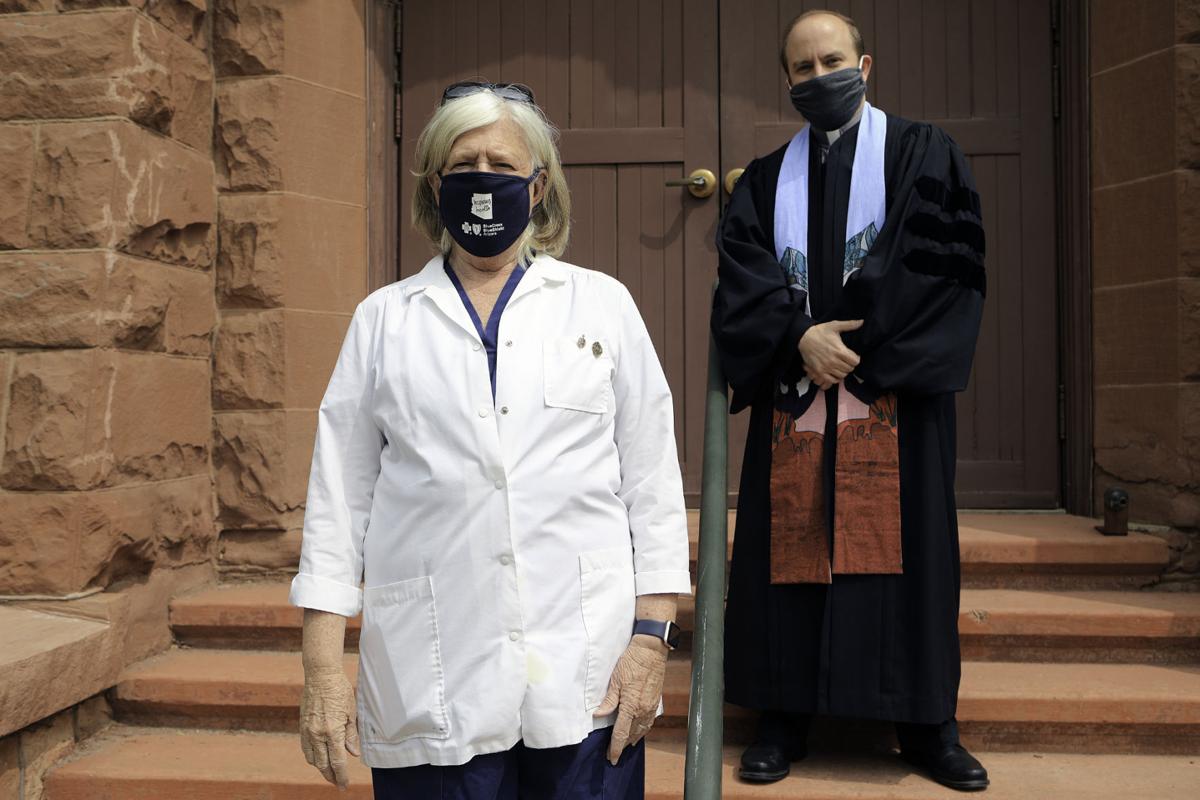 Medical perspectives seem to be needed almost everywhere as organizations attempt to reopen safely during the continuing COVID-19 pandemic.
Churches are no exception.
For Susan Rieck, longtime Flagstaff nurse and Flagstaff Federated Church's new faith community nurse, her role is different than expected in response to COVID-19, but still valuable to members of the congregation and church leadership.
Early this summer, Rieck was trained in faith community nursing through a class held virtually. Since then, she's been helping the church adapt to COVID-19 health and safety standards, incorporating science with faith.
"In nursing, we're very aware that we want to support the whole person, which includes the spirit, and we're pretty careful to support whatever that looks like for that individual. In faith community nursing, as well, we're going to support that person's belief systems," Rieck said.
Rieck is far from inexperienced for this volunteer role. She's been a nurse for more than 50 years, having practiced at Flagstaff Medical Center and other health centers across the state. In 2010, she retired from Northern Arizona University after 20 years of mostly teaching but also serving as the assistant dean of the School of Nursing. As Rieck settled into retirement, she continued teaching nursing assistants as well as pre-nursing high school students through Coconino Community College's CAVIAT program. She is also currently a nurse with the American Red Cross.
But in all that time, Rieck has never really focused on community nursing — until now.
"When I retired, I became interested in pursuing my faith and so I joined Federated Church and at that time, I thought that would be a good combination for nursing and faith for me," Rieck said.
She completed a class on the nursing specialty through Duet, a nonprofit, interfaith organization that primarily serves older adults in greater Phoenix. The class is available to registered nurses with active licenses and has been approved as continuing nursing education hours. The next session will be offered in January.
"Historically, nursing was so connected with the spiritual aspects of humanity and so it sort of brings us back to where we started," said Anne Varner, the interim director of congregational health at Duet. "The faith community nurse serves as a health educator, personal health counselor and advocate. They facilitate and help support programs and act as an interpreter between health professionals and the congregant."
Varner said during the pandemic, such nurses in Arizona have replaced home visits with regular phone calls to high-risk congregants. They have also hosted flu clinics and helped complete temperature checks and health screenings of visitors at churches that have reopened.
In Flagstaff, Rieck has been focused primarily on helping develop the church's reopening plan, which she said is a challenge for the church's close pews and older congregation. She has also been contributing to church newsletters and is in the process of creating a video training for caregivers of people with dementia. Though she has offered her general support to church members, she said many of them already have resources to help with their medical care.
"I think a lot of our congregation, they're doing pretty well, but in other congregations, the faith community nurse is doing a lot," Rieck said. "If you've got someone who doesn't have family or close friends to be supportive of them, then they may look to their faith community and then the faith community nurse to support them during COVID or during life in general."
Going forward, Rieck intends to focus on offering more health promotions, such as when, before Flagstaff Federated Church was closed in response to the pandemic, Rev. Jonathan Scanlon invited Rieck to give a presentation on handwashing at the start of a service.
"It was an excellent presentation, everyone was fully engaged," Scanlon said. "I know it sounds silly, but how often do we really think about how best to sanitize our hands, get in all the cracks between our fingers and get our fingernails clean?"
He said Rieck's experience in both nursing and administration has helped bring a valuable perspective to the church board on how to keep the congregation healthy, according to the science on the coronavirus. In more normal circumstances in the future, he said Rieck might help patients review treatment plans when they return from the hospital and just listen to their concerns as they determine how to care for themselves.
"We believe healing has to involve both the spiritual side as well as the medical and medicine side — healing the soul as well as the physical body," Scanlon said.
He added that, beyond experience, Rieck has the perfect personality to pilot what they both hope will be a lasting local initiative pairing health and faith.
"I do see my role at Federated as branching out into the community, especially where we're located," Rieck said, mentioning the needs of people experiencing homelessness, who often approach the church because of its location downtown and could potentially benefit from health advice. "I do see and have that vision for my role as the faith community nurse, expanding into the community beyond the congregation."
Concerned about COVID-19?
Sign up now to get the most recent coronavirus headlines and other important local and national news sent to your email inbox daily.