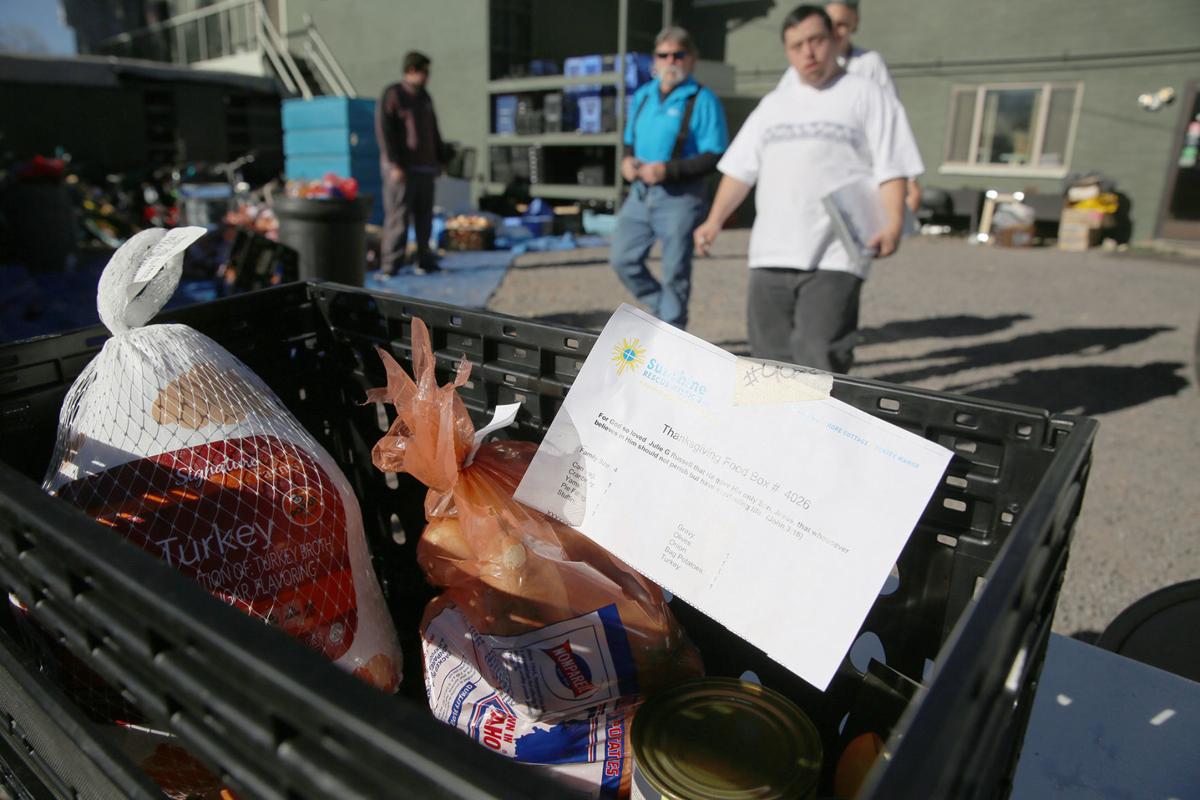 Like the story being told by many across the country, these past few months have been unprecedented for the Sunshine Rescue Mission.
The mission allowed seven of its guests to isolate in the downtown shelter for two weeks after four people tested positive. During that time, the shelter's doors were shut to the public to isolate those guests and prevent anyone that could be infected from coming and going. The women and children's shelter at Hope Cottage saw people bunker down during the coronavirus, and the mission's food program became strained during the national food shortages.
The last day of the downtown shelter's two-week isolation ended Wednesday. Now the shelter is looking to reopen its doors to its normal capacity Monday after the four people came back from quarantine at Hotel Aspen, according to Shaun Rost, director of the downtown shelter.
The location on South San Francisco Street was the only shelter within their properties where people tested positive. The Sunshine Rescue Mission manages the men's shelter downtown, their women and children's shelter at Hope Cottage, and Dorsey Manor, which is being used as a place to isolate people vulnerable to COVID-19. The mission also uses their three properties to serve food, which has been in high demand as many people have leaned on nonprofits around the city for food, shelter and financial assistance.
"The people who stay with us have value. They are worth us doing everything we can to protect them and provide not just a bed and a meal, but safety and a safe place," said Sharon Rose Wilcox, director of Hope Cottage.
In early May, 30% of the homeless people at Flagstaff Shelter Services tested positive for the coronavirus. The shelter was able to find enough funding to move people into 175 motel rooms for the time being to provide them the resources needed to safely maintain social distancing measures.
Many people who are housing insecure that tested positive were sent to Hotel Aspen for being asymptomatic or having mild symptoms, causing a spike in capacity.
The shelter
In response to similar fears of an outbreak, Sunshine Rescue Mission took early precautions by cleaning more and testing temperatures of people entering their facilities.
Additionally, the mission reopened their Dorsey Manor location to help their vulnerable population isolate safely, Rost said. The location was temporarily closed while the mission searched for the funds to remodel it.
No one at the Dorsey Manor location has tested positive for the coronavirus at this time.
The downtown shelter allowed guests to enter a voluntary isolation period for two weeks in their shelter after four guests tested positive at the South San Francisco location. In total, the group had tested more than 50 people, Rost said.
Rost said the shelter was unable to test all of their staff and homeless guests during their first round of testing. The shelter was eventually able to do more testing over the next few days. Anyone who had not been tested was unable to enter the shelter during the isolation period.
He said seven of the people who tested negative elected to be isolated in the shelter for the past two weeks, while others decided to leave.
"I'm very happy," Rost said. "I didn't like the [isolating] in the first place, but we felt it was the best thing to do to keep everything safe."
Food services
The Sunshine Rescue Mission uses 97 tons of food per year through donations.
But during the early weeks of the coronavirus pandemic, many people took to the grocery stores and left shelves bare. Because of the community's food scarcity, for the first time since the mission was created in 1957, they were unable to rescue enough food for all the people they feed, according to executive director Kathie Knapp.
"We saw an 80% decline in food supply that is a vital lifeline for our existence, for everything we do," Knapp said.
Knapp explained the mission did not want to rely on local food banks because they were already feeding so many in the area, so they turned to Phoenix. Mission drivers were making two trips to Phoenix per week to bring about 1,200 pounds of food at a time to serve the community. Since then, the community has begun to help them fill their need.
"We've seen various different organizations, individuals, churches that are bringing food, preparing food, calling us and saying what do you need? We know the need is high, what do you need?" Knapp said. "There's been an incredible outpouring of support from all of northern Arizona."
Hope Cottage
Sunshine Rescue Mission leaders report that no one at Hope Cottage has tested positive throughout this pandemic.
Wilcox said many of the women looking for emergency shelter recently have lost their jobs when the businesses closed their doors or shifted to skeleton crews.
The cottage only has the capacity for 60 to 65 women and children. Wilcox said last week there were 20 to 25 people using the cottage.
As news about the coronavirus was first spreading, many guests were scared to leave because they had nowhere else to go.
"For the first time in the organization's history, we stayed the same. It was the same group of people that were together for an extended period of time," Wilcox said. "We typically have people come, stay a few days, they leave, and somebody else comes. There's normally a certain amount of turnover in the house. That was not happening."
Similarly, Wilcox said its normal pool of volunteers was reduced after Northern Arizona University students left the campus and people decided to stay home. Wilcox said she would be happy to find work for any potential volunteers that would maintain social distancing.
Knapp said more volunteers and any financial support would help them manage the increased costs in facility maintenance and the increased reliance on their meal program. She said the community that has already donated has really helped them weather the crisis and continue to focus on their mission.
"Yes, we offer emergency shelter, but our driving force is to try to help people heal and recover from whatever it is that put them on the street in the first place," Knapp said.
Concerned about COVID-19?
Sign up now to get the most recent coronavirus headlines and other important local and national news sent to your email inbox daily.