Sometimes needed support can be found without leaving the house, as revealed by a number of graduating Summit High School students, who credit their families for shaping their past and future as they leave high school to seek careers.
Taking advantage of Summit's online classes, Rhyan Alipio, 17, will be graduating from high school a year early, allowing him to walk with his older sister in Summit's commencement ceremony Thursday evening.
Alipio's experiences have taught him that home is where family is. He moved to Flagstaff when he was in sixth grade, after spending three years with his grandmother and cousins in the Philippines, and next year, both he and his sister will move to Chandler to live with their aunt and continue their education.
Alipio will attend Chandler-Gilbert Community College starting in the fall and is interested in joining the military or becoming an assistant pilot or video game designer.
"My plan was to join the military after high school, but my aunt and sister said I should try community college before I go into the military, so I'll try it. If college isn't for me, I may still join the military," Alipio said.
Of all the places he has gone to school, Alipio said Summit has been his favorite so far. He said his most memorable course was a survey class where he learned advanced mathematics as well as practical information like how to keep good credit and business economics.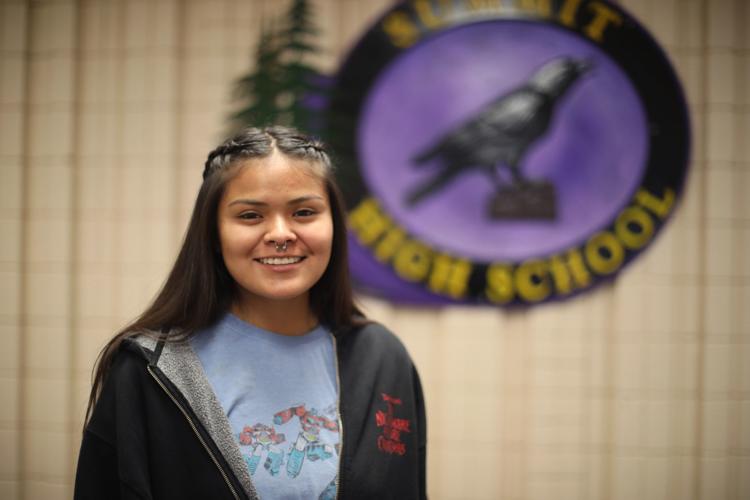 Family has influenced 17-year-old Netanya Sheppard's post-high-school plans, too, not just in choosing where to live, but also in what career to path to take.
She said she hopes to use her math skills in the future, no matter what her job title may be.
"I'll be working at GORE, that's the goal. My mom, dad and auntie all work there," Sheppard said.
In the fall, Sheppard will be attending Coconino Community College. She said this option was not only affordable, but will also allow her to stay close to the family that has always supported her, especially when balancing life and school became overwhelming.
Sheppard said she is most thankful for her high school friends, who also supported her in times of difficulty. Even though she transferred to Summit from Coconino High School, she said she has remained close to the friends she made during her time there, she said.
For Khandeja Lee, 18, overcoming her own challenges is essential to helping others.
During her high school career, she stopped attending school for about six months; however, Lee remained committed to her education and has since taken extra classes to make up for the lost time.
"They told me I wouldn't be able to graduate with my class, but then I was determined to get my diploma and do all my schoolwork, so I proved them wrong and now I'm here, graduating on time," she said.
She is eager to start a career in the medical field, despite her struggles with math. Instead of being dissuaded from this goal, she redirected her focus from nursing to becoming a medical office assistant.
Lee will attend CCC in the fall to stay close to family while completing a certificate in this topic, becoming the first in her family with a college education.
"I just want to help people and be there in the nurse's office or doctor's office and I want to do something related to health because it seems really interesting," Lee said.
Her advice for other students is to never give up.
"It's never too late to get back in school," she said.