Like a planet in orbit, students and staff continue to return to the Lowell Observatory Camps for Kids (LOCKs) year after year.
Lee Rodriguez, 17, has been participating in the camp every year since she was in fourth grade, during her family's annual summer trips to Flagstaff.
"It was nice meeting other kids that liked science. I loved it right away," she said.
After middle school, when Rodriguez aged out of the program, she was able to continue returning to the camp every summer when she became the first "counselor in training."
Rodriguez, who will be a senior at Perry High School in Gilbert this fall, hopes to eventually attend Northern Arizona University and could see herself working at Lowell full time one day, maybe as a historian.
"It's really encouraging to see the new generation so excited about this stuff and working together. It just gives you a lot of positivity," Rodriguez said.
Though the science taught at the camp remains largely the same year to year, students and staff like Rodriguez continue to participate, eager to experience the science, people and history that define this mountaintop retreat.
"We want to build confidence in these kids who feel like they are nerdy or outcasts, to show them that we are all family here, we all care about each other and, most importantly, we want them to learn and have fun," Camp Director Kelly Ferguson said.
Ferguson became the education coordinator at Lowell after moving to Flagstaff for graduate school, where she studied planetary science. She has participated in LOCKs for five years and has been the camp director for three.
"I got to merge my two passions in life, which is being outside, hanging out with kids and science. Those two together are the perfect combo for me. My favorite part is seeing them getting as much excitement about science as I had when I was a kid – as I do now," she said.
Every summer, more than 200 preschool- to middle-school-aged children participate in the programs which focus on topics from coding to the possibility of life on other planets.
"I thought a galaxy had just stars and gas and dust. I learned that it had planets in it and there are sometimes swirly things in it and a big ball in the middle – a bulge," said LOCKs newcomer Kiana Foster, 8, who will be a third grader at Sechrist Elementary in the fall.
Each camp session culminates in a large project that students can take home, including depictions of the Milky Way and sensors coded to calculate temperature, humidity and light.
When not working on their projects or learning the lessons needed to complete them, students can be found developing their teamwork skills at the observatory's Jill Allen Challenge Course, where one student will give directions to the group to balance a giant teeter-totter, while at another station, pairs of students lean on each other to shimmy down V-shaped suspended ropes that gradually pull them farther apart.
You have free articles remaining.
Register for more free articles
Stay logged in to skip the surveys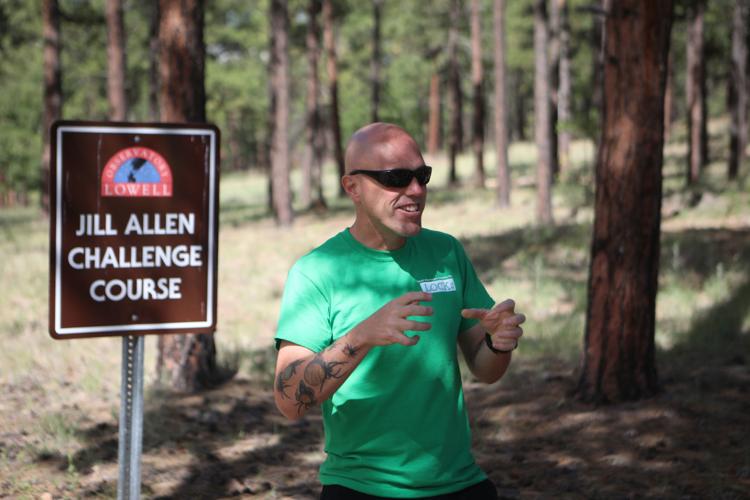 "This challenge course is pivotal for building teams," Todd Gonzales, Master Teacher at Lowell, said. "It creates these huge bonds that you just couldn't get anywhere else as fast as they do here."
Cole Feuguay, 10, is a student at San Francisco de Asis Catholic School and a third-year visitor to LOCKs. He said he first became interested in science when he was gifted a chemistry set.
"I am so interested in space. I want to be the first person to go beyond the universe," Feuguay said.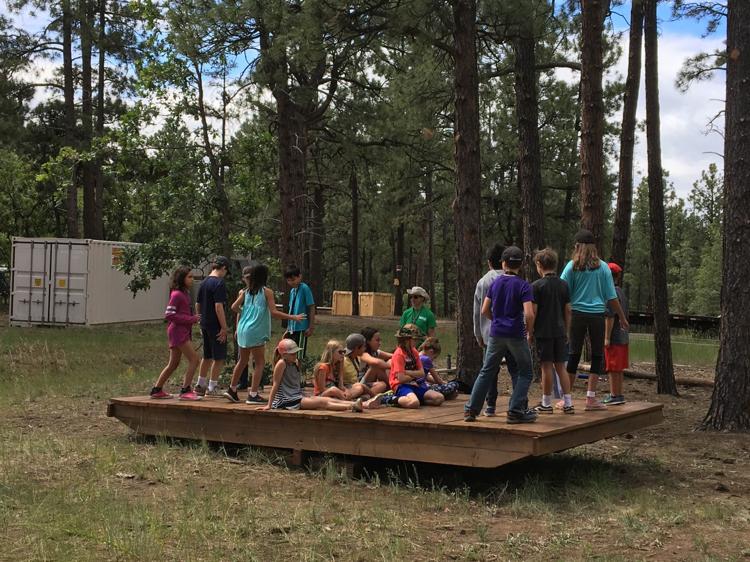 In addition to Flagstaff residents, LOCKs has also attracted astronomy aficionados from other countries.
Rosanelly Castillo Gutierrez, 10, lives in northwestern Mexico, but spends the summers in Flagstaff while her mother teaches at Northern Arizona University. She and her sister have now attended the camp for three years.
Staff, too, have traveled hundreds of miles from home to find their niche in LOCKs.
Alma Ruiz Velasco, a multicultural outreach astronomer at Lowell, is from central Mexico and first joined the observatory as a researcher after receiving her Ph.D. in astrophysics.
She soon realized, though, that her heart was no longer in academia. Velasco wanted to get involved in public programs and said, when she first started to help with LOCKs three years ago, it changed everything.
"It's so different from the academic environment. The kids are so honest, so naturally curious and they are also very loving. We get to show them that if they want to go into science, they can. It's not something impossible," Velasco said.
Camp leaders are working to create a LOCKs program for spring break next year and to expand the next summer camp to hold more age groups at once for families with more than one child interested in participating.