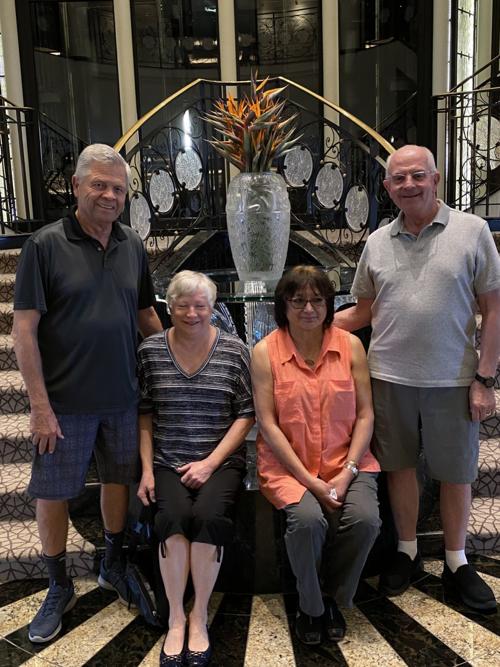 Imagine, in this fraught time of coronavirus contagion, being aboard a cruise ship, seemingly adrift at sea somewhere in the South Pacific and without a port at which to dock, for going on 27 days now.
Sounds like fresh hell, right?
Four Flagstaffians — Carl Clark, Vicky Vasquez and Abby and Holger Seidel — have been stuck on a luxury Oceania Marina cruise ship a full week after their scheduled 20-day excursion was supposed to have concluded. But with ports in Peru and Chile closed due to COVID-19 concerns, the ship has turned back north and is expected to pass through the Panama Canal on the way to finally docking in Miami on Monday.
But as ordeals go, Clark said, their confinement on what he calls a top-notch cruise ship with excellent service and scrumptious food has hardly been a burden.
"It's been good," Clark said via cell phone from his stateroom on Thursday, as the Oceania Marina sailed off the coast of Panama City. "The quality of the food and the type of the food and the service has not changed since the cruise ended six days ago. The service, housekeepers, is just like we were still on the cruise. We're not confined to the cabin. It's just like normal.
"Everybody on board seems to be comfortable with each other because we've been made to feel that coronavirus is not on the ship."
In fact, Clark said the 1,200 passengers remain free to roam the two decks, dine in the five-star dining room, which the cruise line's website says features gourmet French, Italian and Asian cuisine along with a vast wine and scotch/whiskey list. And passengers are still allowed to mingle and take in shows at the 800-seat auditorium with, apparently, barely a concern about being exposed to the coronavirus.
Actually, it won't be until the Flagstaff residents are supposed to return home on Tuesday that they'll be subjected to the social-distancing measures, restaurant and entertainment closures that the rest of us that lived with this past week. That said, come Tuesday, it will have been a month since the ship embarked from Buenos Aires on a three-week tour, so, yeah, Clark will be happy to return to terra firma.
Even if it means the 73-year-old retired Northern Arizona University professor will be holed up in his Flagstaff home rather than dining out, as is the case onboard, and join the struggle for toilet paper at the grocery store like the rest of us.
This was Clark's first cruise, and he was sort of talked into it because his travel agent promised it would be easier to navigate visiting the glacier of Chile off of Cape Horn than by taking a land route. What no one could have imagined, when he booked passage months ago, was that the ship would be denied entry first in Lima, Peru, and Santiago, Chile — both of which closed their ports this past week due to health concerns. Panama, too, has denied the ship permission to let passengers disembark, so it's on to Miami this weekend.
"Every day has been a new challenge, but I can't say enough about the cruise staff," Clark said. "They've gone well beyond what any of us passengers would have expected of them."
Unlike the fate of other cruise ships, such as the Grand Princess that was forced to anchor for days at the mouth of the San Francisco Bay and the MS Braemer that was refused entry to several Caribbean ports due to sickened passengers, there are no reported cases of COVID-19 on the Oceania Marina ship.
At least, that's what Clark infers. And the fact that passengers are allowed to roam the ship freely indicates as much. So, essentially, Clark and friends could have endured much worse fates.
"They haven't come right out and said this, but the feeling is they have a safe ship and they want to keep it safe," Clark said. "I'm guessing they're saying that if somebody on board has the virus, they were either quarantined early or the other option is that nobody on board has the virus."
Still, Clark said, it has been comforting to know that the cruise ship has taken what he deems prudent and necessary sanitary precautions just in case.
"They have people who are monitoring who goes into all the restaurants, and they make sure (passengers) use hand sanitizer before going in," Clark said. "They won't put much in the way of dinnerware on the table until we arrive. After the table you're sitting at is used, they come in with disinfectant and wipe the chairs and table down. They change the tablecloth and make sure we have clean, sterile utensils. The food is buffet now, but the passengers handle no food. The staff puts it on the plate and hands it to you."
Though he and his friends are comfortable aboard the ship, hasn't cabin fever set in while nearing a month at sea?
"I don't think our cabin fever has been bad," Clark said. "Many cabins on board have a deck, so at least we're able to go outside on our personal decks. There are two open decks on the top of the ship. We all have views everywhere. Sometimes the view is only the ocean, but sometimes it's beautiful. And there's constant entertainment on the ship."
Clark says he's been keeping track of Flagstaff news via the Daily Sun online and from friends on his Facebook page.
"Saw you guys got about 10 inches of snow," he said, slightly amused. "In Panama City today, it's 90 (degrees) out. But humid. Walk outside and your hair curls."
Concerned about COVID-19?
Sign up now to get the most recent coronavirus headlines and other important local and national news sent to your email inbox daily.