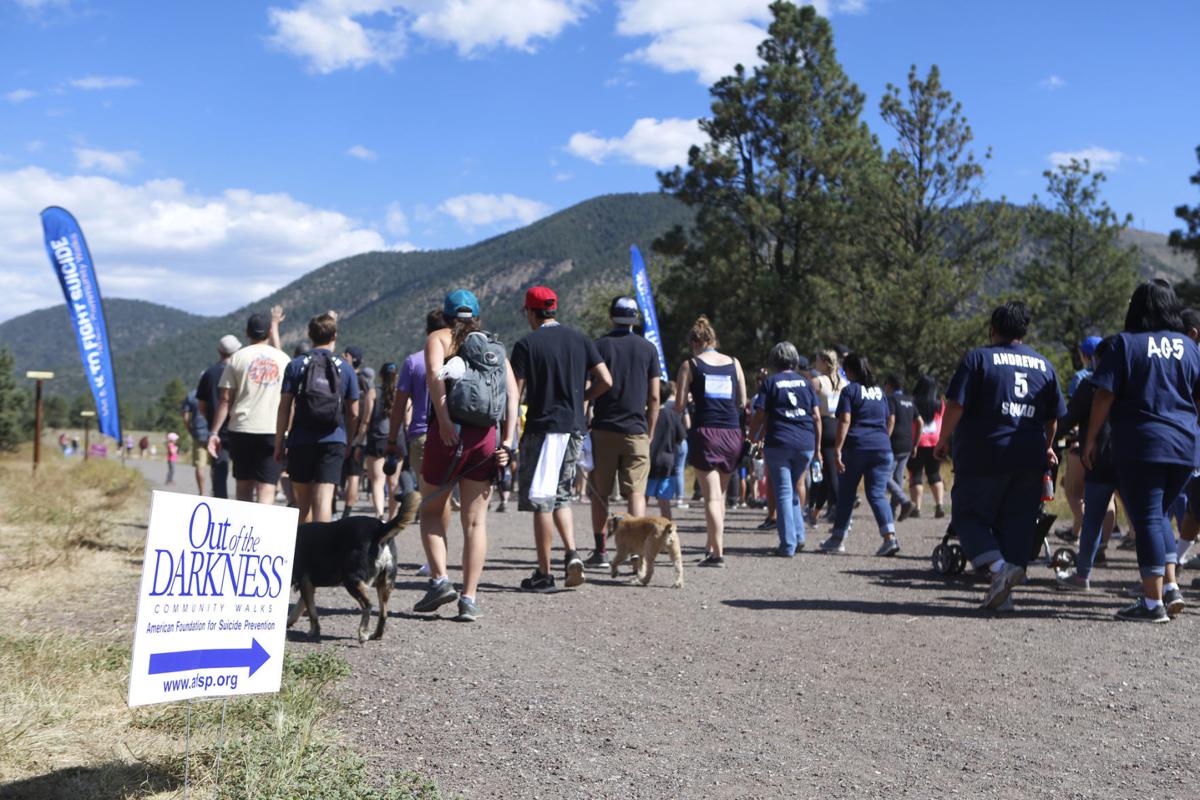 Flagstaff community members have been moved to action because of the severity of one particular mental health crisis: suicide.
According to a Coconino County Public Health Services District report, the suicide rate in Coconino County is higher than both the state and national rates. In 2018, there were 43 recorded deaths by suicide. Nearly half of the suicide-related hospital visits in the county between 2010 and 2015 were for people ages 10 to 24.
To combat these statistics, community leaders in the areas of government, health, education and business have joined to form the Stronger as One Coalition, a group that aims to increase the knowledge base and local resources for mental health.
The coalition is the product of October's Stronger as One Symposium, a community discussion about mental health issues in northern Arizona hosted by the Northern Arizona Healthcare Foundation and the NARBHA Institute.
Symposium participants started the coalition, which now has five committees – Mental Health First Aid, Teen and Young Adult Mental Wellbeing, Communication, Services and Data. Participants include representatives from the City of Flagstaff, Coconino County, Flagstaff Police Department, Coconino County Sheriff's Office, Flagstaff Unified School District and more.
"There was this feeling across agencies in our communities and across law enforcement that we needed to come together to more formally confront, recognize and understand how we bring hope and resources to the conversation to really help those who are in crisis and those who respond to crises build capacity in our region," said Art Babbott, chairman of the Coconino County Board of Supervisors.
Although the coalition is still young, it has shown considerable progress in gathering community resources and providing trainings.
Deputy County Manager Marie Peoples, chair of the data committee, said its more than 50 members will analyze the ongoing need for mental health resources as well as the coalition's progress using data from the county health department. Peoples said the group hopes to create an interactive dashboard so other organizations and the public can track this data, too.
The Teen and Young Adult Mental Wellbeing group is also gathering information from the youth it works to serve.
"They're really directing us on the next steps on how to take care of them, and I think that's quite beautiful," said Flagstaff Councilmember Jamie Whelan, chair of the committee.
By establishing a consistent monthly meeting and speaking with schools, Whelan hopes the group will be able to incorporate diverse student voices.
TRAINING
Much of the coalition's progress has been made in the area of Mental Health First Aid, due to commitments from law enforcement and other communitywide organizations.
Matt Eckhoff, donor relations officer at Northern Arizona Healthcare Foundation, says properly responding to mental health crises is as essential as CPR, and should be as widely taught.
Mental Health First Aid is one answer. The free, eight-hour training program teaches participants how to best respond in mental health emergencies. It covers topics including developing mental health problems like depression and eating disorders, as well as mental health crises like suicidal behaviors, panic attacks and aggressive behavior.
Stronger as One's goal is to train "50 in five in five": 50,000 people (less than 10% of the population of northern Arizona) in five years across the five northern Arizona counties.
Coconino County Sheriff Jim Driscoll and Flagstaff Police Department Chief Dan Musselman, who chair the committee, have contributed to this goal by working to train their entire staff, not just those who are out in the field.
This process started years ago for both groups, Driscoll said, because he and Musselman recognized that law enforcement is often the first point of contact for someone experiencing such a crisis.
Their collective staffs were trained in mental health first aid about three years ago; however, due to turnover and attrition, the number of employees with this training had dropped significantly, so both Driscoll and Musselman have started the process over again.
Now, 80% of Driscoll's current staff -- more than 200 people -- are trained in mental health first aid, including a few who are qualified to teach the class themselves. He wants to use these trainees to teach local government and the public.
"The more people we can educate to recognize mental health crises, the better off we will be," Driscoll said. "Hopefully we don't leave a lot of cracks out there for people to fall through."
FUSD has contributed to the goal by training more than 300 of its teachers and staff with a youth-specific mental health program.
Eckhoff said the coalition has discovered a potential source of funding for the course textbooks, which participants can take home with them for future use, and will also be preparing an additional 30 trainers in early May. These additional resources should increase the number of available trainings, which hold up to 30 people each.
"It's a very important vision and a very important approach that's going on so that mental health and well-being are considered just as important in a holistic approach to health as physical challenges," said Dr. Mark Carroll, the NARBHA Institute's chief health officer.
Get local news delivered to your inbox!
Subscribe to our Daily Headlines newsletter.