Several state representatives, county, city and forest service officials packed into a room in the NACET building just south of Buffalo Park Wednesday morning.
Two years earlier, the same room had bustled with activity as the county and city used it as a headquarters and communication center during the Museum Fire that burned in the Dry Lake Hills north of Flagstaff.
Now, several months after Flagstaff resident's experienced extensive post-fire flooding off of the Museum Fire burn scar, the space was the location of the second meeting of a Arizona House of Representatives ad hoc committee.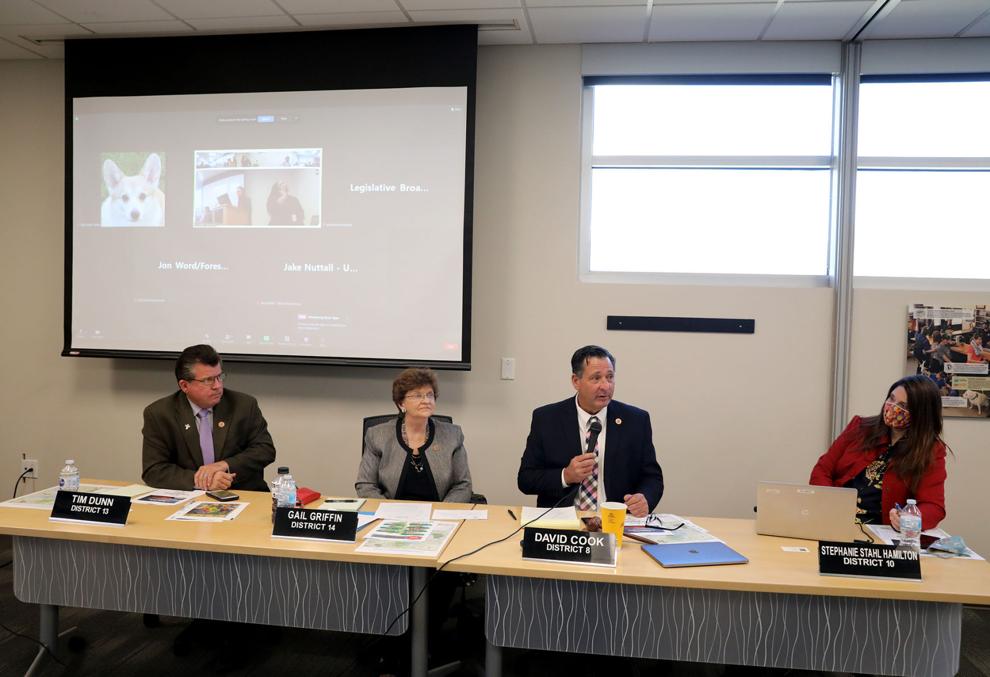 According to its chair, Rep. David Cook (R-Globe) the committee is looking to review the approach to wildfire within the State of Arizona, and appears to be largely aimed at the U.S. Forest Service.
After touring the state and hearing testimony about several recent fires, Cook said they intend to return to the Arizona Legislature with a potential list of changes and mandates for how wildfires should be handled.
For Flagstaff residents who have been impacted by flooding, the meeting represented an opportunity to continue advocating for their communities to receive the support needed to help mitigate the risk of flooding that continues to pose a threat.
Residents have pushed officials at the city, county and federal government levels to do more, and the meeting presented the opportunity to push the state.
City and county officials seemed to have similar intentions.
Local officials outlined a long list of expenditures that have not received reimbursement from either state or federal agencies. Additionally, they detailed tens of millions in potential infrastructure projects they would like to complete to mitigate Museum Fire flooding.
They said the county and city are working to secure federal money to support that work, but whether they may receive those dollars is anyone's guess. Local officials said state support for those funding requests and pressure from the legislature may be helpful.
After hearing the struggles of residents and about the needed funding for flood infrastructure, Cook suggested that because the Museum Fire occurred on federal land, the federal government needed to get the money where it needed to go.
"There needs to be partnerships made, I think, with local state and federal agencies of who's going to pony up that [money]. The state shouldn't have to do it. The city shouldn't have to do it on their own either," Cook told the Arizona Daily Sun.
Cook said the legislature might need to discuss a measure allowing for property owners severely impacted by a fire or flood to have the option to sell that property to a locality or agency.
That is something some residents whose homes were flooded this summer, and have now largely abandoned living in them, have expressed interest in.
The committee meeting comes after Cook and other state legislators lost homes and cabins to the Telegraphed Fire earlier this year.
Cook has expressed skepticism at strategies used by the Forest Service to combat wildfires, specifically the practice of back burning, when firefighters light a controlled fire ahead of the main body of a blaze in order to deny a fire fuel and momentum.
Cook has alleged his home was destroyed, not by the Telegraph Fire, but by backburns set by firefighters to counter the fire. Cook has also accused the U.S. Forest Service of letting fires burn while not seeking to suppress them as aggressively as possible.
Forest Service officials say their goal is to suppress all man-made fires. Natural caused fires may be managed or suppressed depending on conditions at the time.
As the meeting neared its closure, Cook said he was generally impressed by the Forest Service response to the Museum Fire and believed the Forest Service truly was trying to suppress the fire quickly and fully.
And Cook pointed to the Museum Fire, which was contained to about 2,000 acres, as an example of a fire suppressed quickly when other fires take several weeks or months to be put out fully.
Cook said that too often he sees firefighters standing and watching a blaze rather than aggressively working to put the fire out up close.
"Firefighters are like cops. I mean, if you go to the military and join the army, your job is to go to war. And that's what firefighters are; they're warriors, only they fight the beast," Cook said. "So far what I've seen, and what I saw during the Telegraph Fire, was a bunch of fire watchers. I support firefighters 110%."
Adrian Skabelund can be reached by phone at (928) 556-2261, by email at askabelund@azdailysun.com or on Twitter at @AdrianSkabelund.