PHOENIX (AP) — Arizona on Thursday reported 3,474 additional known COVID-19 cases and 44 more deaths, increasing the state's totals during the…
PHOENIX (AP) — The Arizona Supreme Court on Wednesday revived part of a lawsuit filed by the state attorney general over immigrants in the cou…
All Coconino County administrative offices will be closed Thursday, Nov. 26, and Friday, Nov. 27 for the Thanksgiving holiday.
Northern Arizona Healthcare has again extended the closure of the laboratory draw station located in the NorthStar building in Flagstaff until…
WASHINGTON -- Coconino County Supervisor Art Babbott urged senators this week to pass a bill that would let limbs and trees left over from for…
Effective Monday, Coconino County will return to the more restrictive Phase I of its phased COVID-19 Re-Entry Plan for County Operations as a …
Voting rights advocates had long argued that if Native Americans and other minority groups were mobilized, they could be decisive in a tight race.
PHOENIX — Four Democratic mayors called on Republican Gov. Doug Ducey on Friday to institute a statewide requirement for people to wear masks …
Another surge in COVID-19 cases is coming, Flagstaff Medical Center leaders say, and as they prepare to assist with vaccine distribution, they…
Gov. Doug Ducey is holding another press conference to give updates on the state of Arizona's response to the coronavirus and what changes mig…
PHOENIX (AP) — The coronavirus outbreak continues to surge in Arizona, with the state reporting over 3,000 new known COVID-19 cases on Saturda…
PHOENIX (AP) — Members of Arizona's congressional delegation are advocating for the state to be selected as the location of the permanent head…
WINDOW ROCK (AP) — The Navajo Nation on Monday will reinstate a stay-at-home lockdown for the entire reservation while closing tribal offices …
The ability to work with the community and commit to environmental sustainability were the top requested traits for Northern Arizona Universit…
Several northern Arizona politicians have joined other state and national Republicans in casting doubt on the recent presidential election.
The Coconino County Board of Supervisors has postponed the public hearing for a proposed Kachina Village subdivision until early 2021.
WINDOW ROCK, Ariz. (AP) — Navajo Nation health officials on Wednesday warned residents of the "uncontrolled spread" of COVID-19 in 34 communit…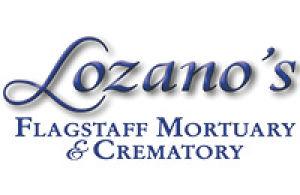 Lozano's Flagstaff Mortuary & Crematory

Coconino County, Coconino National Forest and Kaibab National Forest, among other local agencies, have lifted all fire restrictions on private…
Nonprofit organization Sufi Psychology Association has donated 12 tablets with stress-relieving videos along with 400 disposable headsets to f…
Coconino County Health and Human Services is working to get local hospitals to share more information about potential COVID-19 patients in ord…
Candidates in the Flagstaff City Council and Legislative District 6 elections are expected to hold out until all the votes are counted before …
Wednesday, Nov. 4 -- 1 p.m. update:
Democrats Patrice Horstman, Matt Ryan and Judy Begay will fill the three contested seats for four-year terms on the Coconino County Board of S…
FLAGSTAFF — Lawmakers on the Navajo Nation approved legislation Monday to reopen the tribe's four casinos, even as the tribe's health director…