Early Thursday morning, Jesse McGirl sat at a table in Flagstaff's High Country Conference Center, a bundle of medals around his neck. McGirl was one of 233 people who filled the room, shuffling to their seats as the Special Olympics Breakfast with Champions got underway.
Over the course of the annual fundraiser, Special Olympics Arizona (SOA) representatives and athletes, including McGirl, took turns singing their praises for the organization.
"I love running, doing something with my own legs under me," said McGirl, who competed in the Special Olympics World Games in track and field last year. 
McGirl is 34 and has been competing since he was a teenager. He grew up in the foster care system, moving between different homes where he was subject to frequent abuse. He said Special Olympics was a way out for him.
Testimonies at the event avoided mentioning recently proposed cuts in federal funding for the program, but the topic remained top-of-mind for some.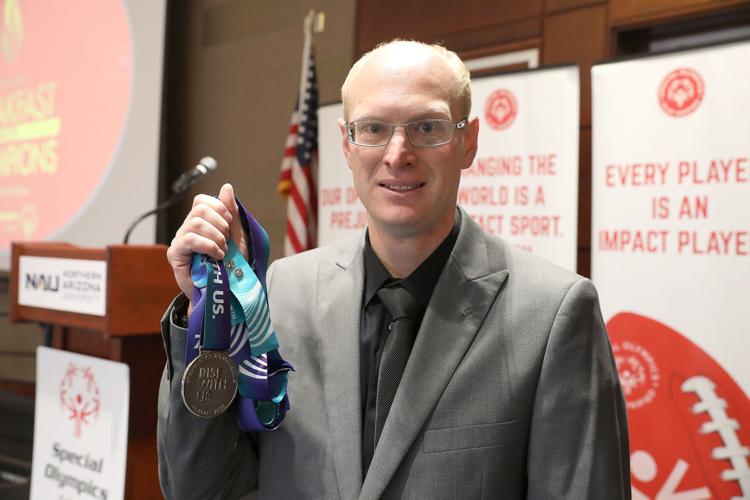 Carol Sharp, who became McGirl's guardian 16 years ago, is a special education teacher at Sinagua Middle School and began volunteering as a Special Olympics coach in 1979.
"[Funding cuts] would have been detrimental," Sharp said. "I can't imagine my life without [Special Olympics]."
A little over a week ago, Secretary of Education Betsy DeVos detailed to Congress a budget proposal that would have slashed all $18 million in federal funding for Special Olympics across the United States.
"The federal government cannot fund every worthy program, particularly ones that enjoy robust support from private donations," DeVos said in a statement released by her office.
You have free articles remaining.
The proposal -- which has been included in President Trump's budget for about two years -- was shot down by Congress.
Special Olympics has over 5 million athletes in 174 countries, according to its website. That boils down to 22,197 in Arizona and, according to Rubette Garcia, area director for Special Olympics Mountain, over 1,000 in northern Arizona, including Flagstaff, Prescott, Chino Valley, Camp Verde, Prescott and Page.
According to the most recent figures from SOA, the federal government gave $844,091 (17%) of the organization's budget to the Arizona branch in fiscal year 2016. The rest of the budget is paid for by fundraising events and private donations.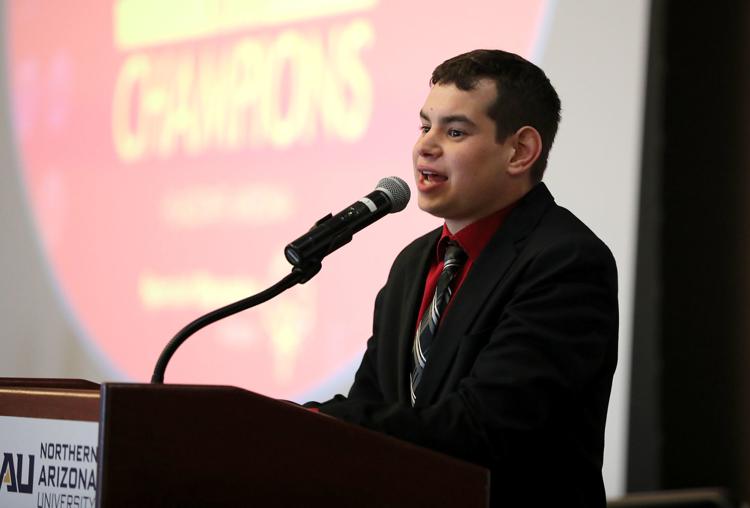 Kristen Harris works as the head of delegation and coach for Special Olympics at Flagstaff High School. 
"Of course I was shocked," Harris said. "I immediately started making phone calls to my representatives. Cutting the funding would have threatened getting equipment, so many things." 
Three athletes accompanied Harris on Thursday, one of whom was her daughter Celeste Harris. Celeste plays bocce ball, snowboards and cheer-leads, she said. 
"In a way it was also a positive teaching moment, where our communities came together," said Jamie Heckerman, CEO of Special Olympics Arizona. 
The year 2019 marks 51 years since Eunice Kennedy Shriver, a sister of President John F. Kennedy and Senators Robert F. Kennedy and Edward M. Kennedy, officially founded the organization as a way to equalize sports competitions for people with intellectual disabilities. 
"So the breakfast is to get as many community members to learn about Special Olympics and what it's all about," said Taylor Custer, a physical therapist with Northland Rural Therapy Associates who said she has worked with several of the athletes over the years.