The Flagstaff Softball Majors All-Stars won the District One tournament, 12-1, on Monday, beating host Silver Creek for the title and becoming the first softball Little League age group from town to reach the state brackets.
Kaitlyn Tso was in the circle again for Flagstaff and had another stellar outing, striking out 14 batters in a complete game. The offense started out quick to back the pitcher, with Taylor James scoring on a first-inning RBI single from Jadyn Josytewa, and Tso scoring on a base hit by Sam Rodriguez.
Silver Creek kept Flagstaff scoreless through the fourth after the opening damage, but in the fifth and sixth frames Flagstaff dialed in the bats to tally 10 runs combined in the two innings. James and Dakota Lakin each scored two during the final two frames, while Jadyn Josytewa, Tso and Sam Rodriguez all came up with RBIs. The last inning was started off by singles by Elyana Clerry and Aryanna Dominguez and the game was capped by a bunt from Keeley Calendar that turned into a trip around the bases.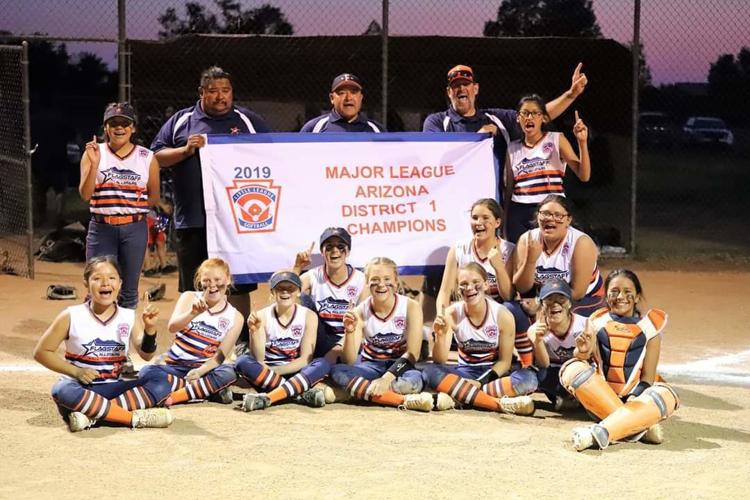 Flagstaff will start the state tournament on Friday, July 5, in Cottonwood.
JUNIORS
The Flagstaff All-Stars routed Holbrook in their district tourney opener Tuesday night, taking a 18-7 win in Winslow.
It was easy going for much the game, as Flagstaff took a 14-2 advantage into the bottom of the fifth inning behind Gianna Baca's strong first three innings in the circle.
You have free articles remaining.
Register for more free articles
Stay logged in to skip the surveys
Holbrook gained some steam in the bottom of the fifth and scored one run. Down to their last out due to the 10-run mercy rule, they loaded the bases. A tough fly ball hit down the right field line scored three runners, followed by another single that made it 14-7 -- stopping the potential mercy-rule win.
Flagstaff answered with four more runs in the top of the sixth.
Flagstaff advanced to face Page on Wednesday. The result of that game was not in as of press time.
8-10s
The Flagstaff 8-10s All-Stars will have to wait a little longer to get the District 1 tourney started.
Flagstaff was originally set to face off against Turquoise Nation on Wednesday night in town, but because Turquoise Nation didn't show up the game was canceled and has been rescheduled.
Instead, the first-round game will take place today at 4 p.m. at Continental Fields, with the loser then having to face Winslow in an elimination game at 7 p.m. for a nightcap.
The winner of Flagstaff and Turquoise Nation will advance to face Round Valley Friday at 4 p.m.