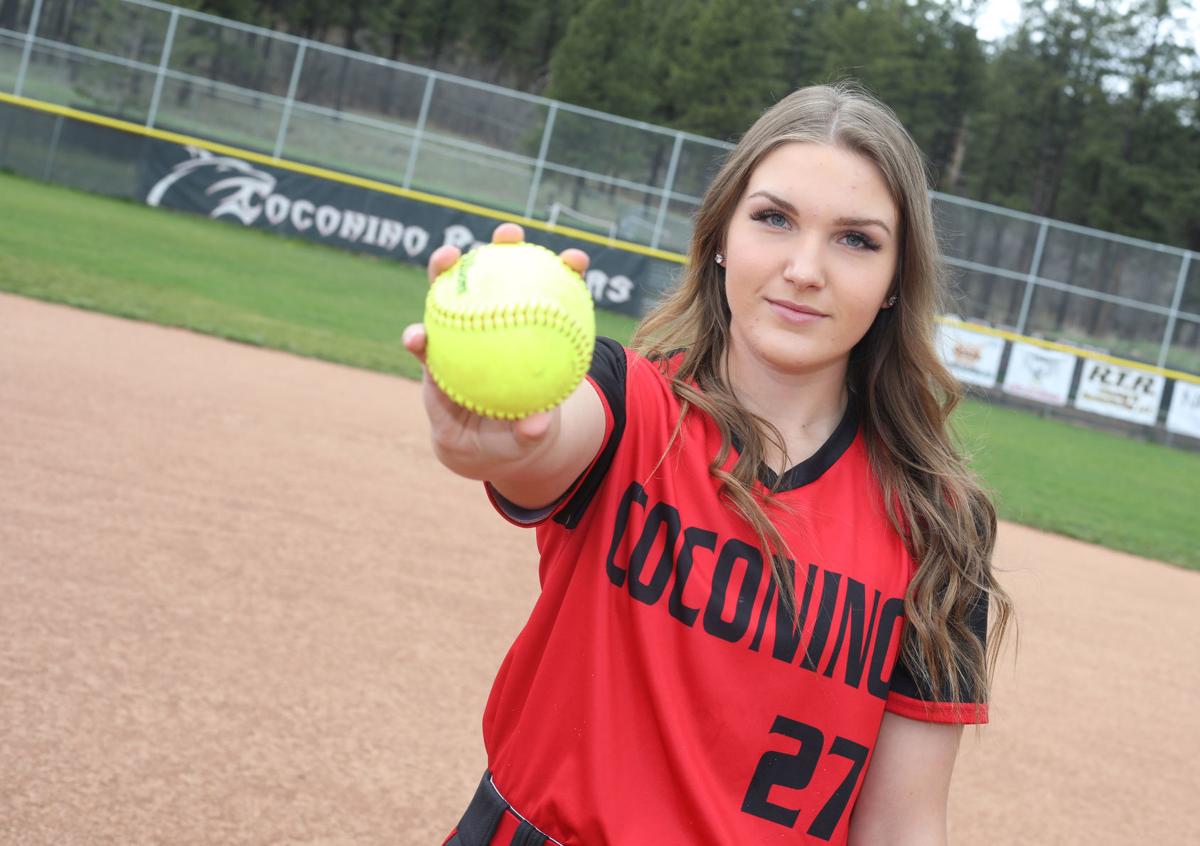 Coconino Panthers manager Kimberly Dennis has collected "many great coaching memories" during her long time at the helm of the softball program, and a few of them are of standout two-way player Kaitlyn Snopek.
Three seasons ago in a ballgame against Winslow, Panthers starting pitcher Rachel Tosi was struggling to close out a tight home game, needing a couple of outs to call it day. Those outs, however, looked as if they weren't coming as Tosi continued to labor, so Dennis called on Snopek for a relief appearance.
Snopek was playing first base and hadn't had a chance to warm up. It didn't matter. She picked apart the opponent the rest of the way and the Panthers got the 5-4 win.
"At that time she is a little sophomore," Dennis said of Snopek, "but she came in and shut them down. And immediately after the game Rachel is running, sprinting from right field to give Kaitlyn a huge hug and say, 'Thanks for saving my butt,' that type of thing. It was a great memory."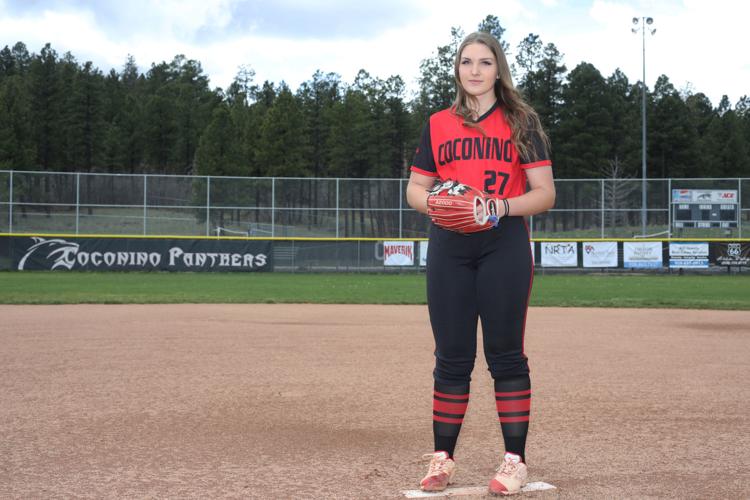 Snopek's not so little anymore, and her power both in the circle and at the plate this year showed just how much she's grown in the sport. For her dominance on both sides of the plate and the experience she brought to the Panthers, Snopek has been named the 2019 Arizona Daily Sun Softball Athlete of the Year.
The senior played in all 24 of Coconino's games this season, helping the Panthers go 17-7 overall when counting games played outside the AIA power-point schedule. She led the team in hitting with a .557 batting average while putting up team highs in RBIs (31), hits (49) and home runs (5). The Panthers earned the fifth seed of the 4A Conference state tournament, in which they fell in the first round.
"I think, really, it was a mental fight for her, but she was just ready to have fun for her senior year," Dennis said of Snopek's increased offensive production in 2019.
According to Dennis, Snopek hit over .600 against Grand Canyon Region opponents and she hit around that average during all power-point games, too.
Her pitching also improved. Snopek trimmed her ERA by about two points this season, registering an impressive 2.54 mark through 107 1/3 total innings of work.
"She's just been consistent for us on the mound, and obviously that's a position where you have to be focused 100 percent of the time," Dennis said. "She did a great job and had a great year for us. Her losses definitely came to tough opponents, but she battled and kept teams in check even in the losses."
During a game against crosstown rival Flagstaff this season, Snopek, who was also selected as the Grand Canyon Region Player of the Year, found herself in similar situation as the one Dennis recalled in her story. Snopek admitted to her team she didn't have her stuff that day, and teammate Taylor Brown entered in relief to help get the win and a rare series sweep of the Eagles.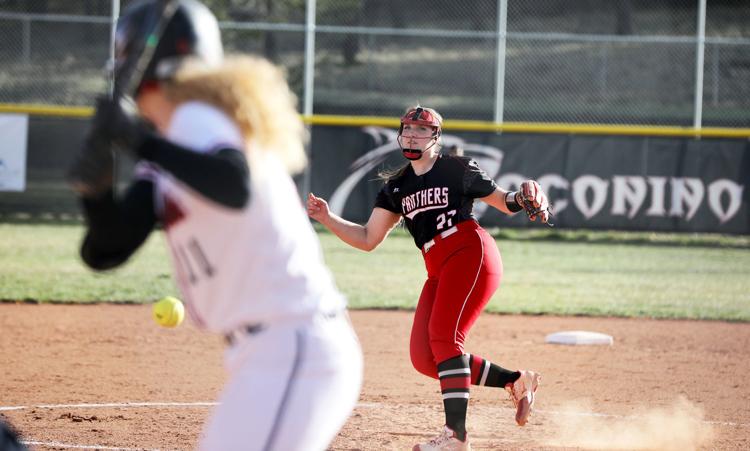 Snopek was the first to thank Brown for her help and keeping the victory intact, telling her teammates that's what team is all about. All season long, she fed off her faith in her team.
"It boosted my confidence a lot, just going in and knowing I didn't have to get a strikeout every single batter," Snopek said. "If I threw to a grounder or a hitter would pop up, I knew my team was there to back me up. And on offense, too, Taylor Brown with me and Ashlyn Hernandez, we were like the sluggers -- and not only them.
"But it was amazing that we saw improvement from the entire lineup, not just the top of it. Like Lexi Bartell, she ended up having a phenomenal hitting season."
A new pitching coach on the Panthers staff also helped Snopek become more of a threat. According to Dennis, Cristin Carrillo helped the ace pick up a different change-up and "fine-tune some things she was already doing well."
Carrillo told Snopek she didn't want to make many changes to the righty's approach in the circle, acknowledging that Snopek had made the decision not to carry on her softball career into college.
"She was a great addition to the coaching staff, and we got along great. She has such a great attitude. She is really funny too, and I loved that," said Snopek, who has plans to attend college at Coastal Carolina.
Snopek was lights-out on the rubber as she approached the season wanting to go out on a high note. She recorded 17 strikeouts against Lake Havasu, 16 against Peoria and 13 against Lee Williams, all resulting in wins. She thew a one-hitter against Desert Edge for a late-season victory.
With her leadership and talents established, Snopek, Dennis said, had one of the biggest impacts on the team when she reminded the players in the dugout no game is over until it's over and to always "just be us."
"What that meant to us was don't get high-strung, make sure we are having fun. She was the leader of the rally caps, that type of thing, the different rally caps the girls would wear. She's just a big reason that we would go out and have fun and give us our best," Dennis said.
Get local news delivered to your inbox!
Subscribe to our Daily Headlines newsletter.