As fall progresses in Flagstaff and the aspens turn yellow and orange, the plants and vegetables at Roots Micro Farm on a residential block of Birch Avenue are also in transition.
The sunflowers are beginning to wilt and the grasses golden. Some crops, like the summer squash, have already been fitted with a cover crop mix of pea, barley and rye to help maintain their soil through the colder months.
The tomatoes in the greenhouse have two more stints at the Flagstaff Community Farmers Market before Summer White will turn the vines into compost and replace them with nutrient-dense microgreens, which Roots sells year-round.
"Our microgreens are what brings people to our table," White said. "[We] grow them in trays and then bring all those live trays to the market and then cut them fresh for people."
Market-goers can rest easy knowing that the fresh greens will still be available during the winter through Roots' new Community Supported Agriculture (CSA) program. Starting Nov. 8, Roots' CSA members will be able to collect weekly four-ounce shares of the greens.
"[Members will] have punch cards with 10 punches so they can come whichever weeks work best for them," White said. "So they'll come to the farm, pick up a box of microgreens and they'll have a choice if they want to do the spicy mix or the mild mix."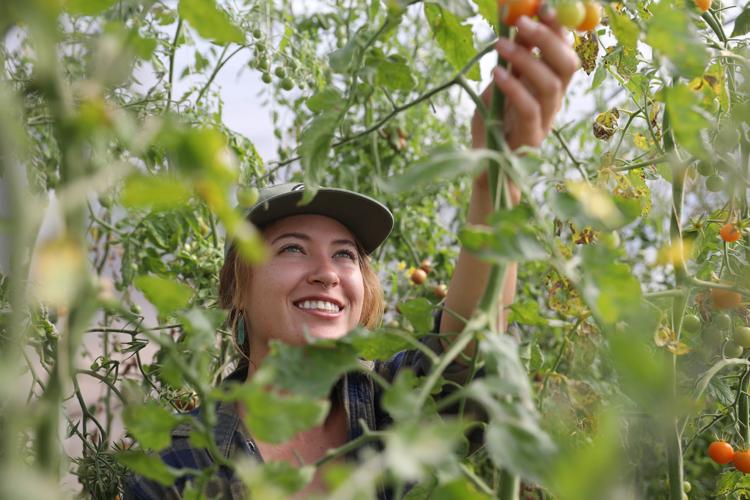 While the mild greens mix will have sunflower shoots, pea tendrils, cabbage, broccoli, mustard greens and kale, the spicier mix will contain arugula, red mizuna and radish.
Pick up will be at the farm from Nov. 8 to Dec. 13, and Feb. 14 to March 20 on Fridays from 11 a.m. to 3 p.m. Roots will also have their microgreens available at Flagstaff's downtown CSA at 116 W. Cottage Ave. during the break in the colder months.
So why choose to shop through a farm share program rather than a grocery store's vegetable selection?
"For me personally, I think it's important to shop locally because you know where your food is coming from and you're directly supporting your community and people in the community -- especially in the state of our industrial food system," White said.
And it's not just families that buy organics from Roots Micro Farm, but a slew of professional chefs from upscale local restaurants including Brix, FLG Terroir, Shift Kitchen & Bar and Pizzicletta.
You have free articles remaining.
Register for more free articles
Stay logged in to skip the surveys
"Talking with those chefs and seeing what they want to buy is really key," White said. "Every chef that we sell to buys our microgreens."
White and her co-grower, Michael Malcom, decide what to plant each year based on what the chefs want, whether it be the greens or herbs such as French sorrel, calendula, chamomile, oregano, garlic, dill and onion chives.
The original owners of the farm, Josh and Maddie Chance, formed connections with local chefs after they opened in 2017. Inspired by farms they saw in Hawaii, they contacted the landlord of the then vacant lot next to the Christian Science Society of Flagstaff. The landlord was a gardener himself in the neighborhood "and really wanted the neighborhood to stay true to how it had been historically," White said, adding there had been more farms, gardening space and people raising livestock.
Josh also wanted the lot to be an open community space for the neighborhood, and got in touch with artist Sky Black, who painted a detachable mural in the back of the garden.
"He got a grant from the city to do a mural through the City Beautification Project," White said.
The mural has an elk walking along aspen trees in a forest. One aspen tree is only partly done, showing children making the finishing touches on the painting.
Children are welcome to explore the garden, and both Josh and White have led nearby Flagstaff Junior Academy seventh-graders around Roots to teach them about gardening and soil. In the next few years, White hopes to expand it as an educational space for more students and others to learn about farming.
The community is also welcome to attend Roots' farm-to-table dinners which take place in the gardens with Brix' original chef Laura Chamberlin. Roots hosted two dinners over the summer and White hopes to have many more come this spring.
"She prepared a three-course meal entirely sourced from local growers and producers, including our farm," White said.
Up to 30 people can come get a tour of the garden, be seated at a giant table under the stars and fairy lights and hear Chamberlin explain which local farms and products she used and how she prepared appetizers and dishes such as ratatouille, frittata, socca chickpea flatbread, zucchini and roasted beet muffin, braised lamb and potato gnocchi, salads and more.
"$60 a person [might] seem like a lot, but it is a one-time experience," White said, adding that the community dinners show the full circle of the local food system, plus some proceeds from each dinner go to local non-profit organizations like Flagstaff Foodlink.