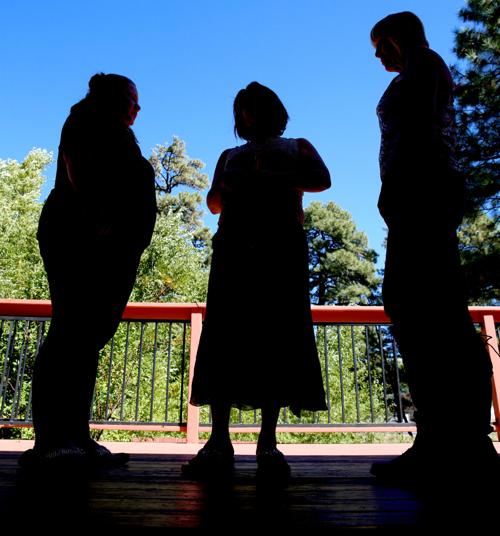 "Annie" was at the end of her rope.
Abused since childhood, she spent most of her adolescence on the streets. Things were no better as an adult. Despite earning a degree and having a career, with every new relationship came another wave of physical, emotional and mental abuse.
"Every husband I've had has beaten me," she said. "Every boyfriend I've had has beaten me."
To make matters worse, Annie became addicted to opiates. She surrounded herself with dangerous people in a gang-like culture, where sexism and violence were the norm. Her addiction gave those people complete control over her life.
Over the years, she said she survived almost unimaginable acts of violence. She had her teeth knocked out. She felt her skin burn as she was shoved against a hot stove. She had guns held to her head. She had phones taken from her hand when she tried to call 911. She struggled with panic attacks, agoraphobia and self-harm.
"I was on the floor, on my knees, begging God, 'What's my next step?' and this place popped into my mind," Annie said.
That place was Sharon Manor, Housing Solutions of Northern Arizona's nonprofit Flagstaff-area transitional housing program for homeless women and children with histories of domestic violence.
The facility, which has been serving the community for 16 years, provides affordable housing, one-on-one case management, educational programs and a children's program, all while providing a safe place for survivors of abuse to transition to empowerment and self-sufficiency.
Community partners like the Guidance Center, Southwest Behavioral Health, the Northern Arizona Regional Behavioral Health Authority, Alcoholics Anonymous and Narcotics Anonymous also provide counseling and addiction treatment.
A tearful Annie called Sharon Manor "lifesaving." And she is not alone.
There are 24 housing units at Sharon Manor and they are almost always full. On any given day, there are 24 women and 30 to 40 children living at the facility, the location of which is a closely guarded secret. There are women of all ages, races, education levels and backgrounds.
Right now, it houses children ranging in age from infants to about 16 years old. Service animals are even allowed. There are also about 70 women on the waiting list.
The residents get referred to Montoya from agencies all over northern Arizona and beyond.
Safety is a priority. Staff guards the residents' identities. Abusers and stalkers are not allowed on the property. And anyone who visits or volunteers must pass a background check. A security guard monitors the facility, but the residents are also encouraged to look out for one another.
"In (domestic) violence, you learn that everything is secret; you never call the cops," said "Polly," who has lived at Sharon Manor since March. "Here, there are no more secrets. It's not snitching to keep yourself safe."
Every woman who comes to Sharon Manor gets a private living space. A part-time maintenance man keeps everything running. There is no curfew and rent is based on each resident's income. The residents are allowed to feel independent, some for the first time in their lives, but they also form a close-knit community.
The staff provides food from the Flagstaff Family Food Center's food bank, furniture, anything the residents do not have but will need to get by. When Polly arrived, she had no clothes until the Sharon Manor staff gave her a voucher to buy some. Like many of the women, she said she struggled to accept that she ended up at Sharon Manor even though she had a good education and a criminal justice background.
"I (told myself) I'm not one of them," Polly said. "I'm not a victim. I've got a gun. Learning to let go, to hear what they're teaching and to be one of the ladies here was so difficult."
The women of Sharon Manor share similar tales of abuse, isolation, feelings of worthlessness and a loss of identity.
That is where Cecile Mitchell, Sharon Manor's case manager for women, comes in.
She leads a weekly personal development group with the adult residents while an educator works with and tutors their children. Mitchell's curriculum covers everything from post-traumatic stress disorder and anxiety to sexuality and establishing healthy boundaries. There are also classes on parenting, budgeting and other skills the women might need to become independent. Polly described it as getting "a total do-over in life."
"Brenda" moved into Sharon Manor more than a year ago after the family members who convinced her to move to Flagstaff threatened to throw her and her children out into the street. She was in the midst of a custody battle with her ex-husband, and had been verbally and physically abused by male and female family members since she was a child.
"I came from a family of abusers and it carried into my adult life of picking the wrong people to put in my life," Brenda said. "I stayed with them because I didn't know any better."
She said Mitchell's lessons about healthy communication have helped keep her from getting abused again.
It costs approximately $200,000 per year to keep Sharon Manor running. It is funded mostly through grants from groups like United Way of Northern Arizona, Forest Highlands Golf Club Community Foundation and the Arizona Community Foundation, as well as from the McKinney-Vento Homeless Assistance Act program.
"At any time, if one of those grants doesn't come in, we could be done," Montoya said.
As a 501c3 nonprofit, Sharon Manor also relies on donations from the community, which are tax credit eligible, and revenues from the Sharon's Attic consignment shop. Montoya is also launching a capital campaign to pay off the mortgage, which is about $90,000.
Polly, Annie and Brenda all said they were grateful to Montoya and Mitchell for saving their lives.
"And it's not just us," Polly said. "We're breaking the cycle of violence, so we're saving generations. It's not just the women; it's our children and their children."