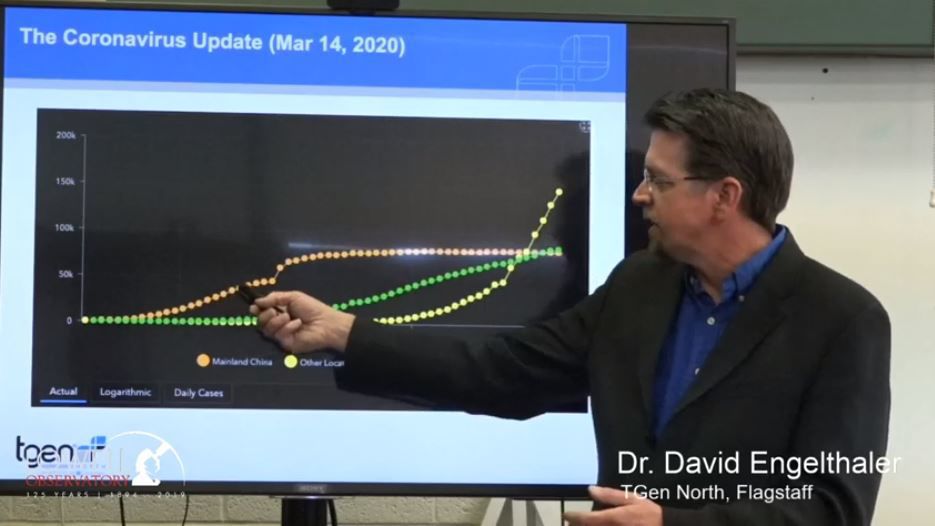 Since announcing the first presumed case of COVID-19 in Coconino County Wednesday evening, seven more cases have been identified.
During a live video presentation on the coronavirus hosted by Lowell Observatory Thursday morning, TGen North's David Engelthaler, co-director and associate professor of the research lab's Pathogen and Microbiome Division, confirmed the Flagstaff lab had found one more case in Coconino County. In total, TGen has found four cases of the coronavirus, but not all of the cases have been from people in Coconino County.
By late Thursday night, the county's coronavirus website (https://www.coconino.az.gov/covid19) had been updated to say that there were eight confirmed cases in the county, with 106 negative tests and 130 tests still pending results.
"Whether it's one case or four cases or 10 cases, that's only because we're testing those individuals. There's a lot more out there right now," Engelthaler said.
As of Thursday night, the website infection2020.com lists Arizona with 53 cases across the state.
"We should not be overly alarmed about the large increase in numbers that we're going to see because we're really doing a lot of testing now," Engelthaler said of the state total. "Now we're going to find those cases that have been here probably for the last several weeks."
Every day, TGen North has completing up to 150 tests on patient samples. Engelthaler said the number should be able to double by next week, with the goal of reaching the capability of completing up to 1,000 tests a day within the next few weeks. Though vaccine-related projects are in the works nationally, he said it will likely be awhile before they become available.
Engelthaler said the overall goal related to the spread of COVID-19, often referred to as "flattening the curve" through hygiene or isolation efforts, will not lessen the number of cases, but could lessen the number of deaths. By spreading out the new number of cases over time, as represented by a curve on a line graph, he said, hospitals are less likely to become overwhelmed and can therefore treat more people. A reduction in percent increases of new cases would indicate when this curve is flattening.
"There is light at the end of this tunnel," Engelthaler said. "We're just going into a dark tunnel and it's going to feel like that for a while, but by looking at China and South Korea and other places that have already been impacted, they're on the decrease and that will happen here, too."
Concerned about COVID-19?
Sign up now to get the most recent coronavirus headlines and other important local and national news sent to your email inbox daily.