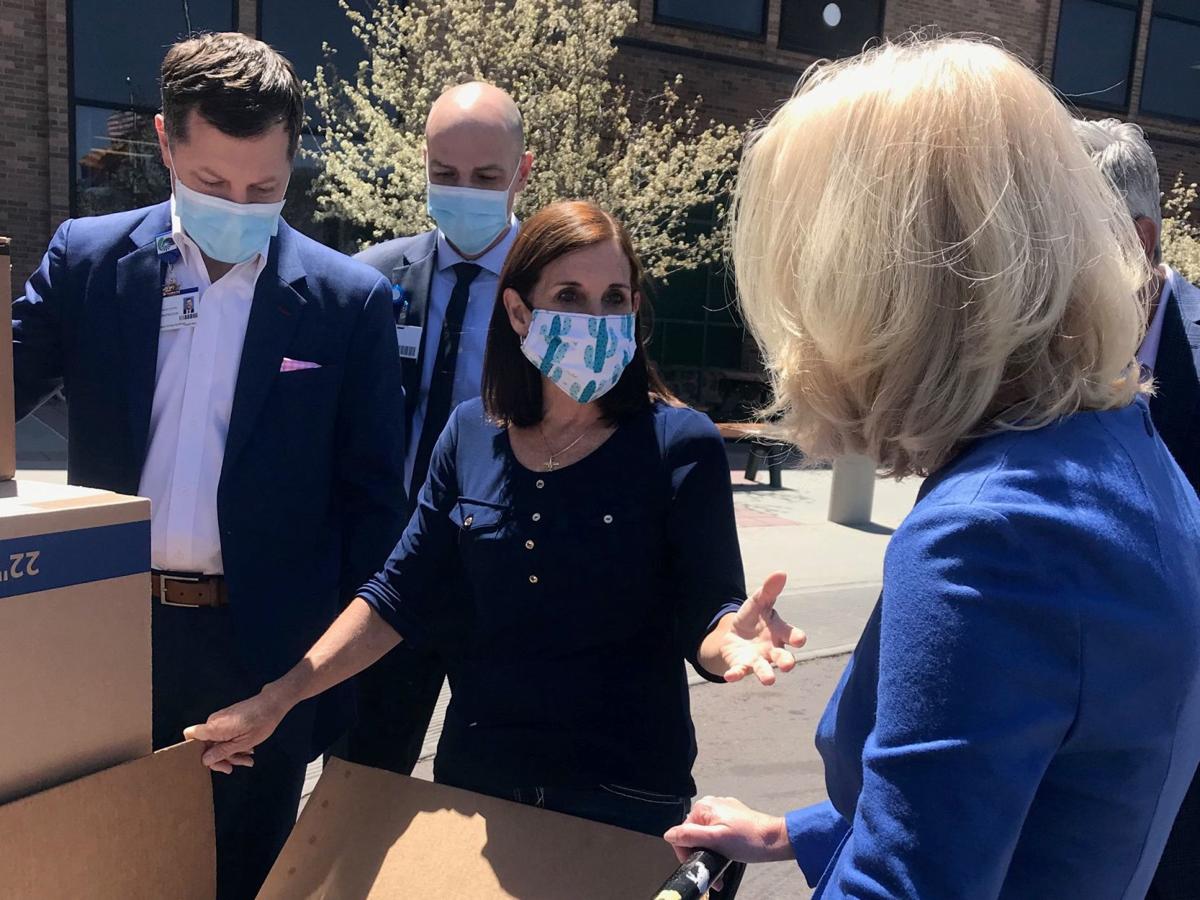 Senator Martha McSally delivered several boxes of personal protective equipment to Northern Arizona Healthcare Thursday as she visited Flagstaff to meet with hospital officials and volunteer at the local food bank.
The senator delivered medical supplies produced in the Valley by the Barrow Neurological Institute and at Arizona State University.
ASU provided 1,000 nasal swabs and 100 face shields, and Barrow provided 100 3D-printed N95 masks that had been designed to last longer than the standard N95 mask.
McSally said that in her role as a senator, she interacts with many different people who are working to address the pandemic. She said that allows her to help coordinate between organizations that are producing supplies and the places where those supplies are desperately needed.
Flo Spyrow, CEO of Northern Arizona Healthcare, met with the senator to thank her for the delivery.
The supplies join other donations the hospital has received, including aid from local dentists and family physicians, Yavapai Collage's nursing program and W. L. Gore and Associates.
"[Northern Arizona University] here locally is making and donating masks to us, and last weekend we received a donation of surgical masks from the Taiwanese consulate because of the amazing experience they had here in the past at Northern Arizona Healthcare," Spyrow said.
During a press call, Josh Tinkle, chief administrative officer for Flagstaff Medical Center, said all these donations have put the hospital in a better position when it comes to personal protective equipment, but they still need more N95 masks.
"I would say we are at a better position than we've been in the past few weeks, but we are certainly not believing that we are out of the danger zone," Tinkle said.
McSally said she has been wanting to visit northern Arizona during the crisis but as a leader also wants to model good behavior during the pandemic. As a result, McSally said she only felt comfortable visiting Flagstaff if she had a real reason to do so and decided she could deliver some medical equipment the hospital needed. That led to the senator coordinating the delivery between ASU and Barrow to the Flagstaff Medical Center.
McSally said it is good to see companies and other organizations stepping up to help address the pandemic by producing medical supplies and tests as global supply chains have been stressed by the crisis.
In Coconino County and across the country, increased need of such supplies and disrupted supply chains have meant those on the front lines of the crisis have found themselves lacking the basic protective equipment needed to keep safe. McSally said the United States needs to make sure the county doesn't find itself in such a situation again, where it is reliant on other countries for critical medical supplies.
"Were taking a lot of notes about, not just getting through this, but we don't ever want to be in this situation again," she told officials at FMC.
It is one thing to be relying on an ally, such as Italy, for some of our medical supplies, but, McSally said, it is quite different to be relying on a country such as China for integral materials.
"They are not our friend," McSally said of China. "We want to find ways to encourage American innovation and American jobs to support Americans in a time or crisis. That's not xenophobic, that's just the reality of being dependent. Let's depend on ourselves."
McSally said the United States needs to immediately begin incentivizing the production of those materials and the localization of those supply chains within the United States.
As governors across the country look to the future, and some states begin to loosen restrictions, McSally suggested wide-scale testing will be even more important.
The senator said early on, when the United States didn't know exactly how the virus worked, officials used the blunt object of shutdowns and stay-at-home orders to stop the spread of the coronavirus. But now, McSally said states can use other more specific and targeted strategies to contain the spread while allowing states to open back up in limited ways.
"It's not a false choice of you're either for saving lives or you're for making money. You know, people all over my street have no money coming in, families trying to put food on the table. There are health risks to that, too, let's be clear about that," McSally said.
Get local news delivered to your inbox!
Subscribe to our Daily Headlines newsletter.