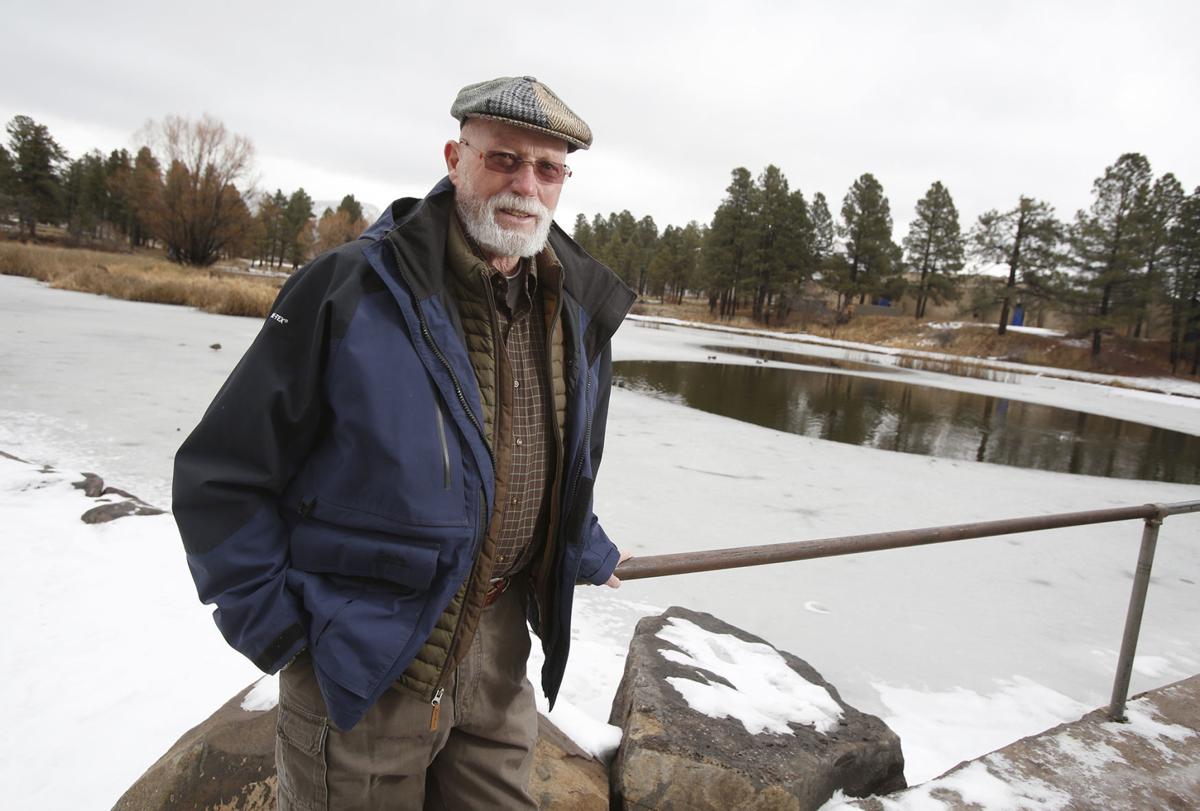 Jim David is a man of many projects. The evidence of them is scattered throughout his home on Mount Elden Lookout Road.
There are the handmade knives, the newspaper article about the sledding hill at Arizona Snowbowl where he was a manager as a young man and the photos of times he hosted hunting trips for children with terminal illnesses. He and wife Caryl Majors built their six-level house themselves.
"I'm not important, I've just done a lot of little projects," said David, who is 76. "They're something to make this world a better place to live."
Among the many, one project in particular stands out for the thousands of people it has touched across decades in Flagstaff.
About 50 years ago, David rallied students, parents and other residents to save Frances Short Pond from an effort by the city to pave it over. In subsequent years, he made the pond a center of environmental education and spearheaded dozens of projects that helped it the downtown gem it is today.
For his work on that project and many others, David was selected as the 2015 Arizona Daily Sun Male Citizen of the Year.
From pond to classroom
It was the mid-1960s and David was a teacher at Flagstaff Junior High, which occupied the building just east of Frances Short Pond, when he got word that the city council planned to pave it over. At the time, the pond was partially filled with trash and cinders hauled there by the roads department and it was feared that children would drown there, David said. Meanwhile, Aztec Street ran right beside the pond's banks, connecting Cherry Avenue and North Thorpe Road.
For two years, David, as well as dozens of students and parents attended meetings and wrote letters to compel the city to close Aztec and save the pond, he said. They wanted to turn the area into an outdoor classroom instead.
"Jim was the catalyst for this to happen, and through the years many more community members have continued this quest. However, without Jim's perseverance and knowledge the Pond would not be what it is today," wrote Curt Craig, a science teacher at Mount Elden Middle School, in nominating David for the Citizen of the Year award.
After convincing council to preserve Frances Short, David began helping students with a variety of projects around the pond — he estimated it was about 50. They included partnering with the Museum of Northern Arizona to create an archaeological dig site near the pond, planting cottonwoods, Bebb willows, and junipers near its banks and creating the island in the middle of the water. Students spread out 67 truckloads of dirt around the area and helped arrange for a beehive to be built on the island, David said.
Another standout project was the relocation of the historic Veit Ranch cabin. David was up on the San Francisco Peaks looking for petroglyphs when he saw the cabin in a state of disrepair.
"I thought what a neat project to take it down log by log and bring it back to town," David said.
He was working with Eagle Scouts at the time and several of them made the cabin their final project, David said. With help from the National Guard, the Forest Service, former Flagstaff mayor Paul Babbitt and Northern Arizona University, the group took apart the cabin log by log, moved the logs down the mountain and reassembled the structure at the edge of the pond.
David estimated 3,000 students, many of them his, have gone out to the pond for lessons or other projects over the years.
Those who know David said it is hard to underestimate the importance of his dedication to Frances Short.
"The Frances Short Pond probably should be named the Jim David Pond," said Jack Welch, who was named the Daily Sun's male Citizen of the Year in 2009.
He saw potential in an area that had basically become a dumping ground, agreed Nat White, a 2013 Citizen of the Year.
"It was a labor of love that went on for many years," White said. "It's probably something that will carry on without him long into the future."
Educating about Flagstaff
After the pond's future was secured, David helped start what would become Willow Bend Environmental Education Center in another effort to create and improve environmental education specific to Flagstaff's unique ecology. He also focused on reworking the science curriculum in Flagstaff's schools to address the local precipitation patterns and plant communities.
During his years at Flagstaff Junior High, David received state and national biology teacher of the year awards. Then, after 14 years of teaching, he moved to the superintendent's office, becoming the math and science supervisor at Flagstaff Unified School District for 12 years. Now retired, he remains an affiliate professor of biology at Northern Arizona University.
During the summers that he was teaching, he worked with the nonprofit Grand Canyon Youth Expeditions to take local students on reduced-cost or free 21-day trips down the Grand Canyon.
"We changed some lives," he said.
His connection to the canyon goes back to his days in high school in Kanab, Utah. Since then, he estimates he has taken 80 trips down the river and hiked 2,000 to 3,000 miles through the Grand Canyon.
Also an avid hunter, David's only weapon is a bow. He shares his passion as a volunteer with the Make a Wish Foundation.
"I take kids whose last wish is to go hunting with Dad," he said.
After moving around constantly as a child, David ended up in Flagstaff when he transferred to Northern Arizona University from the University of Utah. He had received an athletics scholarship for skiing. Over the next decade or so, he earned his bachelor's in forestry, a master's in biology and then a doctorate in biology education. He has stayed put in Flagstaff since then.
"It's been the greatest place in the world to live," he said.
"I'm not important, I've just done a lot of little projects. They're something to make this world a better place to live."

--Jim David
Get local news delivered to your inbox!
Subscribe to our Daily Headlines newsletter.