Nearly 200 miles from her home in Bagdad, Arizona, 22-year-old Sarah Crook Wong found her home in Flagstaff just three months after graduating from newly named Northern Arizona University, when she began teaching at Nativity of the Blessed Virgin Mary School.
Though she would not have her own children until years later, Sarah started a family among her 29 third-graders, her first ever class and the only one she taught at Nativity.
"I know in college they tell you, 'Don't call them kids, those are billy goats,' but they were my kids," she said. "I was set on being the momma bear. If another teacher or someone even looked at my kids side-eyed, I was right there to see why. I told those kids, we are family."
She earned $2,700 for her work that year, but said the rewards her students gave here were worth far more than that.
Sarah Cromer, long since remarried and retired after 35 years of teaching in Flagstaff, called her third grade class to session once again -- not for the sake of a salary, educational standards or necessity, but to thank the students who started it all.
Far more difficult than 50 years ago, assembling the class took hard work and serendipity. After all, her roster was out of date.
Sarah and three of the students she remained in contact with spent more than a year searching for their classmates. Only five had remained in Flagstaff, with the others starting careers and families in locations as far as Massachusetts and Florida. One had also died years before.
Male students were easier to track, Sarah said, because the female students who had married and changed their names were a challenge to find.
She stumbled upon a few connections in unexpected places, though.
In May, while being treated at the UCLA Medical Center in Los Angeles, Sarah discovered that her nurse was the son-in-law of one of her female students and later, while getting her nails done at a Flagstaff salon she has attended for years, she learned that her technician was the stepmother of another female student.
Others were hesitant to share their connections.
One woman refused to believe the call about the reunion was legitimate because she "never had a Mrs. Cromer as a teacher." She hung up and had to be called back so the search team could explain the teacher was formerly Mrs. Wong.
"[They say it's a] small world and it's true," Sarah said. "It was fun trying to find everybody. It really was."
By the end of the yearlong search, only five students could not be found and class was ready to begin in time for Labor Day.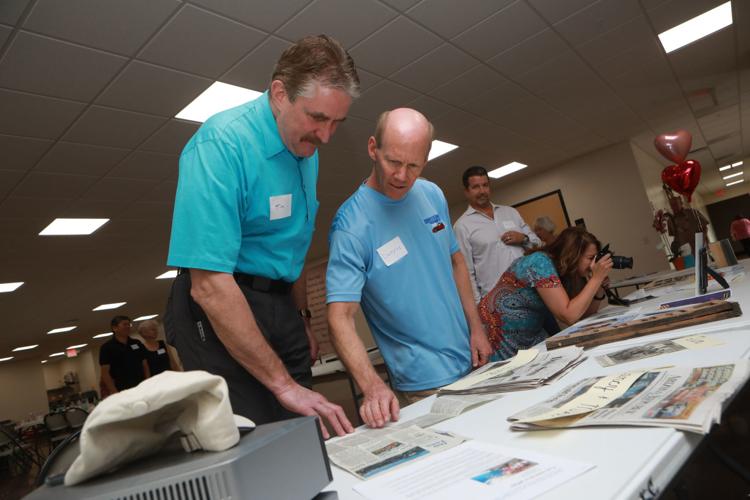 A reunion
A total of eight former classmates made it to Flagstaff to celebrate their history together and apart. Since leaving Sarah's third grade class, the now 58- and 59-year-olds have become parents, grandparents, retirees, nurses, accountants, business owners and more.
Like a proud parent herself, Sarah peppered them with questions about their lives and sprinkled them with praise for their accomplishments and those of their families.
To each student, she gifted a silver coin, etched with a large "50" and an expression of her appreciation to them, as well as a copy of one of their favorite books from the class, "Call It Courage," from which she read a passage just as she used to do every day after lunch.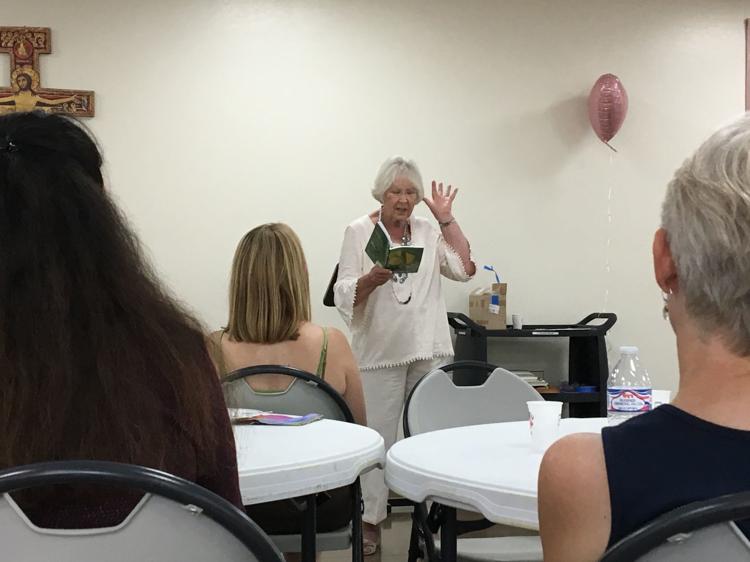 She also passed out a pop quiz, asking questions such as the name of their former principal and requesting that each write their name and address in cursive, her passion for proper penmanship still as strong as it had been a lifetime ago. The students hunched over their quizzes, pencils scratching out their answers and straining to recall the fluid motions of that since-forgotten writing style.
"Fifty [years] to the third [grade] power equals love," she explained when they went over the answers together.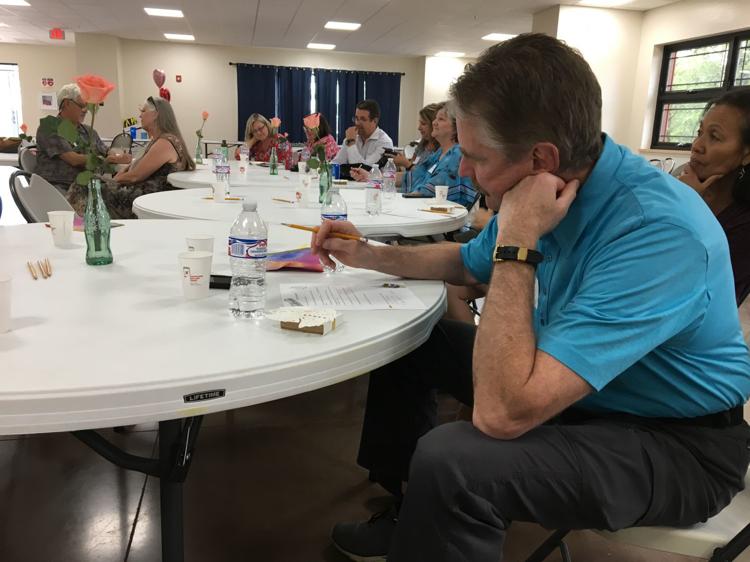 Sarah was not the only one to come to class prepared.
Like turning in a homework assignment, each student, including those who were unable to attend the event, wrote a letter expressing their gratitude to her and the memories they still held from their third grade year.
"You were my favorite teacher" was the dominant message.
Some also credited her with more specific aspects of their adult life and personality.
You have free articles remaining.
For Nancy Martinez, it was a love of reading.
Martinez not only read her favorite book from Sarah's class to her four sons, she now carries a paperback or e-reader with her wherever she goes.
"I didn't know at the time that we were her first class because, to me, she was the most wonderful teacher. I have the best memories of her class," Martinez said.
Class readings also made a difference to longtime Flagstaff resident Tim McCullough. "Call It Courage," about a boy from the Pacific Islands, in particular, gave McCullough the desire to want to live on an island himself, so he joined the Peace Corps, which brought him to the Chuuk Lagoon in the central Pacific.
"When I got there, there may have been a day or two that went by when I didn't think about that book, but [I thought about it] almost every day," McCullough said.
For Dwayne Bublitz, though he said Sarah made him want to perform well in school, it was her car that most affected his life.
As a third grader, he watched her 1966 silver Corvette pull into the Nativity parking lot each morning, fingers poking through the chain-link fence that separated him from the car of his dreams. He has since owned numerous Corvettes of his own and founded Corvette'N America Tours with his wife, Cindy, to lead tours of Corvette drivers through areas such as Route 66 and various national parks.
A kind troublemaker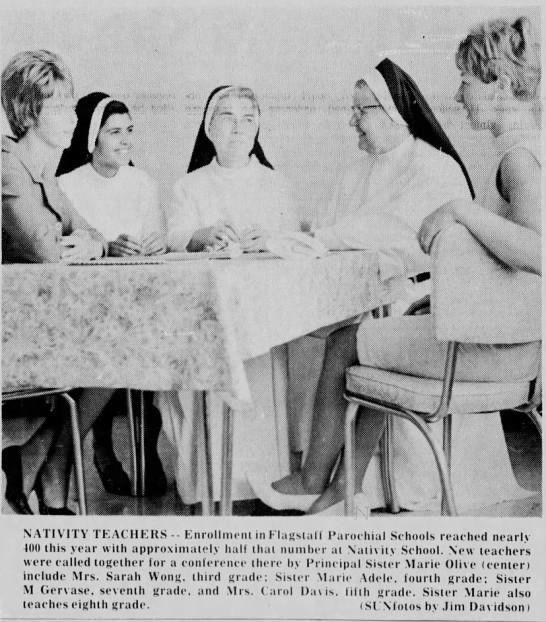 Although Sarah taught at a Catholic school for her first year in the industry, the young teacher was no saint.
Instead of recalling a memory of each of her students — though she could have easily done so because her memory is as sharp as a fresh No. 2 pencil — when the class reconvened, Sarah instead shared some of the times she got in trouble with the school nuns, to the delight of her now-grown students.
"It was very early one day and Sister came in and said, 'Sarah, don't you think you might want to go home and put on a longer skirt?' It was time for miniskirts then and I didn't have a lot of long things," Sarah shared with the class. "I wasn't sent home, but she strongly suggested it, so I did it."
Miniskirts aside, her training methods were unorthodox for the time, too.
Sarah recalled using decks of cards to teach students their multiplication tables: pairs of students would flip over one card each and race to multiply the numbers together. The exercise, though effective, could be mistaken for gambling, her principal told her, so Sarah had to make her own plain numbered cards instead.
Eddie Babbitt remembers loving this game, he said, and especially facing off against Bublitz, who always sat next to him alphabetically. (They chose to sit next to each other at the reunion, too.)
During silent reading time in her class, Sarah violated a more defined school rule when she passed out chewing gum to students to prevent them from mouthing out the letter sounds as they read. Though she said she was careful to ensure everyone spit out their gum when they were done, it earned her another meeting with the principal.
More notably were the times she got in trouble with herself.
On the first day of school, she recalled going home crying because she had made a student cry during one of her listening exercises.
She had asked each student individually, "Would you like a Nutter Butter Peanut Butter Sandwich Cookie or a chocolate chip?"
Once everyone in the class chose a treat, she passed out all the peanut butter cookies to each student who had requested one — and a single chocolate chip to those who failed to listen, one of whom then cried.
"I went home and cried. How could I do that to a little kid? But of course, they all got cookies [in the end]," Sarah said.
It was this kindness that earned her a permanent place in her returning students' memories, even those who were not in Flagstaff for long.
Theresa Anderson, who only lived in Flagstaff during her kindergarten and third grade years, recalled bragging to her three siblings, "I got the prettiest teacher and the nicest."
Sarah's husband of 38 years, Mike Cromer, another longtime Flagstaff teacher and son of former Flagstaff Unified Superintendent Sturgeon Cromer, was in awe of her throughout the reunion, too, praising her memory and her skill as a teacher.
"This isn't a one-day deal. She has been talking about this class ever since I've known her. There's nobody like her. I know I'm married to her, but she's amazing," he said.
Sarah humbly deflected their praise: "I'm not a better teacher than anyone ever was," but her cheeks were rosy and her thankfulness to the class seemed to grow.
"Seeing all you guys and what you look like now, it's the greatest award," she told her students.
"I've had a whole bunch of honors, but this is the greatest I've ever had." Her voice cracked as tears welled in her eyes, visibly overcome with the same maternal pride she'd had half a century ago — and every day since. "Thank you."