A mysterious art installation in northern Arizona's Painted Desert decades in the making may soon have portions opened to the public.
Artist James Turrell purchased Roden Crater, an extinct cinder cone volcano, in the 1970s and began carving out the interior to build a series of chambers and halls to house a conceptual light and space exhibit. It's rightfully garnered attention from donors over the years, but a new partnership with Arizona State University and a recent $10 million donation from Kanye West has renewed the construction process with vigor.
The musician and entrepreneur toured Roden Crater in December, later tweeting that it was "life changing."
"We are in support of Roden Crater so that his work can be experienced and enjoyed for eternity," West said in a statement.
This is neither the first time Roden Crater has drawn the attention of celebrities nor West's first foray into the world of contemporary art. He's met with Japanese contemporary artist Takashi Murakami, praised Chicago artist Kerry James Marshall on Twitter and commissioned London-based artist Shadi Al-Atallah to create art for his "XTCY" single cover last year.
"Kanye is a great human being with a big heart and love of art," Turrell said. "I am just thrilled to have his support and partnership at this critical juncture of the project."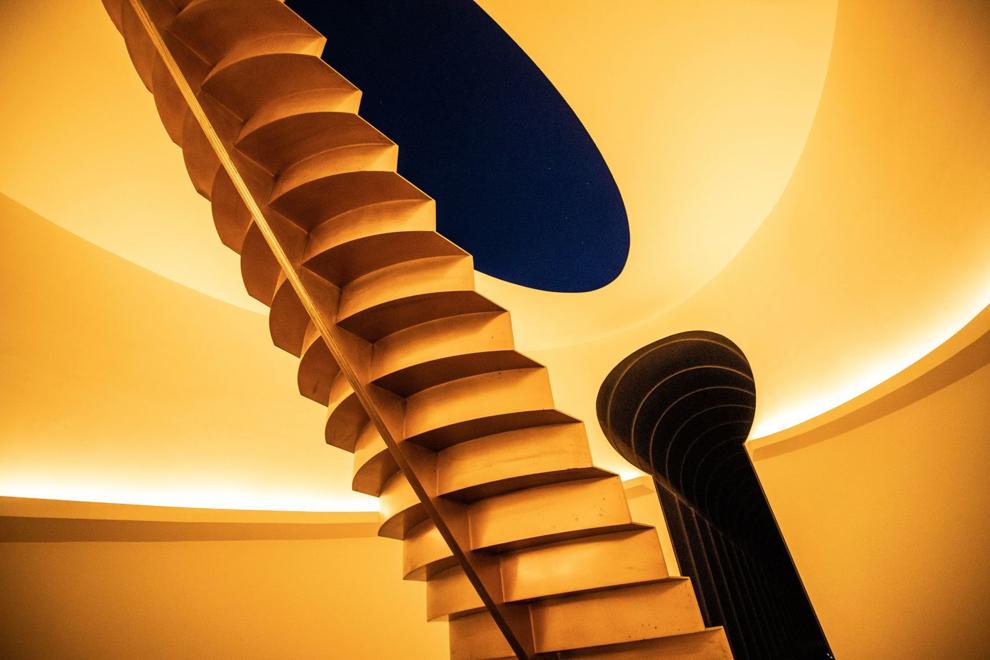 ASU recently entered into a partnership with Turrell and the Skystone Foundation, the nonprofit responsible for the fundraising, administration, realization and operation of Roden Crater, to develop a long-term plan for the project's completion. It will also develop an academic component for students to learn more about Turrell's artistic vision through a pilot program involving ASU's Herberger Institute, School of Sustainability, School of Earth and Space Exploration and the School of Social Transformation.
Michael Govan, board member of the Turrell Art Foundation and president of the Skystone Foundation, released a statement saying they hoped to complete the installation in five years thanks to a $1.8 million planning grant as well as West's support and the partnership with ASU. Recent donor contributions of nearly $40 million outside of West's generosity have helped nudge the project along, but the goal is to raise another $200 million in the next two years.
About 80 students and faculty will visit Roden Crater this spring as part of the pilot program and five interdisciplinary labs will be offered on subjects such as light and imagination, volcanoes and art, and indigenous culture/stories and sky science.
Kelly Fielder, a graduate student in ASU's youth theater program, said she hadn't heard of Roden Crater before learning about it in her volcanic arts and sciences class, but was grateful for the opportunity to visit last fall.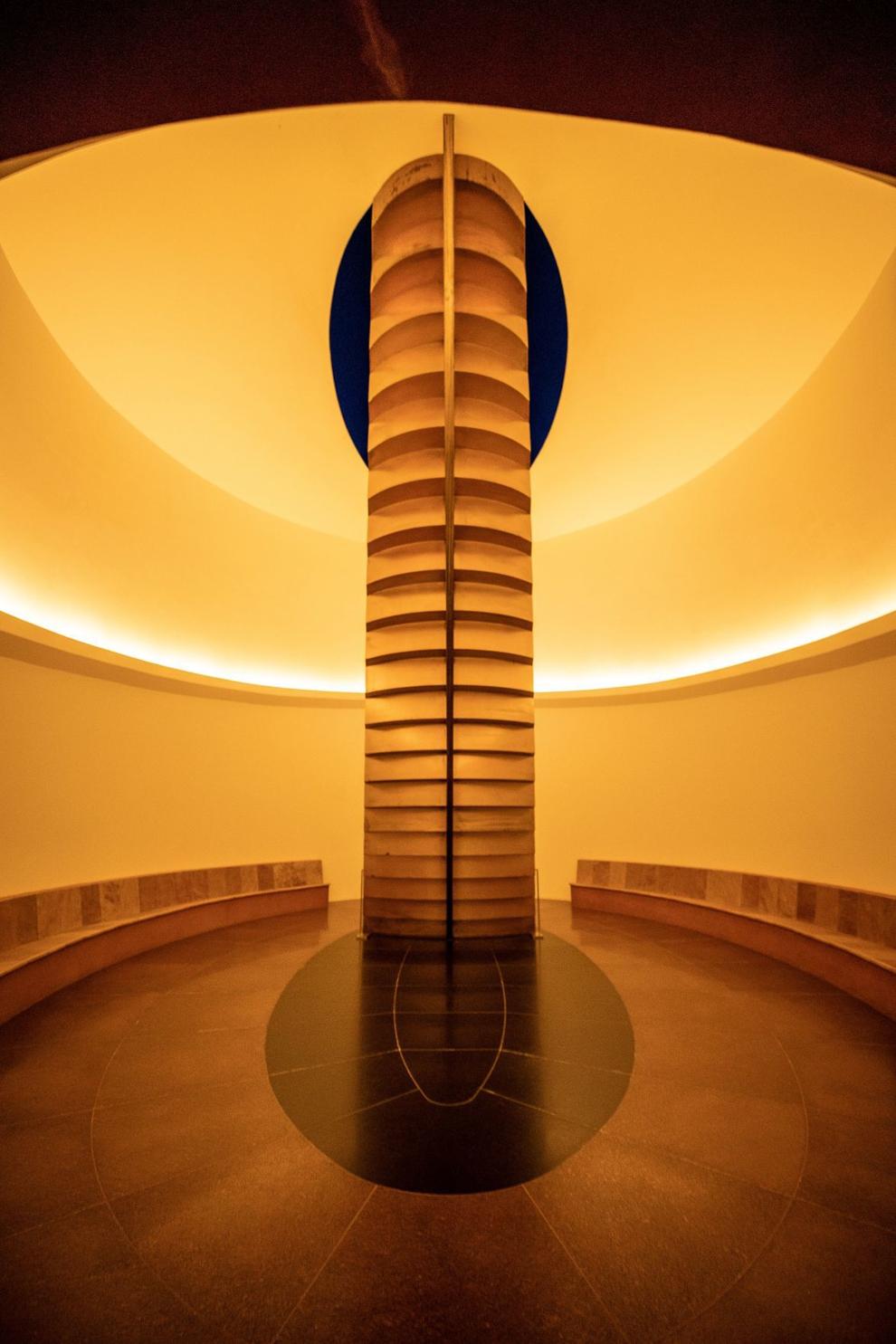 "I really didn't know what to expect exactly because before there weren't a whole lot of images online or anything like that, so I thought that part of what was so exciting about going was the mystery," she said. "Even if someone had described it to me, I wouldn't have had a full understanding of what I would be going through."
The website describes the site as "a gateway to the contemplation of light, time and landscape… constructed to last for centuries to come, Roden Crater links the physical and the ephemeral, the objective with the subjective, in a transformative sensory experience."
Holes drilled in the top of the crater turn the conceptual art space into a naked eye observatory built on Turrell's grand ideas that have rarely been limited to the earth, like with his "Skyspaces" series which are site-specific installations he has been creating since 1986.
A pilot for nearly 60 years, he knew exactly what he was looking for when he flew his plane over the Painted Desert in the '70s. Despite donations slowing down over time and the occasional comment from outsiders wondering whether Roden Crater would ever be finished, this seems like the beginning of the end to Turrell.
"The partnership with ASU has lit a fire under me. It's accelerated my vision that we will get Roden Crater completed, and it will have sustainability well into the future when I'm gone," he said. "This involvement with ASU and its wide-ranging work as a New American University — suddenly, I'm having to be young again, which is terrific."
The 75-year-old artist has gained worldwide recognition for his one-of-a-kind artwork in the past, but this project is the magnum opus of his career. He has described his art as being made from light as the material and perception as the medium; the work is more about sensing light than viewing it.
"There's the light outside that he makes physical, but the end result is an awareness somehow of our light inside," Govan said.
Visitors must go on a sort of pilgrimage to arrive at the volcano field, becoming both physically and mentally removed from the bustling outside world as they travel down a long dirt road. The remote location's dark skies are also an important aspect to allow enough celestial bodies to be projected on the inside walls. Each component has been precisely measured and positioned so the lunar and solar orbits will remain in view for at least 4,000 years.
Fielder said the installation wouldn't have had as much of an impact if it had simply been an exhibit within a museum in a big city.
"It's hard to imagine the artwork anywhere but Roden Crater," she said.
The students who are a part of ASU's pilot program are in the minority of those who have been granted access to Roden Crater.
"It definitely feels very special and very elite right now to be part of that small group," Fielder said. "I'm excited for the day when it doesn't feel so special and elite because I think it's a piece of art that everyone deserves to see."