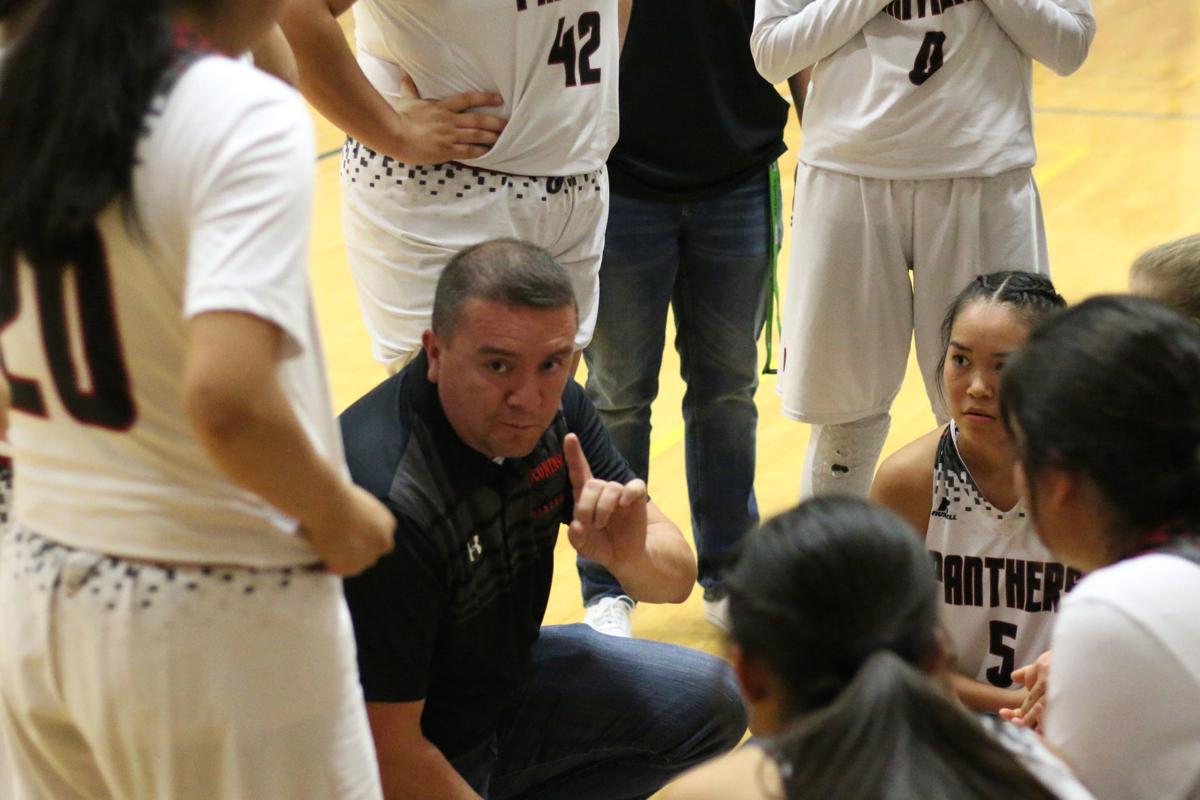 A lone basketball hits the dirt and creates a small crater in the flat landscape. Red mesas rise in the distance. The torn-up ball, grip weathered away, leaves the fingertips and enters the net-less double rim.
Chinle is one of many towns located in Navajo Nation. Extending into three states and covering over 27,000 miles, the reservation is home to a style of basketball that has taken northern Arizona -- and parts of the nation -- by storm. It's called rez ball.
"Rez ball, it would be fast pace, little defense, just going, going, going, scoring, scoring, scoring," said Cooper Burbank, a senior guard for the Chinle Wildcats.
Freedom, quick shots, pushing the pace, unlimited amount of 3-pointers and constant running are the building blocks of rez ball. Basketball is more than just a game on the reservation. It's a lifestyle.
"Basketball is everything for people here on the reservation," Burbank said.
Enjoyment is an understatement on what Wildcats basketball means to Chinle. In 2006 the Wildcat Den was constructed at a cost of $23 million, and it has been the hub of the town since. Seating for more than 7,000, one might see close to the entire 4,500 residents cheering their Wildcats on for a big game.
Chinle is helping the spread of rez ball, as their story can be viewed from anywhere. A Netflix documentary "Basketball or Nothing" focusing on Chinle basketball was released earlier this year. With the rise of media attention, Chinle's head coach Raul Mendoza has pressure of how his team plays. Instead of the Den watching, Mendoza's team is now being shown worldwide.
"I feel that we're disappointed sometimes the way we play because of the media and the exposure we had," Mendoza said.
Mendoza told his team that people will come and watch them if they play good basketball, but if they don't, people aren't going to watch.
The fans show out to support the up-tempo game. With an all Native American team, ironically enough, Mendoza does not want his team to play rez ball.
"I'm trying to get them out of that mentality," Mendoza said. "We got to play together and we have to play smart, got to play within a system."
Burbank said that he started playing rez ball under his coach, but he and the team had to accept the fact that it doesn't always lead to wins. The way the Wildcats play is still influenced by rez ball, with their high intensity and fast pace, but it is more structured.
Reservation teams are dominantly influenced by rez ball or they live or die by rez ball, one of which being the Tuba City Warriors.
"My emphasis as a coach is rez ball, but at the same time we have to be disciplined, meaning our best offense is going to come from our transition defense," said Warriors head coach Kimberly Williams.
Entering her seventh year as head coach, Williams is fighting the misconception that rez ball is just stopping to shoot a 3 and not playing defense. She has many aspects that she likes to emphasize, but the biggest is treating offense and defense equally.
Junior guard Talisha Attakai has not heard of the stereotype of rez ball lacking defense. Attakai and Williams are firm believers that good defense turns into easy offense.
"(Coach Williams) calls it 94 feet, where we play defense full court and that's our offense and defense," Attakai said.
Playing the full 94 feet of the court allows Tuba City to show off their roots. The run-and-gun offense is set up by their full-court defensive pressure. Warriors senior star point guard Larissa Yazzie said when they play rez ball against teams from Phoenix she sees them tire out.
Williams knows the culture of rez ball runs deep within their roots, as Native Americans she said they have the ability to keep their endurance longer despite the high-tempo pace. The fans in Tuba City can't get enough of the fast-paced game.
"Why it's meaningful to us as Native Americans is that it brings a lot of excitement to the game," Williams said. "It gives a lot of the elderly people an opportunity to come and enjoy a sport and leaving their troubles at home."
MAKING HOOPS A HABIT
Just like any other city, the reservation has issues with drugs and alcohol. Some families struggle and others are not impacted. Basketball on the reservation is used to help kids get away from the problems.
"You can't give up because people live with more devastating lifestyles without this game, so use it in a way to help you," Williams said.
Williams said Native Americans don't give up easily. She said she sees just 1% of her players give up. Playing basketball on the reservation comes with its own challenge of reaching the next level.
Freshman Kailer Tsingine-Reid has hopes of getting a scholarship and playing Division I basketball at Stanford University. She knows this is no easy task, but she is dedicated to working hard and putting herself out there.
"There's a lot of girls they recruit coming from the city that are bigger, faster and stronger, so you have to compete with that. But you just have to work hard," Tsingine-Reid said.
The Tsingine name has been established in collegiate basketball. Kailer Tsingine-Reid is the cousin of former Northern Arizona sharpshooter Tate Tsingine. She looked up to her cousin as a role model and loved watching her play collegiate basketball for the Lumberjacks.
The next level is something that Williams wants to make sure her team is ready to reach. She has mentors at the collegiate level that show her what a college player should look like. The Warriors are all trained so they are ready for the collegiate level when they graduate; they learn skills like how to properly lift weights, concept of running and quickness.
Recently Williams has found a new way to help prep her team and others for basketball past high school. Coach has taken an all Native American team to Italy and Spain the past two years to play on a basketball tour.
SPREADING OUT THEIR SHOTS
While in Spain, they played in Madrid and Barcelona. They ended up playing against athletes that were going to play in college, collegiate players or past players from their Olympic team, and Williams said they matched up well.
"We were run-and-gun," Attakai said. "We kept up with them running wise -- after every shot they put up we kept running the ball -- but they were a lot taller than us."
From the reservation in Tuba City to Europe, rez ball was being played, and the crowd was interested in knowing what rez ball was.
"The people there were very surprised about their basketball IQ and how they carried themselves, so they really welcomed rez ball and got to see it first-hand," Williams said.
Rez ball has expanded from the reservation to overseas and Netflix, something closer to home has been influenced as well. High schools across Arizona have familiarized their athletic programs with the term rez ball.
Flagstaff is the closest city to the reservation in northern Arizona and has seen the impact of rez ball. Coconino girls basketball coach Martin Reyes has seen rez ball while coaching and on television at the professional level.
"I mean you can really say Golden State can play a style of rez ball," Reyes said. "They look to shoot the long ball, they look to shoot the ball early, they look to shoot the 3."
Coaching basketball since 2007, Reyes is entering his fifth year as the Panthers girls hoops head coach. He has seen the game of basketball change over time and how it is fitting more of the rez ball style by shooting 3s and the fast pace.
Reyes witnessed the advent of the 3-point shot as a high school player at Coconino in the 1980s. He recalled that his team shot 50 3-pointers in 32 games. Last year, his varsity squad shot 380 from long range.
Despite hearing the term rez ball a lot, the Panthers don't play it. Coconino runs an organized style of basketball that looks for the best available shots.
With the structured style of basketball, some of the players still prefer to play rez ball.
Mahala Long, a junior forward for Coconino, lives in the reservation town of Dilkon. Long learned how to play from her siblings after watching her older brothers play in tournaments.
Long said that Coconino plays more structured basketball compared to Dilkon, where it is more run and gun. She prefers rez ball to show off her spin move, but has adapted to how the Panthers play.
"At first I was kind of sketchy about their setup, but now I've changed over to their type of play," Long said.
Not all CHS players come from outside of town; some are Flagstaff locals. Senior Kaelynn Ashley and junior Kiana Manuelito were both born and raised in Flagstaff. Both played basketball at Mount Elden Middle School (MEMS) and now are playing for the Panthers.
Having played at MEMS, Ashley said they did not have a structured offense.
"Becoming a freshman, it was kind of hard to transition to actually being disciplined, not having to shoot when you don't need to, being very disciplined on how to use a team," Ashley said.
Having played unorganized basketball prior to playing for Coconino is something that players from the reservation faced as well. Others had an easier transition into the structured play of Coconino like Manuelito.
Unlike Ashley, she was learned how to play basketball through the Flagstaff National Junior Basketball (NJB). NJB teaches players fundamentals of the game and prepares them for the high school athletics. Manuelito started playing with NJB when she was in third grade.
Despite her experience in organized basketball Manuelito still goes back to her roots and prefers to play rez ball. She likes to take it one on one and said her go-to move is hand down, man down, shoot a 3.
"It's more thrilling because you don't have to execute, but you know what's going to happen," Manuelito said.
Rez ball is influencing the game of basketball in northern Arizona, and has made its appearance on Netflix and in Europe. The game is changing to look more like the style of rez ball, but despite that rez ball is more than just a sport.
"I love the game a lot, especially rez ball it's the best," said Larissa Yazzie, a senior guard at Tuba City. "It's my favorite sport, basically my lifestyle and I love playing it."
Get local news delivered to your inbox!
Subscribe to our Daily Headlines newsletter.