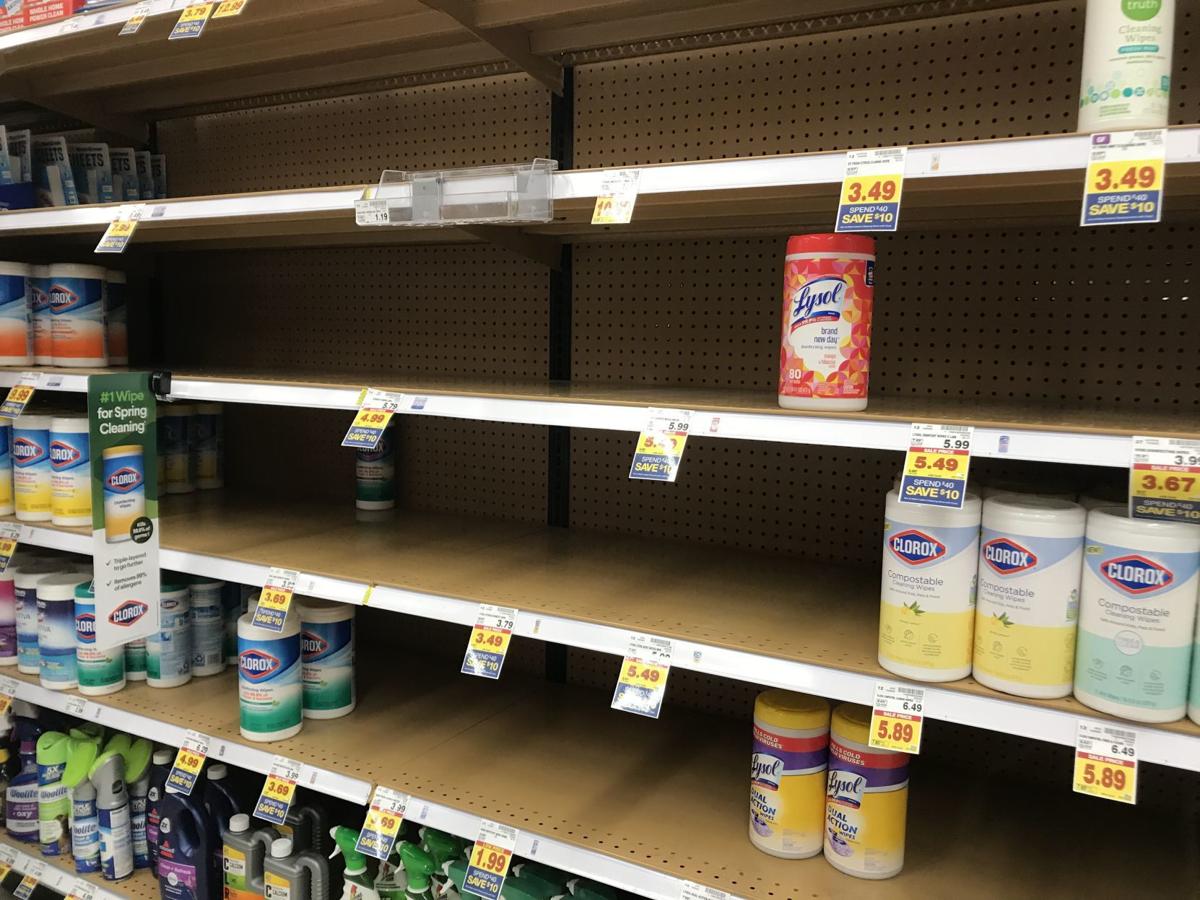 Coconino County may have no confirmed cases of COVID-19 so far, but that hasn't stopped Flagstaff residents from stocking up on supplies like hand sanitizer and masks.
At Fry's Food and Drug and at Walgreens and CVS pharmacies, employees were not able to speak to the media, but the empty shelves spoke for themselves. Shelves that once held products like disinfectant wipes, masks, rubber gloves and rubbing alcohol were nearly or completely empty on Monday.
Employees at Target and the Walmart Supercenter also said they have seen products like hand sanitizer and hand wipes flying off the shelves.
And at some local businesses and grocery stores, employees also said they have seen a corresponding uptick in the sales of herbal remedies and vitamins, although none were willing to immediately speak to the press.
The increased purchase of cleaning products comes as officials announced the state's sixth case of COVID-19 on Monday after a resident of Pima County tested positive.
All six confirmed cases of the disease, which is caused by the coronavirus, are in southern or central Arizona, although Coconino County announced last week it is monitoring seven individuals who had traveled from areas in which the virus is active.
Cathy Schneider, who works at the Home Depot on West Route 66, said they began seeing the uptick in sales of products like hand sanitizer about two weeks ago. She said the store is now out of both sanitizer and masks, including painter's masks, which are not designed to prevent the spread of disease.
With the store out of sanitizer to sell, Schneider said they are also out of sanitizer for employee use, although they still have the hand wipes meant to clean the handles of shopping carts.
Schneider said it usually takes the store about two weeks to get new shipments of products into the store, but given the global shortages of some supplies, she couldn't say if they will be able to fully restock.
Nonetheless, Schneider said she is not particularly concerned about getting COVID-19 and is just taking the common sense measures like washing her hands. She said if it was summer and there were more tourists coming through town, she might be somewhat more worried.
Mychal Semprun, the assistant grocery manager at the Safeway in the University Plaza Shopping Center, described a similar situation as at Home Depot.
Semprun said the store is essentially out of sanitizer and it is running low on other products like disinfectant wipes. They are also all out of painter's masks, although he said that is not surprising given how small the store's hardware section is.
Semprun said demand for some products has been so high that even the warehouse in the Valley that delivers to them is beginning to run out of some supplies. He they are also competing with other stores in the Phoenix metro area that have seen even higher numbers of customers looking to purchase cleaning supplies and sanitizer.
Semprun said Safeway should be getting a new shipment next week, but all the demand in the Valley could pull product from their shipments, redirecting it to other Arizona stores.
Still, while they are out of some things, Semprum said they have not seen the same interest in other staples like canned goods or toilet paper.
Concerned about COVID-19?
Sign up now to get the most recent coronavirus headlines and other important local and national news sent to your email inbox daily.