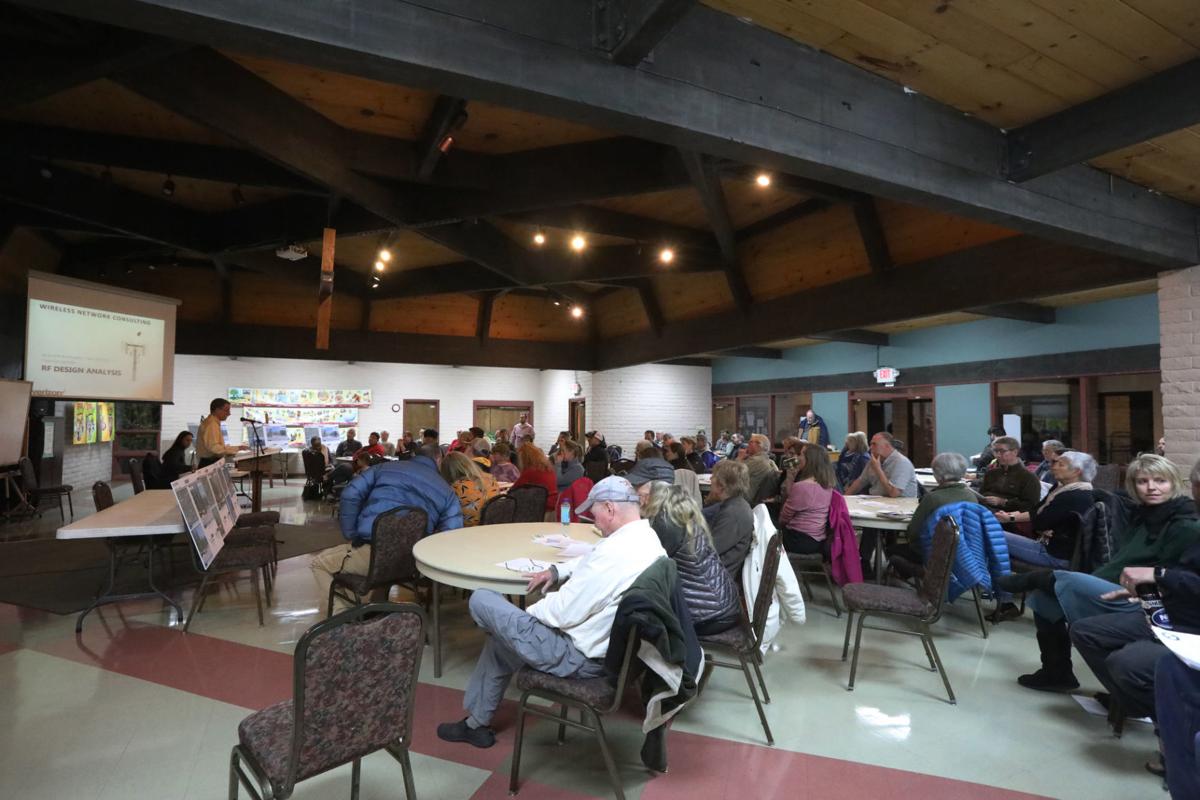 How safe can it be to construct a cell tower in the vicinity of an interstate, high-pressure gas pipeline?
That is one question many residents living near the Trinity Heights United Methodist Church are asking as they continue to fight to prevent the approval of a cell tower proposed on a section of the church's land.
Although on land owned by the church, the tower's proposed site sits just over 20 feet north of three high pressure natural gas lines controlled by the company Kinder Morgan.
Traveling from the east, the 24-inch, 30-inch and 36-inch pipelines pass under the church's parking lot as they carry gas through northern Arizona to California at pressures between 600 and 800 pounds per square inch.
To provide electricity to the tower, a new electric utility line would also need to be installed crossing under the three pipelines.
And that has residents worried, including Carrie Warman, who not only lives near the proposed site but has been working on gas pipeline projects in California for the last two years.
"They don't understand what a big deal this is and how dangerous building around a pipeline is," Warman said, speaking of the company who has proposed the tower, Pinnacle Consulting. "[The pipeline] wasn't even considered as a factor."
Warman pointed to the fact that Kinder Morgan had not been made aware of the most recent developments toward construction of a tower near the line until they were notified by a neighbor only days before the first planning and zoning meeting.
Kinder Morgan had been told by Verizon a few years ago that in the future, development of a tower along the line was planned, but had not been informed that a final location had been decided.
Warman said she also worries because the planning documents Pinnacle Consulting submitted to the city had to be changed after Kinder Morgan became aware of the site and did not include depictions of infrastructure that would prevent accidents.
Michelle Lamoureux, a spokesperson for Pinnacle Consulting, disagreed when the concern was brought up at a community meeting, saying that such infrastructure was not depicted on documents because they are so early in the process.
The infrastructure Warman references, Lamoureux said, will be included on construction plans but are not necessary for planning and zoning purposes.
Neil Gullickson, the planning development manager for the city, agreed and said generally, such infrastructure is included farther down the line.
Nonetheless, Warman said she does not believe it is safe that a cell tower is built in the vicinity of a natural gas pipeline. Any accident or malfunction with the tower -- if it falls, catches on fire or there is an accident during construction -- could be far worse because of the presence of a pipeline, Warman said.
"No one pays attention to [pipelines] when everything is going right and no one is left when something goes wrong," Warman said.
And Warman has had experience with gas pipeline accidents in the past.
Warman said when she was working on a gas line in 2017, another line owned by a different company experienced an accident only a few miles from where she was.
In that case, a maintenance team had been looking at the line in an area near Newberry Springs, California when one of the maintenance workers smelled a gas leak. Everyone in the team ran to escape the explosion that followed. Although no one was hurt, a number of heavy construction vehicles were destroyed, with the explosion also causing a small brush fire.
And if there is a leak in this section of pipeline, Warman believes the tower will be just one more piece of infrastructure with the possibility of creating a spark.
Any leak can be especially dangerous during construction when sections of the line might be exposed, Warman said, referencing a study by the Pipeline and Hazardous Materials Safety Administration that looked at 20 years of pipeline accidents.
That study showed that about 35 percent of serious accidents occurred due to third party damage while excavating.
According to Lexey Long, a spokesperson for Kinder Morgan, the company does take a multitude of measures to ensure leaks -- let alone some kind of accident -- never happen, including monitoring their lines 24 hours a day and seven days a week.
Long added via email that the company does not track cell towers adjacent to other stretches of their line, meaning there may be any number of towers already along their thousands of miles of pipeline.
Long also said there are certainly ways to remain safe when building near pipelines and when such projects occur, the company has someone on site.
And this was something pointed to by Lamoureux as well.
"The reality of it is that Kinder Morgan has I don't even know how many miles of pipeline across several states. So there is work being done around and under the pipeline all the time," Lamoureux said.
Get local news delivered to your inbox!
Subscribe to our Daily Headlines newsletter.