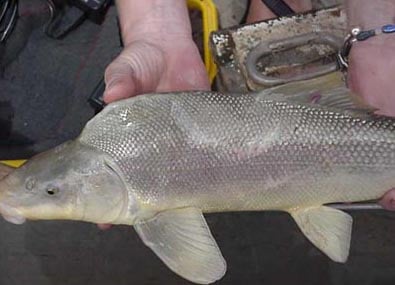 Researchers sampling for fish caught one last week that hadn't been seen in Grand Canyon in more than 20 years -- an endangered species that some thought no longer lived there.
The razorback sucker was one of the biggest suckers in North America at up to 3 feet in length, and it used to be found throughout the Colorado River system. It's one of six fish species previously found only in the arms and branches of the Colorado River and nowhere else on the globe.
The last one on record in the Grand Canyon had been caught in 1990. That changed on Oct. 9, when an annual fish surveying group passed into the lower part of Grand Canyon.
"We had basically classified the fish as being extirpated from (or locally extinct from) the park," said Brian Healy, fisheries program manager at Grand Canyon National Park.
The National Park Service is beginning another look at what lives in Grand Canyon and what's dying out there.
"The idea is to synthesize existing research and data," said Todd Chaudhry, senior ecologist at the Grand Canyon.
A number of species are at risk, conservation group Grand Canyon Wildlands Council stated in a scientific and position paper last year -- or seven kinds of plants, nine types of insects, eight breeds of fish, 19 birds and 31 mammals, the group wrote -- about 85 species, at least.
Of those, perhaps a quarter are gone from Grand Canyon already, though some were never listed as endangered or threatened.
More than half of those listed were affected in some way by the addition of Glen Canyon Dam in 1963, the conservation group wrote to federal agencies tasked with managing the dam.
Flagstaff ecologist Larry Stevens, a longtime researcher of various species in the Grand Canyon with the conservation group, gave a recent discussion at the Museum of Northern Arizona, noting a willow that used to be common but is now dying out.
He documents plants and wildlife in the canyon, and these include an endangered, hermaphroditic snail from the last ice age, dating to more than 12,000 years ago.
The National Park Service and Arizona Game and Fish have been moving the snail other water sources, lest the few spots where they're found be submerged during periodic big water releases from Glen Canyon Dam.
The researchers who found the rare razorback sucker were using electricity to stun fish for short periods and sampling what floated to the top.
"It's an event, for sure. It's something that people are interested in," said Mark McKinstry, a biologist with the Bureau of Reclamation.
The suckers don't reproduce so easily in temperatures below 50 degrees and are eaten by a number of other fish. McKinstry said he thinks the fish might have traveled upstream some 50 miles from Lake Mead.
Like the endangered humpback chub, the suckers might someday get a little human assistance, or a ride upstream, said the park's science director, Martha Hahn.
"The big thing is understanding: Why now? What's different now, and how do we maintain it?" she said.