Updated 5:35 p.m.: The Coconino National Forest said air and ground resources were also responding to another new wildfire, the Snake Fire, seven miles west of Clints Well. The blaze, which was 10-20 acres and started by an unknown cause, moved several communities in the area to "set" status, including the Happy Jack Lodge, Clear Creek Pines 1 and 2, Mahan Park, Poor Farm and Fisher Properties.
The fire was first reported Monday afternoon by the Apache Maid Lookout, according to a press release.
Updated 4:15 p.m.: FLAGSTAFF (AP) — Dozens of wildfires were burning in hot, dry conditions across the U.S. West, including a blaze touched off by lightning that was moving toward Flagstaff, which was shrouded in smoke Monday. The national forest surrounding it announced a full closure set to begin later this week — the first time that has happened since 2006.
Intense heat that has hampered firefighting efforts more broadly was expected to moderate in the coming days. But, the National Weather Service noted it could bring uncertainty for fire crews.
"The humidity and the possibility of some scattered rainfall is a good thing," said meteorologist Andrew Taylor. "The lightning is not a good thing."
In California, firefighters still faced the difficult task of trying to contain a large forest fire in rugged coastal mountains south of Big Sur that forced the evacuation of a Buddhist monastery and nearby campground.
In New Mexico, lightning-sparked blazes have been scorching the southern part of the state where a large portion of the Gila Wilderness remains closed, and fire officials are closely watching the Gila Cliff Dwellings National Monument.
More land has burned across Arizona so far to date with new wildfire starts quickly shifting resources. While humans are to blame for an overwhelming majority of wildfires, lightning started a blaze west of Sedona that was moving toward Flagstaff.
A top-tier management team had been ordered to oversee the blaze that's burning in grass, juniper, chaparral and ponderosa pine.
Some campers already evacuated, and residents of rural areas have been told to prepare to evacuate on a moment's notice, said Coconino County sheriff's spokesman Jon Paxton.
Fire officials were mapping out a plan to starve the Rafael Fire of fuel as it moves through rugged terrain, canyons and wilderness, said fire information officer Dolores Garcia.
As of Monday, it was moving parallel to Interstate 40 along the Coconino and Yavapai county lines. The fire was about 16 miles from Flagstaff, but it's hard to say how quickly it was spreading through various terrain, Garcia said.
Two national forests in northern Arizona made rare announcements to close completely to visitors starting Wednesday because of concerns they won't have enough resources to respond to any future wildfires.
"We have limited resources, and we're tapped right now," said Coconino forest spokesman Brady Smith.
Both forests are popular for hiking, camping, fishing and other recreation because they sit at higher elevations and are much cooler than the state's desert areas. The Coconino National Forest surrounds Flagstaff, and the Kaibab National Forest is south and north of the Grand Canyon, and was facing a full closure for the first time since 2002.
Arizona is at the highest level of preparedness for wildfires. A large wildfire burning near Superior, about 60 miles west of Phoenix, was nearly 70% contained Monday. The 282-square-mile blaze was human-caused.
Residents near the small communities of Pine and Strawberry remain evacuated because of another wildfire that has danced among the treetops, with flames jumping ahead carried by wind. Some local roads also were closed.
Firefighting crews have yet to contain any of the wildfire's perimeter. The lightning-sparked blaze was estimated at 51 square miles Monday and is being managed by a top-tier team.
Firefighters in Oregon were focused on two wildfires, one burning near the state's highest peak and another in the southern part of the state that was threatening 125 structures.
In Utah, several wildfires were burning in bone-dry conditions. The largest near the small town of Enterprise in southern Utah forced evacuations over the weekend. But homeowners were allowed to return as containment reached 50%.
Updated 4 p.m.: Coconino County Emergency Management has activated an emergency operations center in response to the Rafael Fire. A Call Center has also been set up to answer questions.
During the Tuesday, June 22 Board of Supervisors meeting, there will be a Fire update at 1 p.m. You can join the zoom webinar by clicking on this link: https://zoom.us/j/92870110865 Or Telephone: Dial or 877 853 5247 (Toll Free), Webinar ID: 928 7011 0865.
Updated 3 p.m.: Officials with the Coconino County Sheriff's Office are urging residents in the southwest portions of Flagstaff to prepare for a possible evacuation as the Rafael Fire nears.
Coconino County Sheriff's Office spokesperson Jon Paxton said the decision to elevate to "set" status was made in conjunction with the Coconino County National Forest. The "set" status is not an official evacuation order, but it means residents should be prepared for a possible evacuation.
Typically, Paxton explained, that decision is made once a "trigger point" is reached. This might include passing a certain forest service road, predicted wind speed, heat or other aspects that could indicate a particularly fast-moving fire.
Officials announced Monday afternoon that all areas south of the 1-40 and west of the I-17, including University Heights of Kachina Village, Forest Highlands, Pine Dell and Woody Mountain Road should prepare to evacuate as the lightning-sparked Rafael Fire swelled to more than 20,000 acres.
This area includes more than 750 apartments within Flagstaff, second homes in the Forest Highlands area and larger properties in Kachina Village in addition to single-family homes scattered throughut.
"We're talking more than 1,000 residents," he said.
Deputies will attempt to go door-to-door to urge residents to prepare for a possible evacuation. In some cases, residents might not receive another notice as emergency services cannot guarantee they will be able to notify everyone if conditions deteriorate rapidly.
Anyone especially concerned about traffic or in high-congestion areas should consider leaving prior to an official evacuation notice.
Officials were still working to identify a possible shelters for residents in addition to large and small animals Monday afternoon. 
"This has really escalated over the last hour or so," Paxton added.
Becky Hipsher, her husband and son were among many preparing for the possibility of a "go" order.
The three of them live in Pine Del in a home they have occupied for more than 20 years.
Hipsher said they were feeling nervous but had completed most of their packing. She said they had packed the necessities and things that could not be replaced.
"Pictures, medications, art work, things with sentimental value," Hipsher said. "That's about it other than a few clothes in an overnight bag."
She said this is the second time they have found themselves at risk of needing to evacuate because of a wildfire, but it hasn't been any easier.
Update 1:25 p.m.: The Coconino County Sheriff's Office issued an alert that all areas south of the 1-40 and west of the I-17, including University Heights, Kachina Village, Forest Highlands, Pine Del and Woody Mountain Road, are now in "set" status due to the Rafael Fire.
Authorities say residents should prepare for a possible "GO" order to evacuate.
When a "set" status is declared, residents should consider voluntarily relocating to a shelter or with family or friends outside the impacted area. Grab your emergency kit and start arranging to relocate pets and livestock. Be prepared to possibly leave your home for up to a week or more.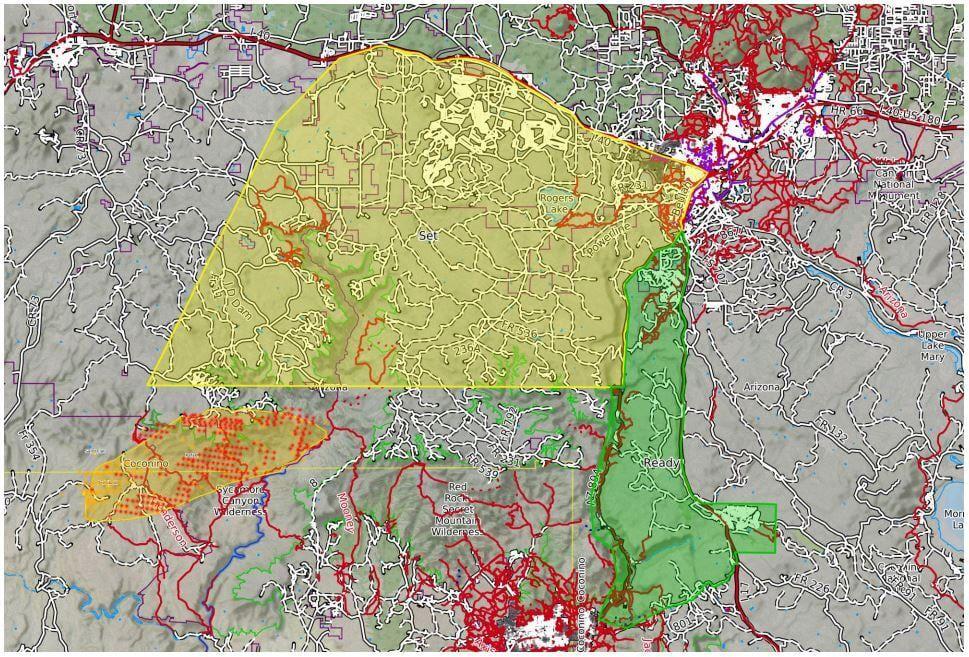 The fire was recorded at 20,000 acres in size Sunday night after being discovered Friday and is 0% contained.
The fire began burning north of Perkinsville and west of Sedona in Yavapai county, but has since spread into Coconino County, nearing areas around Sycamore Canyon.
Additional information on Rafael Fire: 
A fire southwest of Flagstaff and across Sycamore Canyon exploded from an estimated 400 acres to close to 20,000 acres Sunday.
The Rafael Fire was discovered Friday and is 0% contained.
Fire managers say that growth is in part due to strong winds from the west and low humidity, as well as the terrain in the area.
Fire managers are now juggling numerous fires across the state with a limited number of resources. To the south, the Backbone Fire continues to grow in difficult terrain, threatening multiple communities.
With so many fires, Prescott National Forest spokesperson Noel Fletcher said fire managers are doing their best to ensure every blaze has the resources needed to contain it. 
But Fletcher said with so many incidents, firefighting resources are reaching their limits. 
"Resources are definitely stretched thin. We have so many incidents going on right now that we are scrambling to get skeleton crews together to take care of certain things. Now some things you can do that with and other things you can't," Fletcher said. 
It has even been a struggle to get an adequate number of public information officers to take phone calls and keep the public informed, Fletcher said. 
Fletcher herself is an example of that. Her normal role is as a forest wildlife biologist for the Prescott National Forest, but now she is lending her hand at providing information. 
The Rafael Fire began burning north of Perkinsville and west of Sedona in Yavapai County but has since spread into Coconino County, nearing areas around Sycamore Canyon.
The blaze is now burning on sections of the Prescott, Kaibab and Coconino National Forests, Fletcher said.
Fire managers believe the blaze was ignited by a dry thunderstorm that passed across the region late last week. Fire managers believe the same storm ignited as many as five other fires north of Paulden and west of Highway 89, but so far, all those fires are significantly smaller than the Rafael Fire.
Those fires are being called the Rock Butte Fires. The total acreage of all of them is estimated to be about 1,800 acres. A type 3 incident management team appears to be working on the Rafael Fire and the other smaller blazes in the area.
A type 1 team is scheduled to take over management of the Rafael Fire later in the week.
Fletcher said the type 1 team will be better equipped to coordinate efforts on the Rafael Fire, which has the challenges of being in somewhat difficult terrain and covering multiple jurisdictions, as well as having grown rapidly.
At the moment, there appears to be about 65 personnel working the Rafael Fire, although Fletcher said they hope to bring in additional manpower.
Firefighters who were working on the Rock Butte Fires have shifted their efforts to the Rafael Fire and fire officials have requested aircraft to assist, Fletcher said.
"The resources that were on the Rock Butte [Fires] are now being shared with the Rafael, but the Rafael is going to have a lot more resources dedicated to it in the coming days," Fletcher said. 
Aircraft may arrive sometime Monday, likely coming in the form of large air tankers that are able to drop fire retardant on and around the fire.
Fletcher said as the type 1 team takes over, they will be looking to assess both the fire's size and likely spread, as well as what is at risk from the fire.
There are a few structures that may need protection in the vicinity of the fire.
Smoke from the Rafael Fire is highly visible from Sedona and is likely impacting other communities as well such as Flagstaff.
Coconino National Forest to move to full closure Wednesday
On June 21, Coconino National Forest announced a full closure of the forest beginning Wednesday, June 23. They cited public safety risks due to "fire danger, dry conditions and persistent wildfire activity" as the reason for the closure.
A full forest closure prohibits the public from entering any part of the Coconino National Forest at any time. In their announcement of the closure, the Forest Service said "only those with private inholdings will be allowed access to their property, as well as personnel providing utility support where necessary, and firefighters performing their duties."
Work on restoration projects will cease during the closure and partner agencies, concessionaires, permit holders and contractors are all prohibited from entering the forest.
Campers and visitors to Coconino National Forest are being told to vacate their sites before the closure begins, and personnel from the forest service will begin attempting to reach as many people as possible.
While there may be rain in various parts of the forest in the coming weeks, the closure is expected to last until there has been enough precipitation to reduce the risk of wildfire and until "hot, dry weather conditions are no longer forecast to continue."
According to the Forest Service press release, "violating closures and fire restrictions is a violation that carries a mandatory appearance in federal court, punishable as a Class B misdemeanor with a fine of up to $5,000 for an individual or $10,000 for an organization, or up to six months in prison, or both."
Weather outlook
The National Weather Service in Bellemont is calling for more haze and smoke in the Flagstaff area Tuesday, with a high of 86 degrees and west winds of 8 to 14 mph, with gusts up to 23 mph. There is a 40 percent chance of showers and thunderstorms on Wednesday and a 20 percent chance on Thursday, with the high dropping to the low-80s. Temperatures are expected to rise back to the upper 80s through the weekend, with relatively calm winds.
Smoke risks
The Environmental Protection Agency reminds people that it is especially important to pay attention to local air quality reports during a fire if you are:
a person with heart or lung disease, such as heart failure, angina, ischemic heart disease, chronic obstructive pulmonary disease, emphysema or asthma.
an older adult, which makes you more likely to have heart or lung disease than younger people.
caring for children, including teenagers, because their respiratory systems are still developing, they breathe more air (and air pollution) per pound of body weight than adults, they're more likely to be active outdoors, and they're more likely to have asthma.
a person with diabetes, because you are more likely to have underlying cardiovascular disease.
a pregnant woman, because there could be potential health effects for both you and the developing fetus.
High concentrations of smoke can trigger a range of symptoms.
Anyone may experience burning eyes, a runny nose, cough, phlegm, wheezing and difficulty breathing.
If you have heart or lung disease, smoke may make your symptoms worse.
It's important to limit your exposure to smoke, especially if you are at increased risk for particle-related effects. Here are some steps you can take to protect your health:
Have a several-day supply of nonperishable foods that do not require cooking. Cooking -- especially frying and broiling -- can add to indoor pollution levels.
Consider buying an air cleaner. Some room air cleaners can help reduce particle levels indoors, as long as they are the right type and size for your rooms as specified by the manufacturer. If you choose to buy an air cleaner, don't wait until there's a fire -- make that decision beforehand. Note: Don't use an air cleaner that generates ozone. That just puts more pollution in your home.
Have a supply of N-95 or P-100 masks on hand, and learn how to use them correctly. They are sold at many hardware and home repair stores and online.
Adrian Skabelund can be reached by phone at (928) 556-2261, by email at askabelund@azdailysun.com or on Twitter at @AdrianSkabelund.