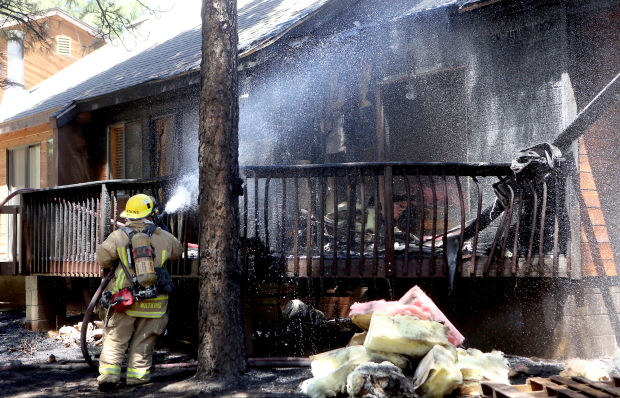 A propane tank started a house fire in the Elk Run neighborhood this morning.
According to information from Flagstaff Fire Department, the fire started around 10 a.m. in the 2300 block of North Elk Run Street when the propane tank for a gas grill caught fire on the back deck of the home. The flames quickly spread up the exterior of the house while a family was inside.
"They noticed the fire and the smoke detectors alerted them," said Capt. Kevin Wilson of Flagstaff Fire Department. "They were all able to exit the home safely."
Five Flagstaff Fire Department units responded, along with a battalion chief, Flagstaff Police Department and Guardian Medical Transport.
"We were able to get here very quickly and extinguish the fire before it spread into the home," Wilson said.
The rear exterior of the home sustained heavy damage and there was some smoke damage inside, but the interior of the house was untouched by flames. Officials have not yet estimated the cost of the damage, but Wilson said the residents will likely be displaced for some time.
No citizens or Fire Department personnel were injured.
Investigators are still trying to determine what caused the propane tank to catch fire.
In the meantime, the Fire Department is reminding Flagstaff residents that even though propane grills are not included in the city's fire restrictions, people still need to be careful when they use them.
"I would just remind people to use caution when barbecuing," Wilson said. "Make sure your fittings and hoses are in good condition."
Charcoal grills are not permitted within Flagstaff city limits due to fire restrictions.