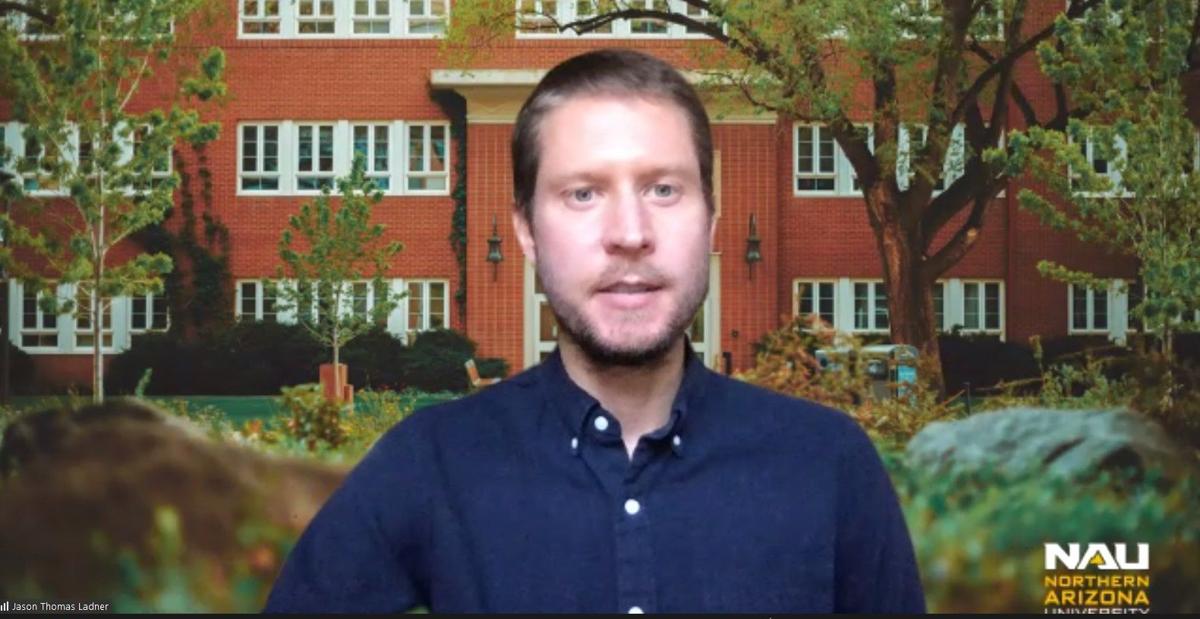 Before the novel coronavirus that causes COVID-19, SARS-CoV-2, made these spiky viruses a household name, humans have faced other coronaviruses -- which a new study by Northern Arizona University and the Translational Genomics Research Institute has revealed could have an effect on how immune systems respond to COVID-19.
According to the Centers for Disease Control and Prevention, human coronaviruses were first identified in the 1960s. There are currently six known coronaviruses that can infect humans, in addition to SARS-CoV-2, including several that are considered common or endemic.
The NAU-TGen study, published in Cell Reports Medicine on Tuesday, Jan. 19, showed that not only are coronavirus antibodies cross-reactive, meaning they can recognize both endemic coronaviruses and SARS-CoV-2, they are also better at binding to the endemic proteins for those who have them, said Jason Ladner, the study's lead author and an assistant professor in NAU's Pathogen and Microbiome Institute.
Early last spring, as COVID-19 cases first appeared in the U.S., the team began to analyze a group of 55 convalescent plasma samples from COVID-19-positive patients as well as a negative control group to determine in which epitopes, or regions of the virus's proteins, the body's immune response was located.
Using an extensive collection of viral data that NAU and TGen researchers have been creating over the past several years, the team then compared these antibody responses to those of other known human-infecting coronaviruses, including both deadly coronaviruses such as the ones that caused previous outbreaks of Middle East Respiratory Syndrome (MERS) and Severe Acute Respiratory Syndrome (SARS), as well as older, endemic coronaviruses.
At the time of the most recent study, despite the abundance of local nasal pharyngeal swab — and later saliva — testing for COVID-19, the group had to look to a colleague in Norway to find blood samples needed to conduct antibody testing.
Although Ladner noted that many antibody studies focus on coronaviruses' entire crown-like spike protein, this study instead looked at small chunks of the protein to determine specifically where antibody reactions were occurring. As mentioned in the report, these particulars of the antibody response could determine disease outcome.
"Not all antibodies are created equal. Some antibodies have strong neutralization potential, others do not. … Part of what we're trying to do with our approach is to tease apart these different classes of antibodies that we can understand the different impact of these different types of antibodies," Ladner said.
Even among samples from different people, the team discovered that these antibodies tended to target the same general regions to begin creating new antibodies or, in the case of a previous infection, to reactivate them.
"Our findings highlight sites at which the SARS-CoV-2 response appears to be shaped by previous coronavirus exposures, and which have potential to raise broadly neutralizing antibodies," said the study's senior author, John Altin, in a press release. Altin is an assistant professor in TGen's infectious disease branch.
More research is needed in this area, though, to determine exactly how these different antibody reactions may affect the severity of an individual's reaction to COVID-19.
"Those antibodies that are being boosted may not be as good at fighting SARS-CoV-2 infections as they might be if people hadn't previously experienced these other coronavirus infections," Ladner said. "It would take longer to generate the response if they didn't have previous exposure, but in the end, the response that's generated may have higher affinity in being able to bind more strongly to SARS-CoV-2 proteins than the result that we see given these previous exposures."
Age, too, also seems to play a role in how antibodies are formed. In the study, researchers saw higher antibody activity among the samples from older people. Ladner described that because older people generally have a greater history of viral exposures, they therefore have more diverse antibodies, although additional research is also needed in this area to determine how these antibodies, when activated by memory cells exposed to SARS-CoV-2, affect the immune response of older populations.
What the study did reveal is that future therapeutics and vaccines can take into account the cross-reactivity between coronavirus antibodies to offer broader protection against coronaviruses.
"If they have neutralization potential, then the antibodies that bind to that region have the potential to not only protect against SARS-CoV-2, but also other coronaviruses, and that could potentially be the theoretical SARS-CoV-3," Ladner said.
Additional contributors to the study include City of Hope National Medical Center, Walter Reed National Military Medical Center, Vitalant Research Institute, Sanford Burnham Prebys Medical Discovery Institute, Norwegian University of Science and Technology, St. Olavs Hospital and Encodia Inc.