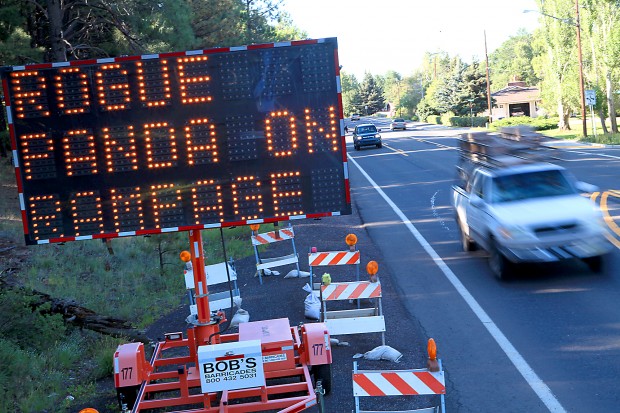 Fort Valley Road is no panda express.
Local drivers making their morning commute Monday were greeted by an electronic sign along the busy stretch of road warning of a "rogue panda on rampage."
But rest easy, panda-phobes: It was a prank.
The Arizona Department of Transportation-controlled sign near the intersection of Fort Valley Road and Forest Avenue has been warning drivers about no left turns at the intersection. But at some point hackers took control to tell residents to be on the lookout for an ailuropoda melanoleuca, also known as a giant panda.
Authorities said there is no cause for concern.
"We want to assure all citizens of Flagstaff that there is no problem with rogue pandas," said Lt. Ken Koch with the Flagstaff Police Department.
He does, however, encourage anybody who spots a member of the endangered species roaming Flagstaff streets to call the police department.
A passerby reported the hacked sign to police at about 3 a.m. Monday. The sign was altered late Sunday night or early Monday morning.
ADOT spokeswoman Mackenzie Nuno said the sign was restored to its original message by 11 a.m.
She said the agency has no suspects but noted that the hackers would have needed specialized equipment to change the message on the sign.