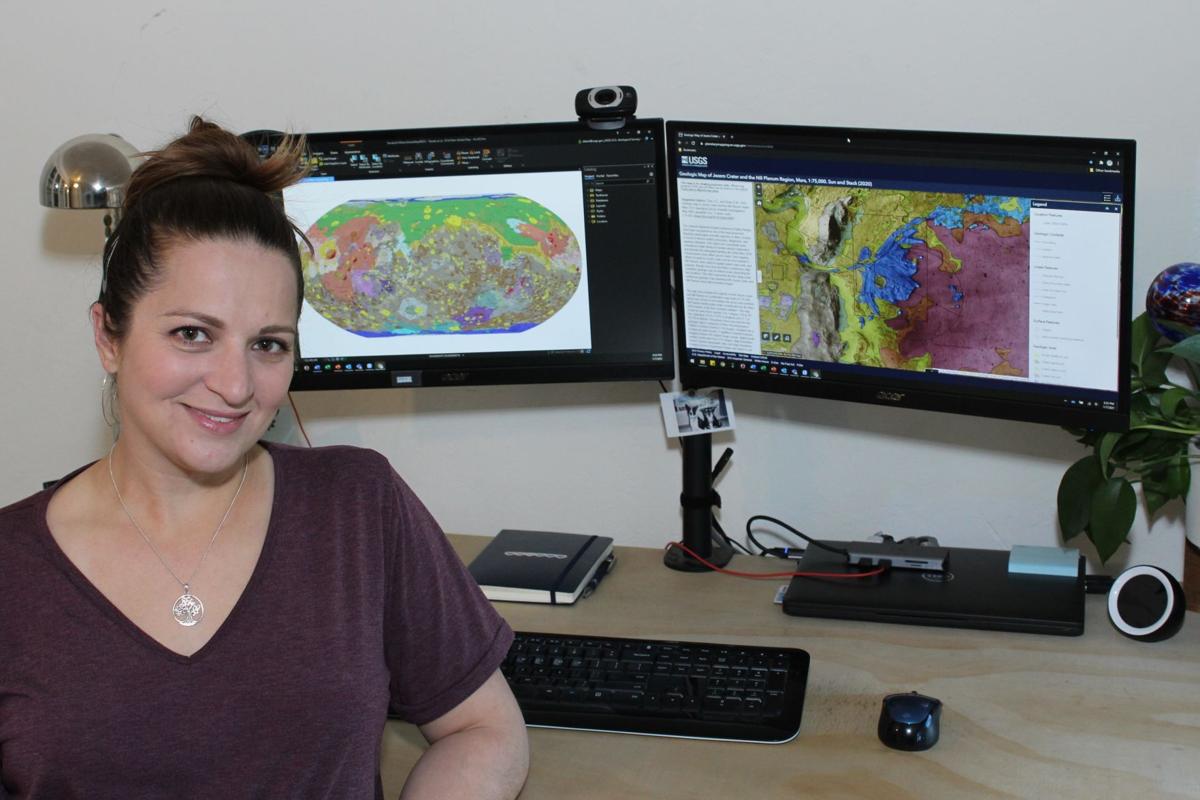 The planetary mapping team at the United States Geological Survey (USGS) Astrogeology Science Center in Flagstaff likes to think other scientists and science-loving members of the public love digital maps as much as they do.
This thought sparked a new mapping initiative: to create interactive, GIS (geographic information system) versions of USGS maps, starting with a map of the upcoming landing site for the Mars 2020 Perseverance Rover.
"We as a society are using maps more than maybe we have ever," said research geologist Jim Skinner, who coordinates all local geologic mapping projects. "On our phones, we are constantly looking at our maps and getting directions and figuring out a place to eat and where there's the best takeout, all that kind of stuff, so this fits in with that. Even though it's your geology and it's not your takeout, it still is giving you the impression about where you are and how we exist on any one body.
"That's what we're trying to do for planetary bodies: to get people excited about the observations that are being made remotely and placing those observations into a context."
Skinner said presenting maps in a more interactive way has been a longtime goal at the USGS, but was never able to occur until this summer, when research physical scientist Sarah Black was hired.
Black previously worked at the Planetary Science Institute in Lakewood, Colo., but before that, she worked in the remote-sensing and GIS industry.
"I came into this role with a different kind of perspective. I knew there were some really cool things we could be doing with these maps to get them out there to the public, so when I came in, I really wanted to do something with this interactive stuff online and I know how to make it, so I thought it would be a fun thing for us to try," said Black, who is leading this interactive map initiative for the USGS. She also creates maps herself, such as a project she recently began with Skinner to map a specific set of irregularly shaped depressions, called Hadriacus Cavi, on the surface of Mars.
The new online maps are designed so that anyone can use digital versions of USGS geological maps without having to download huge files or mapping software while still accessing various functions including creating bookmarks and calculating areas.
As a first project, Black selected a new geologic map of Mars' Jezero Crater and the surrounding Nili Planum Region, created by NASA Jet Propulsion Laboratory scientists Vivian Sun and Kathryn Stack and published by the USGS in December. Jezero Crater is the landing site for the Perseverance Rover, which will touch down on Feb. 18.
"We started with this one because it was timely and because it was an area that was such high interest for people," Black said. "We wanted to be able to show people what we could do with this."
Map co-author Vivian Sun said this was the first time she had seen an interactive planetary geology map of this caliber.
"I think this is awesome. I really love it so much," Sun said. "When this map came out, I was very excited to tell my parents, but of course I wouldn't ever be able to give them the files that were used to create this map because they wouldn't know what to do with it, so I just sent them the link to this website."
Sun is a systems engineer with the science team for the Mars 2020 mission and said this map was created using orbital data to expand on previous maps of this Martian region by incorporating Jezero Crater's surrounding plains and using a higher resolution. In addition to the crater's famous river delta, she and Stack noticed some geologic features outside the crater that appear to be related to the crater's volcanic floor, suggesting a geologic connection between the two, such as an ancient lava flow or other deposit.
"We really hope this map will be useful for anyone who is interested in this area of Mars to look at where this next rover is landing and what the broader geologic context is for this rover. … To have a rover investigation means that it's not going to be feasible to go across every square meter of this area and so I think that's where this geologic map is going to be helpful because it helps present the broader geologic context for the rover, it lays out some additional hypotheses for what these rocks might be," Sun said.
Exploring maps
At the USGS, the goal is to create similarly interactive maps for any new maps that are released, as well as to go back and convert existing maps to this format. Commonly used maps such as the global maps of the moon, Mars and Mercury will be first on the list.
"These products are so expensive and long and detailed that it makes sense for us to be able to get as many people looking at them as possible," Skinner said, who advised map viewers to pay close attention to a map's scale: if they zoom in too much, the map will lose its integrity.
He added that the team is also looking to find a way to make these maps mobile-phone-friendly and in the meantime, Black is creating instructions on the process so that other planetary mapmakers can make their own projects more accessible for the public.
"These maps are targeted for scientists but they're also really good for the public because they're colorful and they tell a story, so I think they'll kind of have this tandem use," Skinner said. "They'll be good for scientists and mission engineers that are working with it and making decisions, but they're also good for just the general populous to get ahold of and explore other bodies."