More than 50 years after the first modern planetary maps were created, mapping remains a valuable and challenging task for astrogeologists.
Two dozen scientists from around the world gathered this week at the United States Geological Survey (USGS) Astrogeology Science Center in Flagstaff to discuss the latest in their work to map planets throughout our solar system.
Although these scientists said planetary mapping is not their sole focus as researchers, this effort is one of continued importance.
Planetary mapping dates back to the National Aeronautics and Space Administration's Apollo program of the 1960s.
Jim Skinner, research geologist at the astrogeology center, said it was during this time that the USGS began its office in Flagstaff with the mission of training astronauts and giving them the lunar maps they would need for their journey.
The Flagstaff team has worked closely with NASA to create maps ever since.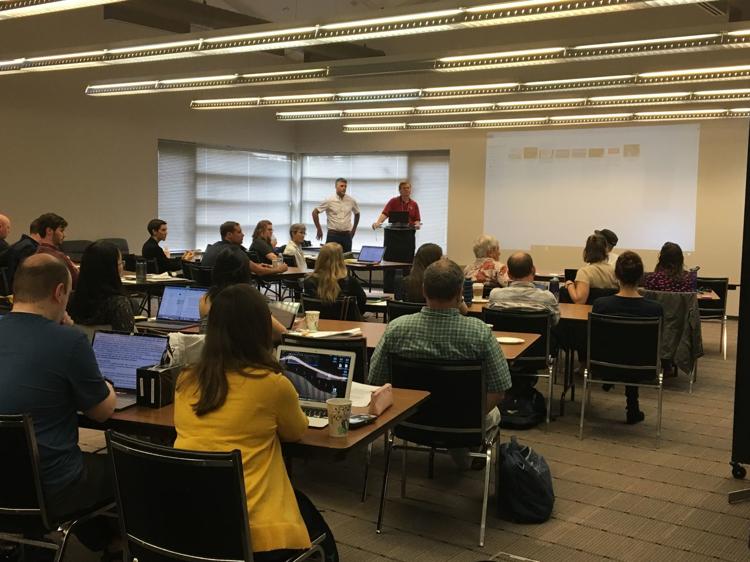 Planetary maps remain useful not only for current and future missions bringing humans, rovers and materials to other planets -- they also act as sources for continued planetary research and discovery, using geological cross sections by going deeper than just the surface to determine the history of these objects.
"They tell a story," Marc Hunter, IT specialist at the astrogeology center, said. "Mappers effectively communicate a complex history and still leave room to measure and understand more."
The maps are created using hundreds of images from orbital satellites that together form a mosaic. Structures with several rock layers like mountains and valleys provide the most insight into the history of how these planets were formed. These topographic details are essential to the maps made at the USGS.
"No other institution in the world does maps like USGS does, but we don't corner the market on geological maps and we don't intend to," Skinner said.
Planetary mapping is becoming more inclusive than ever, as researchers work to increase access and international representation.
Unlike decades ago, when this mapping first began, planetary scientists now have access to programs used by the geologists who study Earth.
"We're working on making planetary science a more open and inclusive community by breaking down barriers for those who don't have specialized training and putting tools in people's hands to allow them to interact directly with this data," Hunter said.
Even the names of prominent features on a planetary map give international tributes.
For example, the names of Martian craters 50 kilometers in diameter or less are named after small towns from all over the world, not in honor of the towns themselves, but as a nod to international planetary scientists.
Though mappers may suggest names for important features – typically those larger than 100 meters in diameter – the International Astronomical Union will make the final decision.
You have free articles remaining.
Tenielle Gaither helps maintain the Gazetteer of Planetary Nomenclature, an online collection of all the planetary features named to date.
"The absolute goal is to be international in representation, so that the names not only are the individual names from the countries all over the world, but that scientists from all over the world are represented in the nomenclature by choosing them," Gaither said.
Gaither added that, ideally, the number of features named after a specific country would be proportional to the country's population, to better represent the people there.
Naming is just one part in a long and detailed mapping process, though. Planetary maps typically take at least three years to complete and, when complete, are not always chosen by NASA for use in its projects.
In a presentation this week, Skinner said the acceptance rate of USGS-printed maps since 2015 is only 23%.
Oftentimes this selection is based less on the quality of a map itself and more on the subject it covers – and the funding NASA has for that subject.
These subjects can be incredibly diverse, ranging from volcanoes on Mars to smaller rocks on the giant asteroid Vesta.
Jennifer Whitten, a postdoctoral fellow at the Smithsonian Institution's Center for Earth and Planetary Studies, is purposefully mapping what she calls a "really boring" section of Mercury to study the plains that exist between craters.
"How you make a geologic map is based on your goals for that geologic map," she said during her presentation at the astrogeology center Wednesday morning.
While her map may not be on the more interesting parts of Mercury, she hopes to use it to determine how these in-between areas were formed and how they change over time.
Though most planetary maps are not ultimately used by NASA, they are still used by scientists everywhere through publication in scientific journals.
Local mappers said one of their biggest challenges, long before reaching the final review process, is filtering through an abundance of information.
New tools allow them to present layers of such information in a single map, though.
"We're at a time now where we're starting to see more information come back from these planets because there's a larger fleet of spacecraft. With refined techniques, we can leverage technologies that have been used for a long time for this to make data sets," Skinner said.
Brent Garry, a NASA researcher who studies volcanoes on Earth, the moon and Mars, is using this new planetary mapping technology to digitize the original maps used for the Apollo 15, 16 and 17 missions.
"This comes full circle for exploration," he said Wednesday.
Decades beyond these initial designs, Skinner said planetary mapping is now moving toward augmented reality, which would allow scientists to have the experience of walking on and making firsthand observations from their homes on Earth.