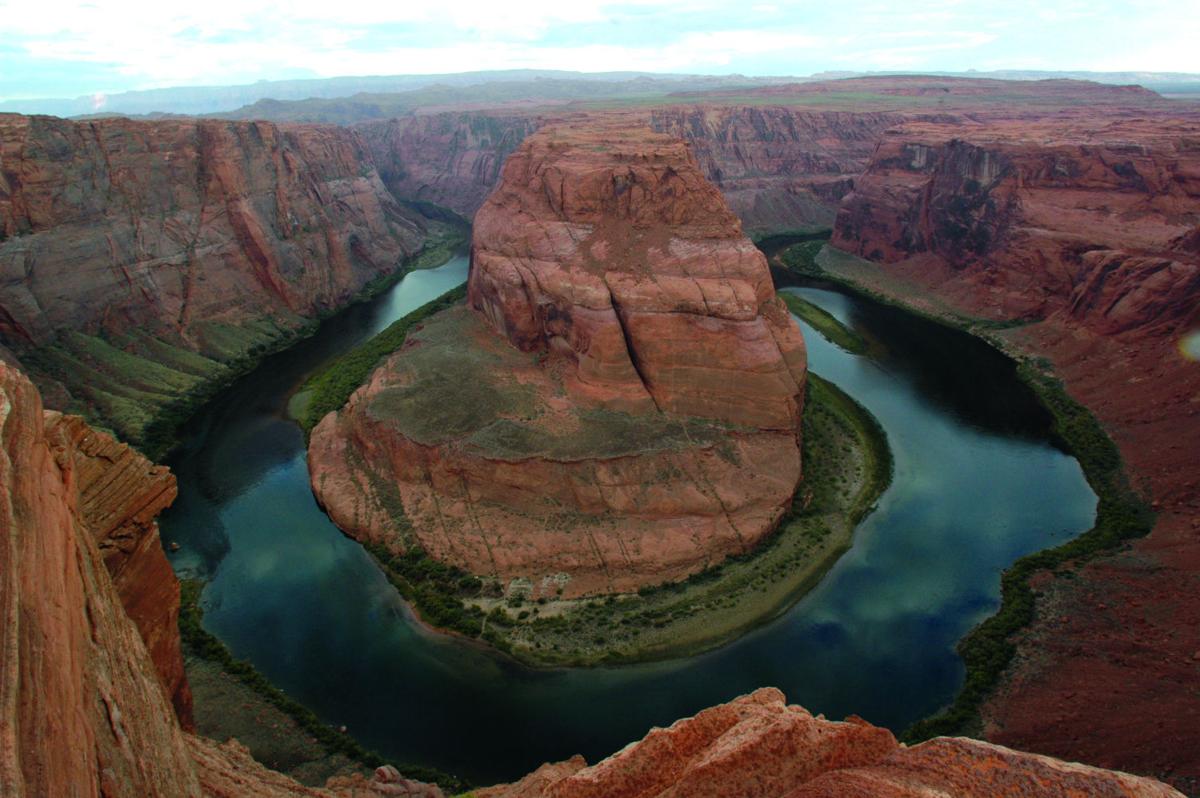 Most years, spring break means it's busy at the Page-Lake Powell Campground.
"Starting from spring break in March, for the last five or six years, our campground has been sold out every single weekend all the way into Thanksgiving," said Ron Colby, who manages the campground and the nearby Yamamoto Custom Baits shop.
But this year, many of the 145 campsites have continued to sit empty.
Colby said business has been down 78% compared to 2019. There were a few weeks over the summer that approached their normal occupancy levels, but that eventually dropped off.
He said he believes there is a simple reason for the lack of visitors: the closure of Highway 64.
The road that runs from the east entrance of Grand Canyon National Park to Cameron was closed by the park service a year ago as cases of COVID-19 spiked across the neighboring Navajo Nation and began impacting communities across northern Arizona. And the highway has remained closed ever since.
But for Colby, and municipal leaders in Page, it is long past time to reopen the route.
Page Mayor Bill Diak and City Manager Darren Coldwell have both been lobbying Grand Canyon National Park Superintendent Edward Keable, as well as elected leaders, to reopen the highway.
There are tentative plans to reopen the highway in the spring, said Grand Canyon National Park spokesperson Joelle Baird.
Baird told the Arizona Daily Sun that Keable, who is responsible for making the decision on when to reopen the route, is looking at a tentative plan for reopening prior to Memorial Day weekend.
"On April 1 there was an agreement between the Navajo Nation and the park to try to limit visitation across the Navajo Nation. So since that time, we have had the east entrance closed out of respect to the Navajo Nation and their concerns with COVID spreading across the nation," Baird said. "That has improved remarkably within the last few months. So we're looking forward to planning the reopening of the centers in the near future."
The Navajo Nation was hit hard by the pandemic, which killed hundreds of tribal members and made many more sick. Baird said the decision to reopen the highway will be made only after careful consideration and with the consultation of tribal partners.
"We're looking right now at a tentative reopening May 21. However, we're having regular communication with the various tribal governments in Window Rock to collaborate with them on a reopening date," Baird said. "Specifically, we're working with the Cameron chapter pretty closely."
But Baird said there are several other considerations when making the decision to reopen the route that could keep it closed longer. The park's east entrance has been closed for nearly a year and Baird said the park still needs to ensure they have the staffing needed to reopen the entrance. And if the situation around COVID changes, the highway's closure could continue.
But those arguments don't hold water for Diak.
"They only had three cases of COVID on the whole Nation yesterday. So they were actually way ahead of what the state is doing," Diak said.
Diak worries the highway's continued closure will do lasting damage to Page's economy and small businesses, just as they are trying to make a comeback after last year.
For years, Diak said Page has marketed itself as part of the grand circle, when tourists make a big loop as they visit southwestern national parks and monuments.
"People come out of Vegas, and they come in one way through I-40, and do the South Rim of the Grand Canyon, continue on up to do Page, Lake Powell, or they go on over to Monument Valley, come back in the other way," Diak said. "Both Utah and Arizona have marketed that for years, and then finally it has taken hold over the last three years. Now we're going to lose all that."
With Highway 64 closed, Diak said, that grand circle has been disrupted and Page has been cut off with it. Now, if visitors of the South Rim want to head up to Page, they first have to drive south to Flagstaff, extending their drive by hundreds of miles.
It's not just local businesses that are struggling. Coldwell said that like many local governments that rely primarily on local sales taxes, Page has seen its own revenues plummet.
Last year, as the pandemic grew, the city was forced to lay off 27 municipal employees.
Coldwell said they have been able to bring a portion of those staff back. But they have also had to scale back their budget substantially. For the City of Page, Coldwell said the pandemic and subsequent drop in tourism has essentially rolled back over half a decade of growth, and their budget this year looks similar to the one the city had in 2015.
"Our sales tax for this year is down nearly 30% from last year. Our Horseshoe Bend visitation is down 80%. So when we say that our numbers dropped off the face of the earth, they really did," Coldwell said.
Adrian Skabelund can be reached by phone at (928) 556-2261, by email at askabelund@azdailysun.com or on Twitter at @AdrianSkabelund.