The National Weather Service's issuing of a winter storm warning proved congruent with much of the west and southwest as cities across the region were pummeled by icy, powdery precipitation over the last week.
Tuesday's storm in Flagstaff, which lasted into the early hours Wednesday, dropped 9.4 inches at Flagstaff's Pulliam Airport and 10 inches in areas including Kachina Village, prompting Flagstaff Unified School District to cancel school and Coconino Community College to start on a delay. Flagstaff Arts and Leadership Academy, NPA and BASIS were also closed due to the weather.
By 9:30 a.m. Wednesday, Flagstaff and its surrounding areas had received anywhere between four to nine inches; Doney Park saw five to six inches and Fort Valley six inches, according to the National Weather Service in Flagstaff.
Snowbowl received a total of 19 inches of snow in 24 hours, and 27 inches in 48 hours.
Both the city and county were on a two-hour delay and FUSD had posted the notification that school was canceled on their website and social media at 4 a.m. Wednesday morning.
Northern Arizona University stayed open, with classes running on a regular schedule. According to Kimberly Ott, spokesperson for the university, the university has not closed often in the last years.
If a storm is in the forecast, NAU sends out its "Stay in the Know in the Snow" information packet via a campuswide email, Ott said.
The packet, among other tips, encourages students as well as employees to utilize the campus public transport during inclement weather and advises people where to look for news of cancellations and delays.
According to NAU, campus crews plow the roads beginning at 2 a.m. and take note of road, sidewalk and parking lot conditions on campus. NAUPD and facility workers also drive throughout Flagstaff to determine road conditions before making a recommendation to the university.
"In general, faculty, staff and students should assume that NAU will continue to operate on a regular schedule despite inclement weather," the packet reads.
NAU also coordinates with the city, county FUSD, CCC and the National Weather Service, according to its website.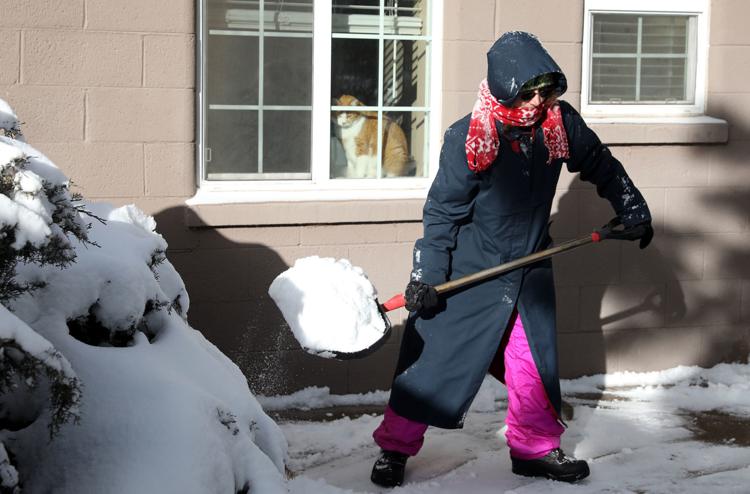 In addition to closures, Tuesday's storm accounted for a number of vehicular accidents, increasing the presence of law enforcement and emergency responders on the roads. Flagstaff Police Department, the Arizona Department of Public Safety and Coconino County Sheriff's Office were each called to assist in a variety of weather-related incidents.
According to Sgt. Charles Hernandez, Public Information Officer for the Flagstaff Police Department, the agency responded to a total of 24 weather-related incidents from the morning of Feb. 5 through 8 a.m. on Feb. 6.
"Eight of those were motor-vehicle assists, which cover anything from slide-offs to someone getting stuck due to snow or ice," Hernandez said.
Register for more free articles.
Stay logged in to skip the surveys.
The department also responded to 13 calls of non-injury collisions, and three collisions in which injuries occurred.
Local law enforcement also assists DPS, who logged several accidents on both major highways that pass through Flagstaff.
"In the last 24 hours we responded to 24 slide-offs in and around the Flagstaff area, primarily along I-17 and I-40," said Bart Graves, Media Relations Specialist with the Department of Public Safety.
Through Wednesday morning, DPS responded to 18 calls involving non-injury collisions, six calls for injury collisions and 34 calls for motorist assists.
"Basically it's what we get every time there's a storm like this one. The road conditions are treacherous and as a result we have an increased number of accidents," said CCSO Lieutenant Jim Coffey.
According to Coffey, Sheriff's deputies responded to a number of calls regarding slide-offs and collisions -- especially on windblown roads such as Leupp Road and Townsend Winona Road, he said, adding that hilly parts of Flagstaff including Kachina Village and Mountainaire also saw a concentration of accidents.
Other county agencies were also on the roads for much of the day and night. According to Matt Rudig, Public Information Officer with the county, both plows and graders were in operation. The county has 15 plows and eight road graders. 
"We plow about 750 miles of roadway to help keep them open and passable," Rudig wrote in an email.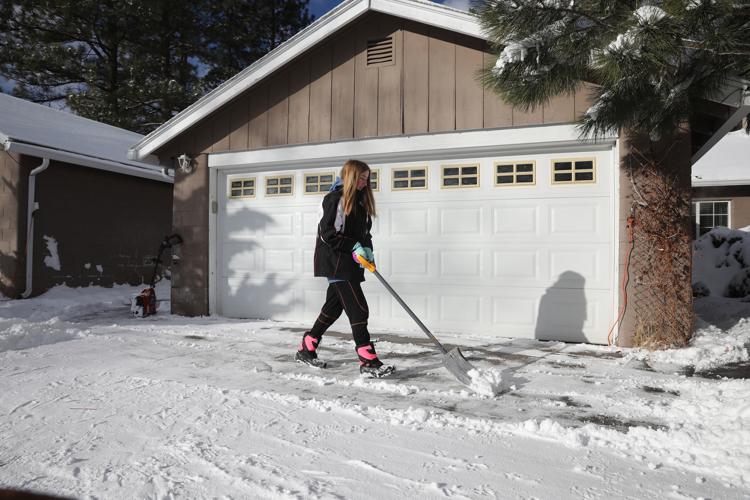 The City of Flagstaff has its own fleet of plows for within the city limits, each with cindering capabilities. They also have eight road graters, five backhoes and several dump trucks that can be used in major snow events. The city is responsible for 700 center-line miles of streets.
With the snowfall also comes the increase in traffic and a swell of tourism.
"We're getting ready for what we expect will be increased snowplay traffic this weekend," Coffey said. "All over the county, in fact. And the Highway 180 corridor — the challenge that brings is unlawful parking and littering."
DPS is tasked with patrolling a large swath of the busy thoroughfare, which also takes drivers to Arizona Snowbowl, while CCSO monitors the Baderville and Fort Valley neighborhoods off 180.
According to Coffey, CCSO rarely gives warnings these days, instead directly ticketing drivers.
"We're kind of beyond warnings and are issuing citations at a pretty significant rate," he said. "From the time [the car] gets into the neighborhood they're already in violation of laws, failing to obey traffic control devices that we have set up on the highway. These neighborhood roadways are for residents only so they've already violated that too and may be charged with trespassing."
The forecast calls for sun the next few days, with high temperatures in the low 40s. Next week will bring slight chances of snow with moisture likely to continue until the end of the month.