APS is looking for new proposals that would use the small trees and branches from Arizona forests to generate a small portion of the energy the utility sends to customers around the state.
The idea is to provide a market for woody material that needs to be thinned from overcrowded, high-risk forests in northern and eastern Arizona in order to reduce the risk of severe wildfires, improve forest health and benefit watersheds.
There's one big problem, though, according to the head of the state's only utility-scale biomass power plant.
It will be much more difficult for interested companies like his to respond to APS's request because the Forest Service hasn't put forward a large-scale tree thinning contract that would provide a guaranteed supply of biomass -- generally small trees, treetops and branches, said Brad Worsley, president and CEO of Novo Power.
Without a long-term assured fuel supply, his company faces major headwinds in getting financing for a new bioenergy project and in getting the final bid award from APS, Worsley said.
APS's request for proposals comes as state regulators, considering the environmental and economic benefits of thinned forests, are pushing for biomass to play a bigger role in utilities' energy portfolios. Arizona Corporation Commissioners required APS to produce a biomass analysis as part of its latest rate case and a renewable energy proposal released by Commissioner Andy Tobin earlier this year would require a certain amount of utilities' capacity to come from biomass-derived energy. In March, commissioners voted to require three large utilities, including APS, make sure future resource planning includes the analysis of an energy mix with a larger percentage of biomass.
The request for proposals was APS's next step after its biomass analysis and is meant to gather more information on the costs and opportunities of the power source as well as what sort of projects might work in Arizona, said Jeff Burke, director of resource planning.
The utility is asking for proposals that would supply up to 60 megawatts of power, which would comprise about 2 percent of its total baseload power, Burke said. A plant that size could provide power for up to 60,000 homes, using a rule of thumb of 800 to 1,000 homes per megawatt.
Forest managers agree that finding a use for biomass is key to speeding up forest thinning on the 2.4 million-acre Four Forest Restoration Initiative that spans northern Arizona's ponderosa pine forests. The thinning process produces about one load of biomass for every load of more valuable logs, Worsley said, but both types of woody material need to be removed from the forest. There are few places loggers can take biomass, though, which slows down restoration work and makes it less profitable.
Due to that problem and others, only about 13,000 acres have been thinned each year within the 4FRI footprint, compared with a goal of 50,000 acres a year, said Tom Torres, acting chief executive for 4FRI.
The view among many of the project's stakeholders is that the only viable solution to use up that much biomass is for power generation, said Pascal Berlioux, chair of the Four Forest Restoration Initiative stakeholders group.
You have free articles remaining.
A 60-megawatt plant could use up the biomass from tree thinning operations on about 25,000 acres per year, or about half of 4FRI's annual goal, the utility estimated. It could cost up to $180 million to build, or $3 million per megawatt. But Worsley said his bid would likely propose converting an existing coal-fired plant on his property to biomass, bringing down the cost to $1.5 million per megawatt.  
Such a plant is an effective idea cost-wise, said Jay Smith, Coconino County's new forest restoration director.
"As a county we think this is a great investment for not just all of northern Arizona but Arizonans in general because of the way it's going to allow the cost of this biomass removal to be spread out over millions of kilowatt hours, in a sense," Smith said.
One state, California, has nearly three dozen biomass plants that meet about 2.5 percent of the state's electric power needs.
BACK TO THE DRAWING BOARD
The Forest Service has been talking for a year and a half about offering another large-scale thinning contract within the 4FRI footprint in order to attract private industry and speed up restoration with a guaranteed supply of wood. But in January it put the process on hold by announcing it would not solicit proposals for the contract.
Instead, the agency is back at the drawing board and is designing a partnership with the Bureau of Reclamation, Salt River Project, the Arizona Department of Forestry and Fire Management and the Arizona Department of Commerce. The entities plan to cooperate on designing a request for proposals for a large-scale thinning contract, evaluating the bids and making a recommendation with the final decision being made by the Forest Service, Torres said.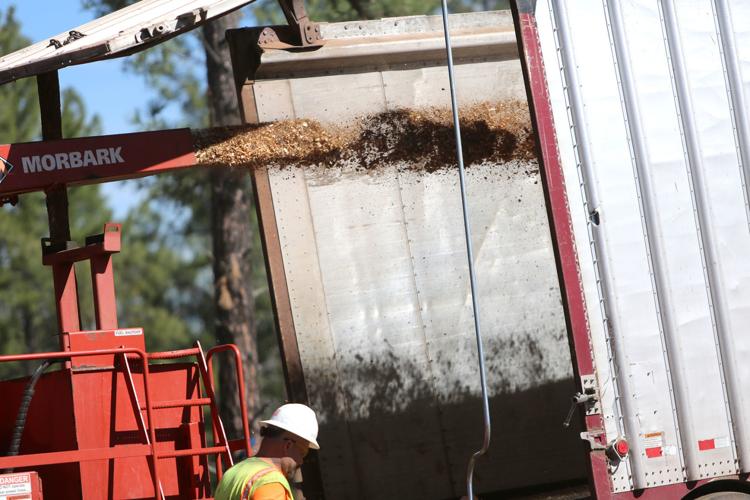 Adding partners will provide different perspectives, more expertise and additional capacity in areas like contracting where the Forest Service may fall short, Torres said.
Smith, of Coconino County, said that strategy should help the Forest Service avoid repeating the same mistakes it made in 2012, when it awarded the first 4FRI large-scale thinning contract to a company that had no funding, a scientifically and technically questionable business plan and a concerning financial history. The company, Pioneer Forest Products, treated just 800 acres its first year before having to find another company to take over the contract. That company, too, has fallen far short of expectations.
It would have been ideal if the Forest Service had coordinated to better align its issuance of a second large-scale thinning contract with APS's bioenergy solicitation, Torres said. The agency doesn't yet have any sort of date when a Forest Service RFP would be released. At the same time, Torres said he isn't convinced the two different projects happening on different timelines are "mutually exclusive."
Bids are due to APS in August and the utility will take a couple of months to evaluate them, Burke said.