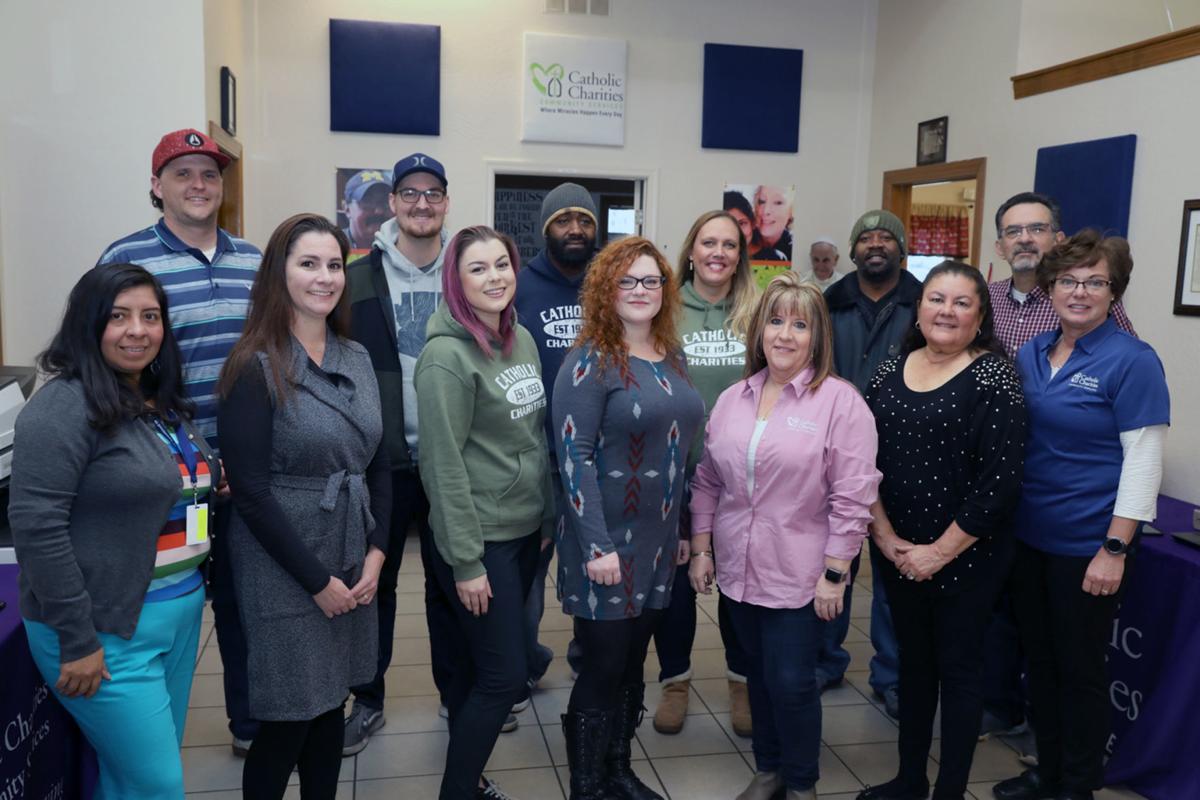 Sandi Flores' favorite word is dignity. It hangs above her office door, in bold script, and if you ask her about Catholic Charities, where she has worked for 13 years, she's likely to mention it at least a dozen times.
Dignity is more than her personal goal for the roughly 40 people who enter Catholic Charities' Flagstaff office daily, though; it's one of the primary missions of her team and other branches of the statewide social service agency.
"I truly believe that every single person we encounter every day deserves our dignity and respect. These vulnerable populations that we serve are very often overlooked," said Flores, senior programs director for Catholic Charities' northern region, which includes Coconino, Yavapai, Mohave and Navajo Counties. "In the lobby first thing in the morning, it's cold and people are hunched over. They look beaten down.
"But it's very rewarding when you walk in and take the time to say 'Good morning' because you can physically see their body language change. Their shoulders come back a little bit, they lift their heads up. They feel some dignity. That is why I do what I do, because people deserve to feel that way."
Among other characteristics, this dedication to dignity has earned Catholic Charities the title of the Arizona Daily Sun's 2019 Organization of the Year, as determined by a committee of past winners.
"Catholic Charities meets people where they are, embraces them with grace and helps where they are most needed," wrote one nomination letter.
Another commended the organization's efforts to provide permanent solutions to situations like homelessness "rather than simply band-aiding their current crisis situation."
Catholic Charities' Flagstaff office will be turning 49 in 2020. Each month, its 26 employees serve more than 400 people, about half of them with housing. The nonprofit's numerous housing programs aim to keep families in their homes — or to place them in new ones — by assisting with financial payments, upkeep and in-home case management or education to provide necessary life skills.
In addition to housing, Catholic Charities also provides supplies to people experiencing homelessness, supports veterans, works to keep families together after the Arizona Department of Child Safety (DCS) becomes involved, supports parents in overcoming substance abuse and trains and certifies foster parents to provide homes for local children and teenagers.
Every week, it distributes at least 60 hygiene packs, pairs of socks, blankets and other supplies to people experiencing homelessness. In Coconino County this year, Catholic Charities provided housing for more than 150 households, supported 340 parents in overcoming substance abuse, provided motel rooms for over 200 individuals and families found outdoors during freezing cold nights and connected 150 children with foster families, in addition to hundreds of others served through more of its programs and partnerships.
The majority of people served at Catholic Charities go on to be successful in their family life, careers and health, sometimes reaching out years later to thank the people that made it happen.
"The services are critical, but that human connection, knowing that somebody genuinely cares about them as a person, is important," said Camie Rasband, Director of Homeless Services. "We can provide a house, but it's more than that."
'We serve all'
Despite its name, religion is not a determining factor in Catholic Charities' operations.
The local office is a social service agency formed by the Phoenix Dioceses and often works closely with the San Francisco de Asis Parish, but as a nonprofit separate from any church, Catholic Charities partners with all types of organizations — faith-based or otherwise — to provide services to everyone in northern Arizona.
Employees are as diverse as the people served; the number of Catholics served by Catholic Charities locally remains a mystery.
"We don't know because we don't ask," Flores said of clients. "And we encourage everyone who has a heart to serve to apply to Catholic Charities. We have all faith backgrounds working in this agency."
The real ties to the Catholic Church are present in the organization's motivation (Flores' favorite word again).
"We are guided by the principle that every human deserves love and dignity," Flores said. "We serve all."
Numerous leaders of the organization have likened it to the biblical story of the Good Samaritan, who stopped to help a wounded traveler, even though others more suited to the job — including a priest — passed by.
For Jan Watkins, front door receptionist, there is no limit to who can be served in some way.
When a woman recently donated blankets and requested they be given to animals, Watkins dutifully labeled them 'Pets only.' She has since given out one, along with some of the pet food Catholic Charities keeps in supply, to a man who walked into the office with a small dog.
"It's about being able to help everybody, even the pets," she said.
Looking forward
As 2020 begins, Catholic Charities has plans to increase services both in Flagstaff and throughout northern Arizona, while looking for more gaps in the community that need attention.
Flores said the nonprofit will build its own affordable housing for clients in Flagstaff within the next two to three years. Starting in the new year, it will expand the jail reentry housing already in Flagstaff to Williams and Prescott.
It is also creating a 10,000-square-foot overnight shelter in Bullhead City, the first in the area. The shelter is scheduled to open in March and has 40 beds for men and women, eight beds dedicated for veterans and three family units. It will also have computers, educational classes and medical services available for clients during the day.
Help needed
Thanks to an overwhelming response to a recent social media request for winter gear, Catholic Charities' supply closet is now stocked with warm clothes that should last the season; however, the need for community support is ongoing.
Catholic Charities always needs new or gently used socks — the most requested item, of which five to six pairs are given out daily — men's clothes, household goods like linens and cooking utensils and travel-sized toiletries, like the ones from hotels, for use in hygiene kits.
Volunteer positions are available for everyone, whether they want to work with clients directly or not, and there is a significant need for more local foster parents, especially for teenagers.