9:45 p.m. update: ADOT has reopened the stretch ahead of schedule. For more, click here.
3:30 p.m. update: The woman who died in the Wednesday night collision has been identified as 26-year-old Amelie Fortune from France.
A washout of a section of US 89 near Cameron contributed to a fatal collision late Wednesday night.
The 30-foot area of collapsed highway has made the road impassible, and the closure between mileposts 467 and 481 on the Navajo Nation is expected to remain for multiple days.
According to a release from the Arizona Department of Public Safety, 26-year-old Amalie Fortune from France was driving northbound on US 89 when she crossed over the collapsing section of the road in a Ford sedan. After the damaged car came to a stop in the northbound lanes of the highway, the Fortune got out of the vehicle and was hit by a Toyota pickup, also traveling north.
The 40-year-old Lakeside, Ariz., man lost control of his truck when he crossed over the collapsing road, striking Fortune and her car, which still had two passengers in it.
Fortune died from her injuries at the scene, and her two passengers were transported to a local hospital where they were treated and released. The man driving the truck and his passenger were treated at the scene.
While the investigation is ongoing, AZDPS is looking at weather as a contributing factor to the crash.
Earlier reports pegged the washout as a sinkhole, but Arizona Department of Transportation Spokesperson Ryan Harding said that flooding from the rain of Tropical Depression Rosa caused the 30-foot section of highway to sever.
You have free articles remaining.
A sinkhole is formed when a deposit of limestone dissolves from underground water, eroding it away over time. A washout happens when a large amount of water, like that of earlier this week, washes away the foundation of rock and dirt on which the road was built.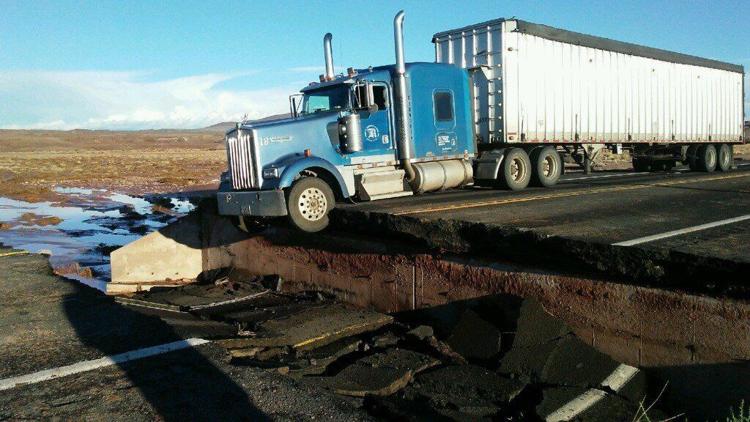 "The flooding, caused by the remnants of Rosa, cut through the highway and through the earth beneath it, necessitating extensive repairs," Harding wrote in an email. "ADOT is currently evaluating the extent of the damage and will make short-term repairs to reopen the highway as soon as possible and return later with a project to make permanent repairs."
While ADOT is working closely with tribal and federal partners to get the road open, US 89 is expected to remain closed for multiple days, he wrote, adding that there is no set timetable as to when it will be drivable again.
"ADOT is coordinating with the Arizona Department of Public Safety on the detour route, which adds about 125 miles to a trip between Flagstaff and Page," Harding wrote.
Motorists heading to Page, Tuba City and other destinations north of Cameron can take Interstate 40 east from Flagstaff to State Route 87 at Winslow, then head north to State Route 264, northwest to US 160 in Tuba City and west to US 89.
Even if GPS recommends another route, both ADOT and AZDPS are urging drivers to avoid using tribal roads through the area, as most of them are dirt and were also damaged by rain from Tropical Depression Rosa.
Coconino County Emergency Management Director Todd Whitney said the road fully collapsed around 12:30 a.m., adding that the county was informed of it around 5:30 a.m.
"We received a call from ADOT to advise of the extended time period the road would be closed," Whitney said.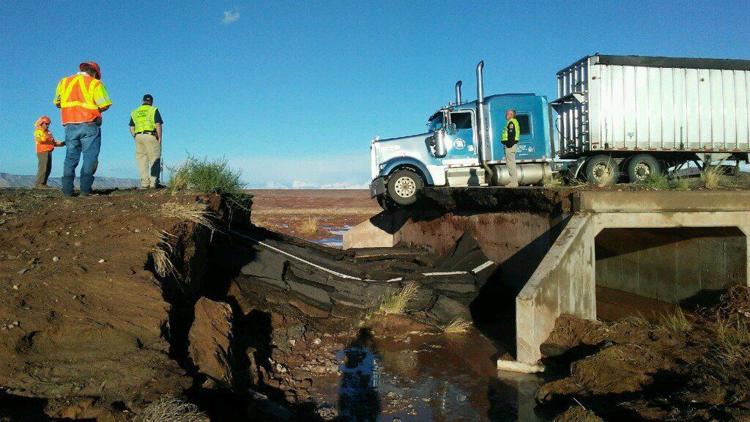 Emergency Management then sent out a message to all county employees, as some of them travel back and forth between Flagstaff and Page on a daily basis. The Emergency Management department then coordinated a phone call with Navajo Nation Emergency Management, Hopi Emergency Management, ADOT Engineering, Coconino County Public Words, the City of Page, the Arizona Department of Emergency and Military Affairs and the National Weather Service.
Because Tuba City services Cameron when it comes to fire- and EMS-related incidents, and the road closure will not allow for that, Whitney said Guardian Ambulance and Summit Fire Department will respond to incidents in Cameron until the highway reopens.