Hugging the crushed granite path leading to the play structure at Sawmill Park are newly installed mounted pages from a popular children's book featuring a feisty and irrepressible girl of mixed ancestry — Peruvian and Scottish and North American; brown skin, red hair, a spray of freckles across her cheeks.
You just know that Marisol McDonald, protagonist of Flagstaff author Monica Brown's prize-winning picture book "Marisol McDonald Doesn't Match," would relish hanging out at Sawmill Park if, through some alchemic act of magical realism, she were to levitate off the page and come to life. This kid would attack the twisty slide with impunity, dangle perilously off the monkey bars, then take a break and scarf down a peanut butter burrito.
But, alas, Marisol remains fixed in fiction, both between the covers of Brown's book and, most recently, on the Sawmill installation erected through the auspices of the Coconino County Parks and Recreation Department and The Literacy Center. Brown, though, no doubt hopes that children — or, really, anyone feeling constricted by society's restrictive norms — will see themselves in the mestizo Marisol and perhaps be inspired to embrace their differences.
This is the 10th anniversary of Brown's breakthrough children's book now in its 18th printing, one of 30 picture and chapter books she's published when not pursuing her day job as a Northern Arizona University English professor. So perhaps it's a fitting tribute that Marisol has gone from page to park.
For Brown herself, at age 51, this is merely another accolade in a career dedicated to telling stories of Latinx characters (both fictional and non) that heretofore have largely been lacking representation by the children's publishing industry. It has been quite a dizzying career trajectory for Brown, whose first book on Afro-Cuban singer Celia Cruz was published by Flagstaff's (very) independent Rising Moon/Luna Rising imprint, but now has signed a three-book deal with industry giant Harper Collins.
Among her more noteworthy works area series of six fictional chapter books featuring bi-cultural soccer-loving, adventure-seeking Lola Levine, and nonfiction children's books detailing the lives of Latinx icons ranging from Tito Puente to Pele to Dolores Huerta and Cesar Chavez, and, most recently, the political juggernaut of Julian and Joaquin Castro.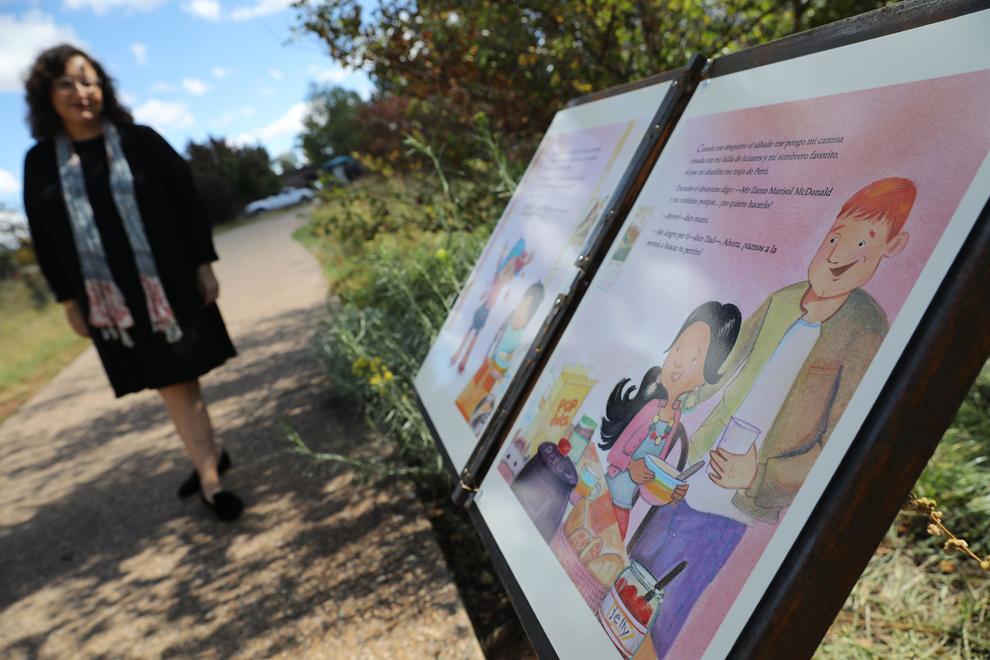 Still, the little freckled girl Marisol, who appears in a picture-book trilogy, holds a special place in Brown's writerly esteem.
Maybe because, as once Flaubert said of his most famous literary creation Emma Bovary, Brown will admit: Marisol McDonald soy yo!
"Marisol was very much inspired by actual events in my childhood, including being described as a 'fraction' -- which I don't believe children (should)," Brown said. "Half this, half that. I'm from a family that's not only mixed culturally, racially and with multi-ethnic religious backgrounds, as well. I wanted to talk about the children who don't always fit in and about a little girl who's told to fit in a box, and she doesn't. So she rebels in a beautiful way and ends up teaching the adults around her."
Then Brown paused, blushing a little -- which accentuated a spray of freckles, a la Marisol's, on her face.
"Actually," she continued, "Marisol McDonald doesn't really represent the complexity of my background. My mother was born and raised in Peru, and has indigenous heritage and European heritage. She was raised very Catholic, but has Jewish heritage through my grandfather who fled Romania. And my father was Italian, Scottish and Hungarian Jewish. So, to quote Walt Whitman, 'I contain multitudes,' and my characters do, also."
The impetus for the character and story arc, Brown said, was a slight she and her relatives had to endure years ago at a family wedding.
"A girlfriend of a cousin made a derogatory comment to us there based on our last names and our varying shades of Latinidad," Brown said. "And this racist incident was the spark that made me decide to write a book about a little girl who's told she 'doesn't match.' It's not only a story about her place in the world, but it's about a girl being unapologetically herself and deciding she is, according to others mismatched, but also marvelous."
It doesn't take much to draw parallels between subject matter and author. And it's not just Brown's multi-ethnic and racial background and her "Anglo" surname.
As a child growing up in northern California's South Bay, the heart of Silicon Valley, Brown didn't always feel she belonged to the mainstream. She was a passionate adolescent, she said, given to embracing progressive, even quasi-radical political causes — not exactly the norm for teenagers in the mid to late 1980s, prime Reagan years.
But, like Marisol, Brown didn't let that stop her. She became an activist, both in high school and as undergraduate at the University of California at Santa Barbara.
"I had challenges both at home and, well, I was a sensitive, passionate politically oriented teenager," she said. "I got involved in politics and political theater at a young age and in social justice movements. I performed a play, a political and liturgical drama based on the murder of the three nuns and Jean Donovan, the layperson, in El Salvador in 1980. With my close ties to Latin America, I felt very passionate toward it.
"I didn't necessarily fit in at the stringent Catholic school I attended. But I found my people in the arts. I was always very empathetic and felt moved to do change. I was very influenced in high school by reading Joan Didion's 'Salvador.'"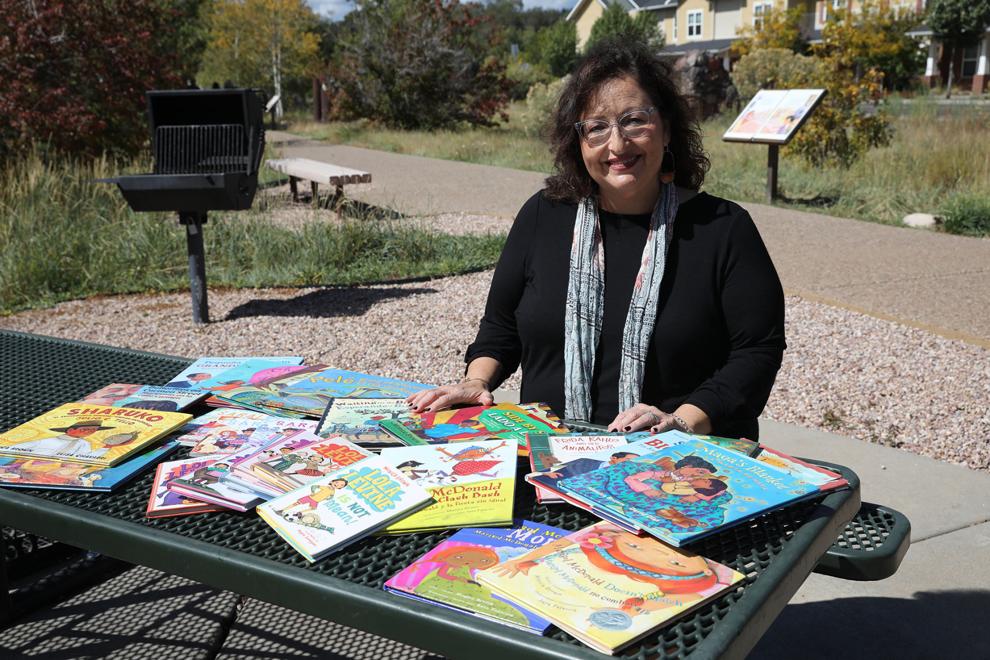 Brown, like many English professor, is a font of literary references and quotations. Calling her well-read is an understatement. And that penchant began in adolescences, even pre-Didion. She credits poet and memoirist Maya Angelou and Nobel Prize-winning novelist Gabriel Garcia Marquez as early influences, later seguing into more political Chicana writers like Denise Chavez and Cherríe Moraga.
Of Angelou, Brown speaks almost reverently.
"Growing up," she recalled, "I read about this remarkable woman who imagined her life as a performer, an activist, a poet and as a memoirist, and she offer what Dr. Rudine Sims Bishop (scholar of multicultural literature) called windows, mirrors and sliding glass doors. (Angelou) allowed me to look out a window and walk through a door through reading about a remarkable woman's life."
From Marquez, Brown got her affinity for the literary genre called magic realism, blending the naturalistic and surreal. Credit her mother, artist Peru-native Isabel Maria Vexler Valdivieso, for introducing her to Marquez, a Colombian renowned throughout South America. Touches of magic realism pop up occasionally in Brown's children's books, but the genre will come to the fore in her new book, "The Turquoise Room," scheduled for release in 2022. In that work, set to be her most autobiographical to date, the characters have the gift of flight.
But Brown doesn't just mine her own life. The protagonist of her six-part Lola Levine series was based on her eldest daughter, Juliana, and another character named Bella inspired by her younger daughter Isabella. (Both daughters are now grown and have left the nest, leaving Brown and husband Jeffrey Berglund, a NAU professor and author in his own right, alone with the couple's two shaggy white dogs.)
"With the (Lola) books, I wanted to create a fabulous whole multi-cultural family with a strong girl," she said. "When you are writing fiction, you have to put a little of yourself in every single character. You're mining your own history and perceptions of the world. And as my kids grew, and the series had a long life, six books, I'd take a friend's middle-schooler out to lunch and talk. You need to understand how they think and talk and the social dynamics of their world."
That Brown was drawn to writing children's books should not surprise. She had been searching for an outlet to marry her activism and creativity. Writing from a Latinx point of view and subject matter, she said she filled a gaping hole in the publishing industry.
"Children's publishing did not have sufficient representation from BIPOC (Black, Indigenous, People of Color) when I first started publishing, nor do they today," she said. "Yes, it's improved a little bit in some areas. It hasn't improved for all groups. Look at the Children's Cooperative Book Center statistics: at many points in time, there have been more books about animals than characters of color.
"There may be a perception that (multi-cultural children's publishing) is ubiquitous, but it's just not borne out."
Brown already was a professor at NAU (22 years now) when she made the plunge into publishing.
"I was a mom with two daughters, and I looked around and I didn't see the stories I wanted them to read," she said. "Frankly, I took the advice of one of my favorite writers of all time, Toni Morrison, who said, 'If you don't see the book you want to read, write it yourself.' I love writing for children."
And she is unapologetically progressive and calls herself a fighter for social justice, especially in her biographies for children. In a June review of Brown's book on the Castro brothers, Wall Street Journal book critic Meghan Cox Gurden panned its premise, dismissing it as progressive virtue-signaling and saying the book "dwell(s) on the retrograde attitudes of the past."
Brown just smiled and declined to comment, saying she never weighs in on reviews of her work. But there was an almost devilish smile on her face, as if she, like her character Marisol, delights in stirring things up.
"My work has a point of view, and children have strong points of view," she said. "I think I write with love and with hope. That's all I'll say."