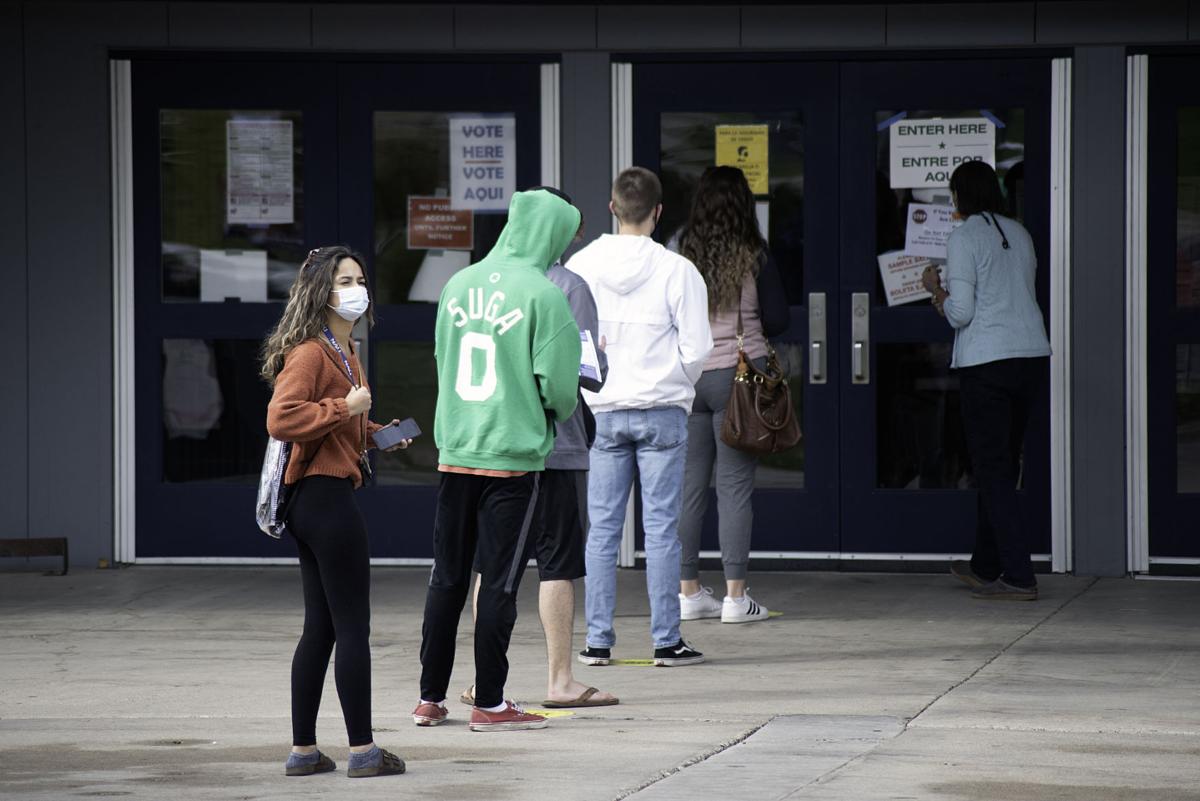 Wednesday, Nov. 4 -- 1 p.m. update:
With only Pinal County left to finalize its voting reports, Tom O'Halleran remains in the lead over Tiffany Shedd for Arizona Congressional District 1.
As of early Wednesday afternoon, O'Halleran led the race by less than 5%, with 159,725 votes to Shedd's 145,762. Pinal County, where Shedd lives, has 98.33% of precincts reporting.
O'Halleran exceeded Shedd by more than 17,000 in Coconino County. Coconino, which has third-highest number of votes submitted for CD1, currently has all precincts reporting but a yet undetermined number of early ballots still to be counted. So far, it appears Coconino voters had cast 60,333 votes, while Pima County had 62,560 and Pinal County currently has 73,275.
O'Halleran's campaign team told the Arizona Daily Sun they are "feeling good and glad that Arizona is committed to counting all votes."
11:15 p.m. Nov. 3 -- Original article:
Incumbent Democrat Tom O'Halleran of Sedona was leading the race against Republican Tiffany Shedd, an Eloy lawyer, for Arizona Congressional District 1's seat in the U.S. House of Representatives as of 10:45 p.m. Tuesday.
With 66% of precincts reporting, O'Halleran had received 54% of votes, totaling more than 136,000, to represent the district that encompasses much of eastern Arizona from just outside Tucson through northern Arizona.
In Coconino County, with 87% of precincts reporting, O'Halleran had received 35,615 votes to Shedd's 18,245.
Projections on the race suggested O'Halleran would take the win, but that an upset from Shedd was possible.
Final results are delayed as a result of this year's increased number of mail-in ballots, which take longer to verify, as well as a new county voting system — implemented to reduce the chance of voter fraud — that requires all paper ballots, including those in the region's most rural areas, to be submitted physically for counting instead of transmitted virtually.
"We spent Election Day campaigning on the Navajo Nation and had a great reaction from the voters," Shedd's campaign spokesperson said in a statement. "We're encouraged by the returns thus far and believe the outstanding ballots will be favorable to us."
Members of O'Halleran's campaign did not wish to provide a statement before the race was officially called.
CD1's representation has historically flipped between red and blue. Before O'Halleran was elected to his first two-year term in 2016, Democrat Ann Kirkpatrick held the seat for two terms. She was preceded by Republican Paul Gosar, who held the role for a term before being redistricted to the 4th district.
In 2018, O'Halleran won the seat over Republican Wendy Rogers after securing 53% of all district votes, including 64% of Coconino County votes. During the previous election against Republican Paul Babeu, O'Halleran had 59% of Coconino votes and 50% of district votes to Babeu's 43%.
In the primary election, O'Halleran won 17% more votes than former Flagstaff City Councilmember Eva Putzova on the Democratic side, while Shedd had 9% more votes than Oro Valley lawyer Nolan Reidhead for the Republicans.
Both Shedd and O'Halleran expressed goals for the upcoming two-year term that include supporting small-town economies, improving forest management, expanding internet access and addressing uranium mine hazards. As of Oct. 14, O'Halleran had spent nearly $2.6 million on his campaign, while Shedd had spent $1.2 million, according to the Federal Election Commission.
Shedd grew up in Pinal County, where she and her husband are now the fourth generation to farm their land in Eloy, about 50 miles northwest of Tucson. She attended college and law school at the University of Arizona, and has worked as a bilingual kindergarten teacher, natural resource attorney and homeschool parent. She is also a Republican Party Precinct Committeeman and firearms coach.
O'Halleran has represented the district since 2017 but previously served three consecutive terms as a state representative followed by a term as a state senator, both positions he held as a Republican before switching parties in 2014. He is current the co-chair of the Blue Dogs Coalition, a centrist U.S. House caucus focused on fiscal responsibility.