What happens when too many students want to share their ideas for helping the environment?
They hold their own event.
There were only two spots available for Northland Preparatory Academy students in next week's city-wide Youth Climate Summit, but the school had seven groups interested in sharing the plans they have been creating and implementing in their school and community.
So NPA hosted a preliminary competition to decide which two teams would proceed to the city's summit.
Susan Brown's seventh grade science students, as well as several sixth graders, presented their projects to a panel of judges in her classroom Wednesday afternoon.
"It's been a project-based learning program for them. They're learning by problem solving," Brown said. "The students feel empowered because they're making a difference."
Brown said the project started as an assignment in her class; however, the students wanted to expand their projects beyond the classroom, into the city event.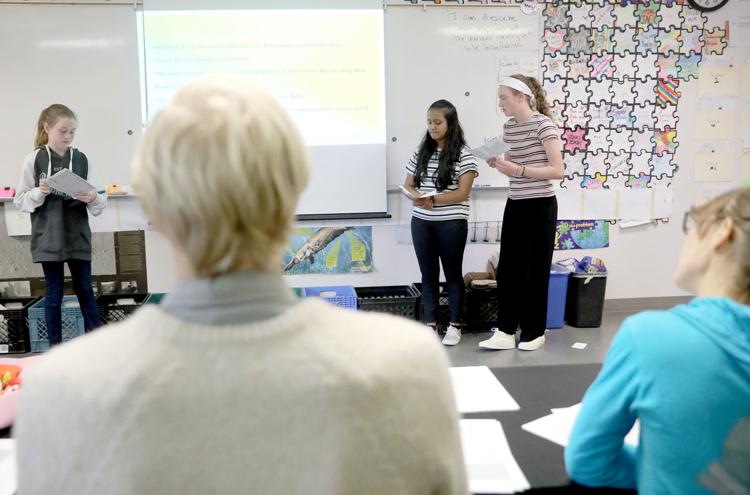 The second annual summit, hosted by the City of Flagstaff Sustainability Program, Willow Bend Environmental Education Center and the Arboretum at Flagstaff, will host small teams of fourth to 12th graders from public schools, private schools, homeschool groups, afterschool groups and community organizations. The various groups will share their ideas and creations in one of three categories: Climate Action, KidWind or Solar Structure.
In Northland Prep's event, student groups presented to five volunteer judges from the school and community. Like the city competition, projects were scored based on development, impact, measurability and presentation, including student responses to the judges' questions.
The first qualifying group, named "Green Team," successfully removed plastic forks from NPA lunches.
They noticed that the forks were piling up in garbage cans after lunch and calculated that the school used at least 100 of the disposable utensils each day.
"All that plastic goes in the environment. Most of it goes in the ocean. We want people to know that plastic is bad and we don't want a lot of it," Arushi Patel, 13, said.
As part of their project, the students asked lunchtime vendors to stop supplying these forks and began to sell metal forks for $1 each – to those who forgot to bring one from home – intending for students to keep the forks in their lockers for reuse each day. Since April 1, despite grumbling and even an attempted petition, plastic forks have no longer been offered to students during lunchtime.
The second team to qualify, "Eco Canvas," hopes to tackle shoppers' plastic bag consumption. Natural Grocers donated 75 reusable grocery bags for the students to pass out to community members on Earth Day. The team hopes, by encouraging at least 75 people to use the bags for the next few years, they can eliminate the need for 500,000 plastic bags.
These students are asking that those who receive a canvas recycle their plastic bags at a participating location – like Safeway, Bashas and Walmart – and share photos of how they are using their canvas bags with the hashtag #onebagatatime.
Though only these two groups will compete for NPA next week, other students were eager to continue with their plans.
One group approached the school's parent volunteer committee to ask for funding to replace lunchtime plastic foam containers with an eco-friendly alternative of the same size. Like the Green Team, they were able to engage vendors, for at least a trial period, to reduce the school's harmful waste.
"Styrofoam stays in the landfills forever. You're pouring chemicals into the earth," Aeka Joshi, 13, said. "Styrofoam is, in my opinion, one of the biggest evils of our planet."
Logan Rhodes, 13, said plastic foam is dangerous because it releases greenhouse gases and fossil fuels. It can also look as innocent as popcorn kernels to wildlife; he said he once ran out into the forest behind his house to stop deer from eating the seemingly appetizing foam pieces.
Other student projects included composting school food waste, encouraging students to limit showers to five minutes and installing wildlife-friendly water tanks in the forest for droughts.
Raphaelle Rolland-Francis, who teaches Global Issues and Sustainability and French at Northland Prep, served as one of the judges Wednesday.
"It's really exciting to see that [students] really are concerned about the future. I think it's a new phenomenon because now students feel like it's a necessity: they don't have much time and they want to be a part of that change," she said.