It really isn't all that surprising that the 2A Conference No. 1 Northland Prep Spartans are just one win away from their second undefeated regular season in three years.
The Spartans girls soccer team did what it has done all season in a mercy-rule win, 9-0, over the No. 9-ranked Payson Longhorns on Tuesday at Sinagua Middle School.
Northland Prep, now at 11-0 overall and 4-0 in the Central Region, just needs to beat Page on the road to secure yet another spotless regular season.
"I think we have really been working them hard these last few weeks to do a lot of things," Spartans co-head coach Keith Hovis said. "When we play these games, we play it like its a tough game, we're playing them as a training session. ... We're trying to be sharp."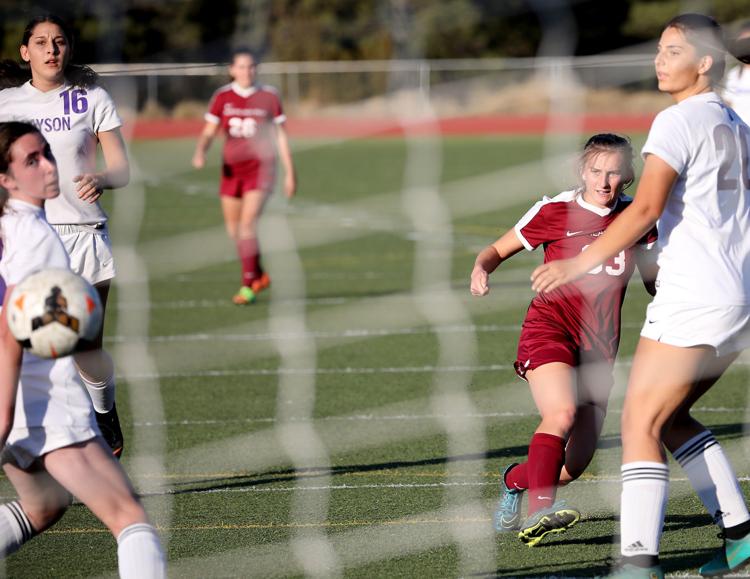 Northland Prep is 35-1 since the start of the undefeated 2017 season, of course winning the past two 2A Conference State championships. The Spartans' only blemish in the span is in 2018 to fellow 2A powerhouse Chino Valley, which lost its Tuesday game 1-0 to Blue Ridge.
While the playoffs are looming, the Spartans actually enjoy this time of the season.
Co-head coach Michael Blair said this is when the team gets to hone in on specifics ahead of the playoffs, allowing his team to even get loose and be a bit more relaxed.
You have free articles remaining.
Register for more free articles
Stay logged in to skip the surveys
"This is the most fun time of the year for us," Michael Blair said. "We're working on some set pieces, we are putting in a lot of reps and wrinkles. We're pretty hard on them all season and this time of year we kinda lighten up and let it play out. Their having fun and enjoying themselves, and this time of year we want to have fun and not press."
Mia Blair got the Spartans' first goal of the afternoon Tuesday about eight minutes in, chipping a shot over the Payson goalkeeper, and finished her day with a hat trick and one assist.
Ellie Karren scored the second goal after Payson's goalkeeper redirected a shot off the right post. Karren drilled the short rebound just four minutes after Mia Blair's opener. Sydney Sventek assisted on the next scoring play, dropping a pass back to Mia Blair near the edge of the box for the third goal in 10 minutes.
Northland Prep netted five more first-half goals for an 8-0 halftime lead, with one coming in a bit different way. Usually the Spartans don't score much off corner kicks, but Sventek's chance at the 20-minute mark of the first half bounced off a Payson defender past the goalkeeper and into the back of the net.
Sventek finished her day with three goals, too, and two assists, while Karren had one goal and led the team her three assists. Senior's Alyssa Sturm and Ginger Blodgett each found the back of the net, while Blodgett also assisted on another goal.
The lone goal of the second half came via Sturm, giving the team just one more to cap off the win.
First kick against Page is set for 5 p.m. Thursday in Page.