Northern Arizona University's School of Hotel and Restaurant Management  is filling in for Flagstaff Family Food Center this week as the organization is closed for repairs.
The HRM school curriculum is shifting for the week to prepare around 400 meals a day for people in need in the Flagstaff area. FFFC is sending trucks out twice a day to bring rescued food from local grocery stores and restaurants to the university kitchens and deliver finished meals back to FFFC's Sunnyside location and a local homeless shelter to distribute.
FFFC is replacing the floors in its building as well as installing new ovens and updating the bathrooms to be compliant to the Americans with Disabilities Act. Monica Foos, the organization's executive director, said the repairs are long overdue and will help when FFFC is able to reopen fully post-COVID.
"All these coming together will help us on our reopening to the community. We're looking forward also to that fresh reopening when we can have all the clients come in and sit at the same table and dine," Foos said.
She added that the center hadn't shut down in its 30 years of operation, "no matter the weather, no matter anything," and so they weren't sure what to do during repairs.
"[We] didn't really know how we could [keep providing meals] short of purchasing every single day for 400 people. That didn't make sense," Foos said. "...We couldn't have done it without this kind of commitment from one place because we needed that commercial kitchen and they have that [at NAU]. A restaurant working hard to survive couldn't give us that."
FFFC reached out to Nick Williams and Kevin Heinonen of That Place Projects, the company behind Tinderbox Kitchen, Tourist Home and the Annex in Flagstaff, who then called Mark Molinaro, associate executive director and chef for NAU's HRM school.
Molinaro said they were glad to help as the two programs were "a good fit" and that the project aligned with the existing goals and curriculum of the HRM program.
"We're all looking inward to look outward," he said. "We're trying to find ways to do what we're doing to benefit and point the student's work outwards in our community. I think that's a big piece of the NAU transformation that's going on right now. How we can be of service for our city, our state and our region?"
He said the week would be used as a service-learning experience for students.
"[We're] trying to get the students to understand that what they end up doing in the world, a big part of it is community-driven. We're just switching up our learning a little….It's just a nice, perfect union of what we do in the hospitality school and how we try and teach community service," Molinaro said.
Two classes of HRM students are participating -- the sophomore Foundation and Kitchen Operation course and senior Ethics and Sustainable Gastronomy. The senior class is more involved in planning and communications, while the sophomore one is more about "knife skills and learning how to manage a station and work efficiently," according to Molinaro.
He said the program had no issue finding people to help over the course of the week and that volunteer slots for the entire week had filled within two days of being posted to the university community.
"For our students, this is right up their alley," Molinaro said. "They don't want to just do something for a grade anymore, they want to do something to make a difference. I think that's resonating with them. So they're super jazzed and ready to put to practice what we're trying to teach them to make a difference."
Among those cutting peppers for fajitas Tuesday afternoon were members of NAU's administration, including university President José Luis Cruz Rivera and a number of students.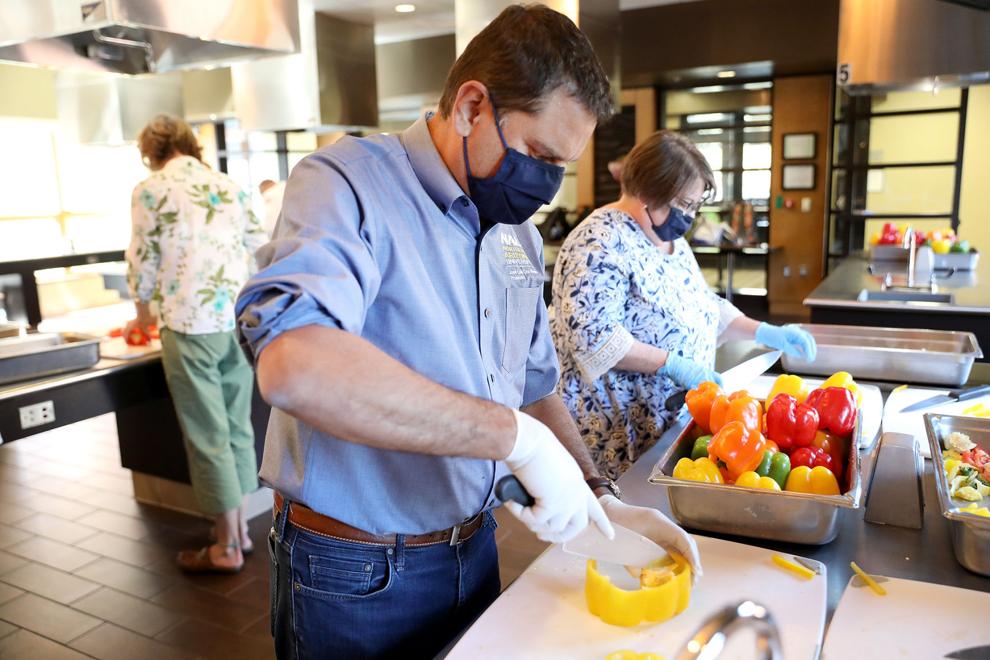 Gabe, a sophomore HRM student, said that other classes in the program were "not usually this hands-on" and that classes like this "just feel better."
Other NAU students were there just to help. Environmental Science major Andrew Foss said he was tagging along with a friend, Journalism major Trevor Steen.
"I just signed up for this. It was in a newsletter that was distributed and sounded like fun and was one or two hours," said Steen. "Why not go for it?"
Foos said she hoped to continue collaborating with NAU in the future. She said FFFC had worked with the university as well as the Coconino County Department of Health and Human Services on student capstone projects and dietician internships. She also noted that the organization could provide opportunities for students in several areas.
"All this is pretty new, it's something I've wanted for so long, but COVID brought resources together. Schools weren't getting together and yet we were full steam ahead, meeting the nutritional needs of families. So we thought, well, why not work together? And it's been really good. I'm hoping that these all continue and I think that there's a lot more opportunity and learning opportunities in real community situations for a lot of departments," she said.
FFFC is also currently seeking additional community volunteers to help with food preparation and delivery and are raising money to purchase another truck to help with home delivery services created in response to COVID-19. More information can be found at hotfood.org.