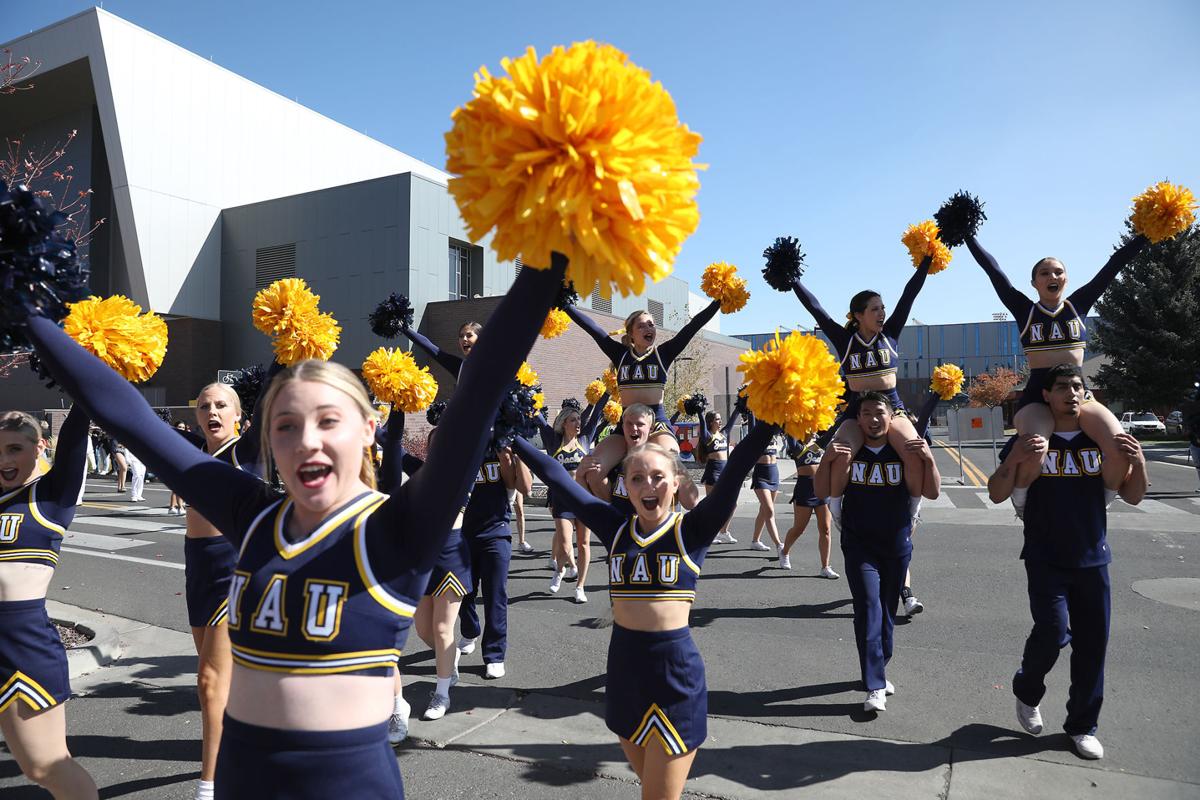 There might not be football, or crowded parades and carnivals or even the traditional chili cook-off, but Northern Arizona University students and alumni will still have a chance to celebrate their university in a virtual Homecoming this fall.
From Thursday, Nov. 5 through Saturday, Nov. 7, NAU will carry on its 96-year-old Homecoming tradition with festivities including student concerts, trivia, a shoe box parade and a ceremony recognizing honored alumni. All events will be virtual in response to the COVID-19 pandemic.
"I think the need for community and just coming together is more important now than ever," said Director of Alumni Engagement Stephanie Smith. "It's 2020 so there's definitely ways to be able to do that virtually, and we want to be able to take advantage of that. Some universities have canceled their Homecoming, and I'm proud and I know I've heard from alumni who are also proud that NAU did not decide to cancel Homecoming and we are still going to be together, just virtually this year."
Although NAU football does not begin until next semester, Smith said there are not currently any plans for a separate celebration in the spring.
In addition to the thousands of spectators who attend the annual Homecoming game, other events taking place throughout the weekend typically bring in several hundreds of both alumni and current students. The most popular student event is the carnival that is attended by about 5,000 students each year.
The Homecoming Committee is similarly expecting a large turnout this year, based on other activities NAU has held since the beginning of the semester. Virtual events such as the Welcome Week concert and painting classes have up to 400 student participants, said Kevin Gemoets, director of student life, who has co-chaired the committee with Smith for four years.
As Smith has seen with registration for a career mixer scheduled for next week, virtual options are increasing alumni participation because they can join from wherever they are, a trend committee members hope will also apply to this fall tradition.
Creating connections
During Homecoming Weekend, students will have the opportunity to attend two virtual concerts and a first-time Lumberjack trivia night, as well as grab flapjacks to-go Saturday morning before the virtual shoe box parade, an idea borrowed from Coconino Community College's Fourth of July celebration this year.
Alumni and Flagstaff community members have been invited to join students in the parade and trivia night as well as the Honored Alumni & Hall of Fame Virtual Ceremony, which has been an invite-only event in the past.
"We're also using this as an opportunity to bring groups together that maybe would have normally have their separate events," Smith said.
As it has been planning Homecoming, two particular groups have been top-of-mind for the committee: current freshmen and the Class of 2020, which has been named this year's Homecoming dedicatee.
This title is typically awarded by students to a staff or faculty member who has been at the university for at least 10 years. They are recognized at the Homecoming game and get to ride in the parade and serve as a judge for the chili cook-off.
"It's a really cool opportunity for that person and since they wouldn't get that same opportunity this year, it was decided that this year the Homecoming dedicatee would be the Class of 2020," Gemoets said. "Last year, of course, when this all happened, they were not able to celebrate in a normal graduation ceremony and they're not going to be able to do that, unfortunately, this winter either, so that was our way to help celebrate the Class of 2020."
He said, in the past, the most people who have been recognized as dedicatee at once is two, either coworkers or couples who both work at the university.
In addition to honoring those who have recently graduated, Gemoets said he also hopes Homecoming 2020 will benefit new Lumberjacks, giving them the chance to experience the same traditions as their predecessors.
"We don't want a year to go by where our incoming class didn't get to experience anything," Gemoets said. "So we're really excited to be able to continue [our traditions], even though, of course, they look a little bit different, students will know that their school has a Homecoming and that Homecoming is really important so that hopefully by next year — fingers crossed, if things are back to somewhat normal — they won't feel brand-new to it. They will feel like they've already gotten to experience that."