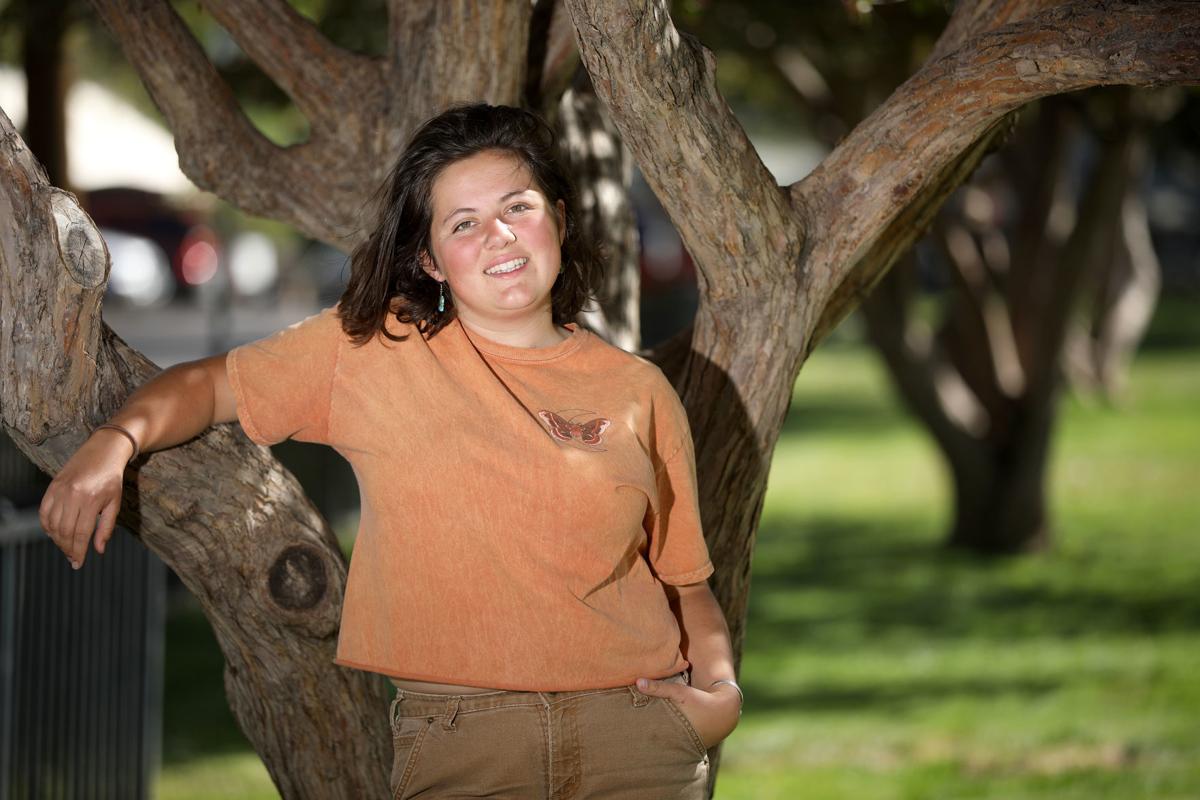 Truth be told, Jazlee Crowley hates bugs. They creep her out. It's not as if she doesn't respect their right to exist or anything. They're, like, part of the ecosystem, after all. It's just that she much prefers plants as an area of study.
"I still think bugs are super gross and scary, totally, they give me the heebie-jeebies," she admits with a bark of a laugh.
So, while botany clearly outranked entomology in her hierarchy of academic subject matters, Crowley found early on that the "the bug lab" was the easiest one she could get into for her studies at Northern Arizona University, so caterpillars and beetles it was, along with concomitant research on the critters' interaction with several of her beloved plants, such as milkweed and monkey flower.
Now, as she prepares to graduate (virtually, of course, given that the COVID-19 fallout has cancelled commencement) with a degree, with honors, in biology from NAU, Crowley is able to speak highly, even somewhat affectionately, of her work with insects during her four years at the university in the town where she was born and reared.
In fact, bugs have been good to this budding 22-year-old scientist who attended Pine Forest Charter School and then Flagstaff Arts and Leadership Academy. How many other undergrads can put on a vitae that they won a prestigious campus honor — the Hooper Undergraduate Research Award — for studying caterpillar dining habits? And, in an even bigger boast, how many students can take credit for being part of a team that identified (and named) a new species of beetle, the Ulus Guapo?
She explains beetle discovery: "One day while I was helping out a grad student, we found another Ulus beetle about the size of a pebble and I thought, looking at it under the microscope, that this is hands down the prettiest beetle, very beautiful. Under the microscope, it had all sorts of these golden hairs. So, after two months, it was determined to be a new species and it was published in a paper. I got to name it."
Hence, guapo: Spanish for handsome.
So, yeah, Crowley's tenure at NAU certainly has been eventful. Speaking of handsome specimens, her forays into science also resulted in her meeting her fiancé, Jerry Swanson, while spending the summer in the Alaskan interior after her freshman year, surveying plants that survived wildfires. Actually, that month spent working 14-hour days in the eternally sunny Alaskan summer was a turning point for Crowley's career path, too.
Before undertaking such an intense study of plants, she thought she had wanted to pursue a bio-medical degree and practice naturopathic medicine. That interest took root and sprouted during Crowley's high school years. While most of her FALA classmates went for artsy interests, Crowley spent her summers as an apprentice at Flagstaff's Winter Sun Trading Co., which sells organically and wild-crafted herbs.
But, she said, that summer in Alaska made her change her focus from helping people with derivatives from plants to helping the plants themselves. And then, eventually, the bugs and their relationship with plants expanded her horizons further.
Ask Crowley about the genesis of her botanical interest, and she traces it as far back as her early childhood. Her dad, John, is a Grand Canyon river guide, and Jazlee tagged along and was fascinated by the flora of the area.
"My dad's a beekeeper, too," she said, "so between the bugs and the plants, I was a very hippie child, but fell in love with science instead of the arts."
The arts, though, remain an interest — her mother, Jolene Rohrbacker, is a muralist whose work can be seen outside of the Campus Coffee Bean, and her sister, Ember, is a filmmaker, and Jazlee herself has a minor in art history — but working with plants at Winter Sun as a teen offered her a different type of creative outlet.
Plants, themselves, take on an almost spiritual dimension for her.
"OK, so, I gotta say I'm white, very white, as white as you can get, and I don't want that to get what I'm going to say misconstrued," she said with a nervous giggle. "But growing up really close to the rez and working at Winter Sun, where we talk about plants in more Hopi and Navajo traditions, I learned about plants under that context. I believe plants do have much more of a spiritual aspect to them. They are medicinal.
"I think it's hilarious that people think plant medicine is just hippy-dippy nonsense. But if a plant can kill you, why can't it also help you and heal you? They are powerful medicines within plants. Growing up, I didn't just see them as lifeless little weeds; I saw the spiritual aspects of them."
Now, with her work at NAU, Crowley also has solid scholastic record to point to when she'll start applying to graduate school after a year off. Not only did she study how ingesting monkey flower plants affected caterpillars, her capstone project flipped the study and looked at how the caterpillars' grazing affects the health of the plants.
"It was interesting to see both sides of the experiment," she said. "It's a little frustrating because the process was year-long and got to a pretty good point, but because of the COVID situation, I didn't get a full ending to my report."
She did determine, however, that when monkey flower experienced herbivery (being ingested by insects) it undergoes induction. That is, she explained, the plant is "vaccinated" against the onslaught so it can survive a subsequent herbivery episode by another buy.
Despite the abrupt cancellation of her spring semester, Crowley is proud of her findings. And she has accepted in stride the cancellation of the commencement and all the attendant celebrations therein.
"There are so many different feelings," she said. "But what my parents and I first said — because we've lived here over 20 years — was, 'Oh, no graduation traffic then!' For me, walking across a stage and shaking a hand would be fine, but not really my focus, so it wasn't about the commencement not happening; it's more like a lack of closure."
Still, she's looking forward to spending the summer in Seward, Alaska, in a yurt with her fiancé before thinking about grad school and more plant scholarship. She says she will apply to grad schools only in the Southwest. She's a Flagstaff girl, at heart.
"I happened to visit the East Coast last summer and, uh, they can have it," she said, laughing. "Hey, maybe I shouldn't talk so well about Flagstaff because too many people are coming."
Get local news delivered to your inbox!
Subscribe to our Daily Headlines newsletter.