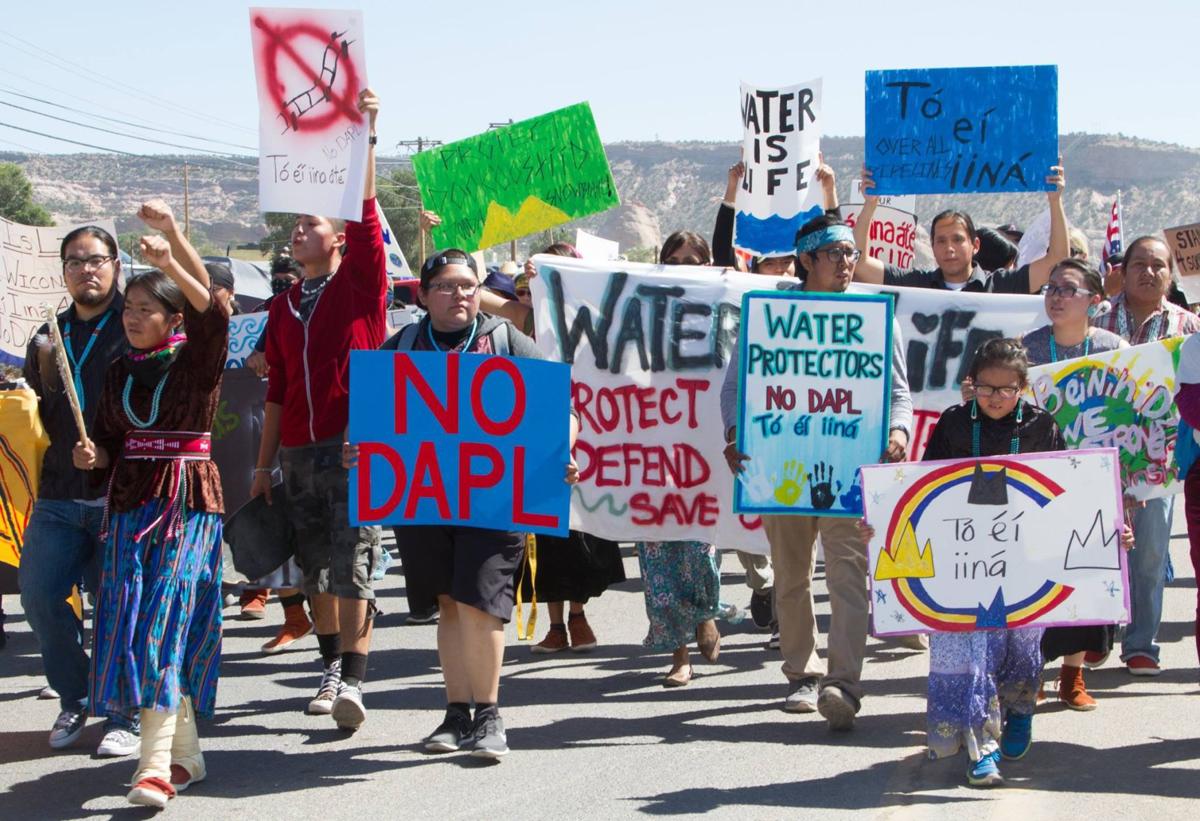 Before Sacred Stone Camp on the edge of the Standing Rock Sioux reservation became a village of tents, campers and teepees, before it became the center of what many are calling a history-making merging of tribal nations, the gathering of people standing against the Dakota Access Pipeline numbered just a handful, said Cody Fetty.
The 21-year-old Flagstaff resident, who is Navajo, first traveled to the camp near the confluence of the Cannonball and Missouri rivers in July. He said at that time the group's numbers were so small they were afraid they would be invaded or infiltrated, their message silenced by just a few officials.
"My friend had told me with these 12 people we have to start taking action, we have to start planning something, we can't stand around thinking this is just camp," Fetty said. "This pipeline is going to be put down but we can do tiny actions, we can do large actions."
Now, those actions have grown to capture national attention and Fetty, who is a leader of the local group Indigenous Youth 4 Cultural Survival, is part of an expanding stream of representatives and members of northern Arizona tribes that have organized to support ongoing protests against the construction of the 1,172-mile-long, $3.8 billion Dakota Access Pipeline.
Solidarity and unity
Brandon Benallie, who is from Black Mesa, made the 1,300-mile drive to North Dakota with a group of eight people at the end of August, stuffing a 15-passenger van, a truck and flatbed trailer with donations, camping gear and firewood.
A member of Red Nation, A group dedicated to the liberation of native people, Benallie said he and others made the journey to show solidarity with the Standing Rock Sioux in their struggle to protect their clean water. The tribe is concerned because the oil pipeline is proposed to cross the Missouri River upstream of the Standing Rock Sioux reservation.
Benallie, who is Navajo and Hopi, said the experience of unity among hundreds of tribes was beautiful.
"You have historic enemies like the Lakota Sioux and Crow camping together, eating together and praying together -- that's really significant," he said.
While protesters didn't clash with law enforcement during his time at the camp, Benallie said there appeared to be a more subtle form of deterrence. Law enforcement officials had positioned themselves along the road from Bismarck to the Standing Rock reservation and were screening cars, stopping those headed for the Sacred Stone Camp and rerouting them along a gravel road that made the half-hour drive into a two-hour trip, Benallie said.
But instead of frustration or anger, after a week staying at Sacred Stone, Benallie said he came away with a sense of empowerment.
"This to me is another reinvigoration of that compassionate spirit of native people in defense of the land," he said.
Another group of nearly 30 Hopi and Tewa people traveling to Sacred Stone on Thursday hope their trip will inspire their fellow tribal members to become more engaged in local water issues. The Hopi Tribe's opposition to the Grand Canyon Escalade project, its lawsuit to halt snowmaking on the San Francisco Peaks and challenges with arsenic in tribal members' drinking water are all causes that need more attention, trip organizers Waylon Pee Pahona and Samantha Honani Antone said.
"The chairman said you come back and you bring attention to water issues because it's just the chairman and council representatives sitting in courtrooms or going to meetings regarding this," Antone said. "They need people in the seats with them."
Pahona said he hopes the protests will also inspire native people to be more proactive in a broader sense, recognizing the power of the vote and understanding "that our voices can be heard," he said.
Pahona said they pulled together the trip in just a week and have seen donations come in "from every direction."
Ripple effects
Support for the Standing Rock Sioux was also evident in Flagstaff last week when more than 50 people attended a march and rally to spread awareness about the Dakota Access pipeline protests. A small group including Fetty organized the march that ended at City Hall, where leaders pressed Flagstaff City Council to create a future agenda item to discuss the pipeline protests and consider officially supporting them.
Already the attention on Standing Rock has had ripple effects for tribal nations states away, said Marlena "MT" Garcia, another march organizer.
"Because of the unity and solidarity that has come with Standing Rock it has woken up a lot of people ... it will bring acknowledgement to issues that are happening and that we have the power to stand up to and make it stop," said Garcia, who is Navajo.
The Hopi, Navajo and Havasupai tribes have sent official letters expressing solidarity with the Standing Rock Sioux tribe as well.
The Navajo Nation issued a letter of support and also sent money to help provide water and necessities for those in the camp, said Mihio Manus, spokesman for the office of the president and vice president.
President Russell Begaye and Vice President Jonathan Nez visited the camp two weeks ago while in the area for other meetings and took a Navajo flag to display there, Manus said.
In an Aug. 25 letter, Hopi Tribal Chairman Herman Honanie noted that the protests are continuing indigenous peoples' centuries-long fight to protect their children and homelands.
In its own letter, the Havasupai Tribal Council referenced the tribe's struggles to preserve its water sources in the Grand Canyon.
"The Havasupai Tribe has been fighting for many years against the potential destruction of our own waters and lands by uranium mining," said the letter signed by Tribal Chairman Don Watahomigie and Vice Chairman Edmond Tilousi. "We as an entire Native American people must stand together against the destruction of the world's most precious resource, 'Haa' (water)."
On Aug. 9, the Obama Administration temporarily blocked construction on part of the Dakota Access oil pipeline that will pass beneath a dammed section of the Missouri River. The Departments of Justice, the Interior and the Army called for a "serious discussion on whether there should be nationwide reform with respect to considering tribes' views on these types of infrastructure projects."