For nearly 45 minutes, teammates, coaches and many more who were impacted by Malik Noshi mourned the death of the Northern Arizona football player at a candlelight vigil Thursday night.
The football team joined a large crowd of community members, students, and current and former Northern Arizona athletes and administrators in the Skydome parking lot.
All stood around a table adorned with flowers and Noshi's helmet and No. 65 jersey next to a portrait of the athlete, who many described as incredibly kind, caring and generous to all he knew.
Noshi was found unresponsive in his Flagstaff home Sunday afternoon and responders were unable to resuscitate him.
Northern Arizona quarterback Case Cookus, who said he lost a teammate when he was in high school, said even though he had gone through a similar event, it never gets easier if it happens again.
"The only thing you can take ease in is seeing the community come together and how much you loved him and appreciated him and just kinda keep him in your thoughts," Cookus said.
Cookus, as many others did during the night, praised Noshi's dedication on the field, while still being one of the most likeable and genuine people.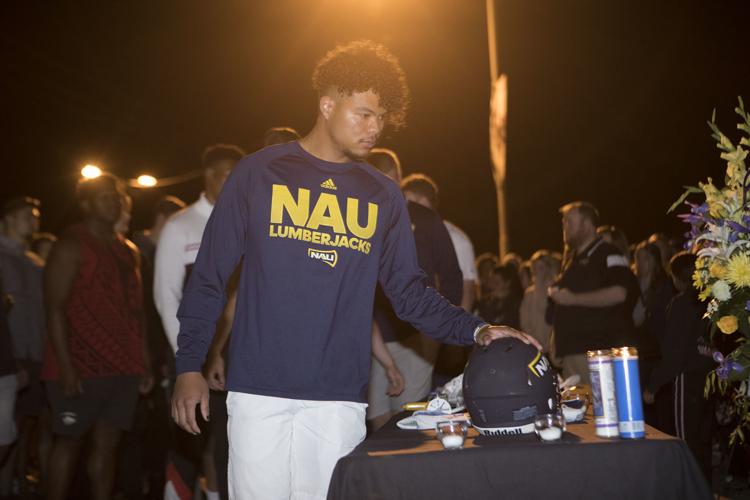 The two joined the Northern Arizona football program the same year in 2015 and Cookus recalled that during their sophomore years, Noshi was on a road trip with former Northern Arizona tight end Jonathan Baldwin and ended up staying with Cookus at his home in southern California.
From then on, nearly two-and-a-half years, Cookus said Noshi never forgot it despite how small it seemed at the time.
"It just puts a smile on my face," Cookus said. "It shows how kind he was. You do something for him and he will remember it forever and he will make sure to make it a priority to get you back on it. … That's just how he was. He was so kind and it is crazy because he's just this big lovable guy."
You have free articles remaining.
First-year Lumberjacks head coach Chris Ball noted how impressed he was with Noshi in the short time he knew him.
"He was a great kid and, I probably don't want to say this in front of these guys, but he was my favorite player because he was tough," Ball said to the group. " … We were lucky to have him on our football team. We were lucky to get to know him. He will be greatly missed as a son, a friend and a teammate. He will be with us forever. He will be a part of this football program forever."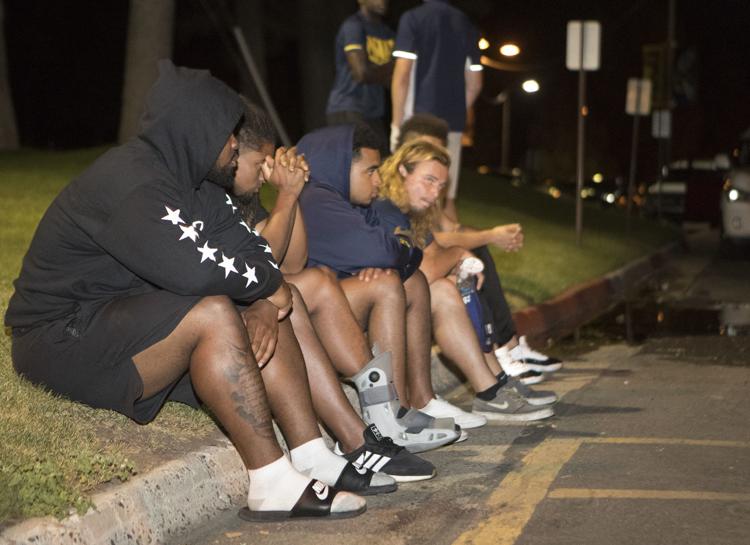 Coaches and players echoed a common sentiment of honoring the life of Noshi through their work ethic on and off the field, saying it would be what he would have wanted.
To remember Noshi, the team made clear goals to play, work out and practice with the same fire, grit, determination and love for the sport that Noshi had despite his thankless job on the offensive line.
"As an offensive linemen, the guy was more popular than me, man," Cookus said. "Everyone knew Mal. When he walked into that house, when he walked downtown, when he walked into the Dome, you knew Nosh was there. He's a great man. He's a great teammate and I'm gonna miss him forever."
A few Northern Arizona players had the opportunity to go to Las Vegas to remember Noshi in his hometown with his family and friends earlier this week.
The passing of Noshi hit further beyond the Northern Arizona football program.
Brian Miller, Noshi's neighbor, remembered Noshi for his genuine care and kindness even to someone such as himself. Miller told of times he would give Noshi rides to the Northern Arizona campus and how touched he was by Noshi's authentic personality.
Of everything that was said Thursday night, the most resounding that Noshi will be remembered for is his unwavering kindness he showed to those he knew.
An investigation into the cause of death is currently ongoing.