The helicopter flew low as it made its way over the rolling grasslands of the Raymond Wildlife Area about 30 miles southeast of Flagstaff.
In a sling hanging from the chopper's underbelly was an unusual cargo: a Rocky Mountain elk that had been netted just minutes before.
The 600-pound animal was one of 60 captured by state wildlife officials on Tuesday and Wednesday. After a month-long quarantine in a holding pen at the wildlife area, the elk will be trucked across the country to West Virginia.
The multi-week, highly coordinated process aims to bring elk back to the Mountain State, which hunted off the last of its native Eastern elk around the 1860s, said Stephen McDaniel, director of the West Virginia Division of Natural Resources.
"We're the ones that drove them out so we should be the ones to try to bring them back and reestablish them," McDaniel said.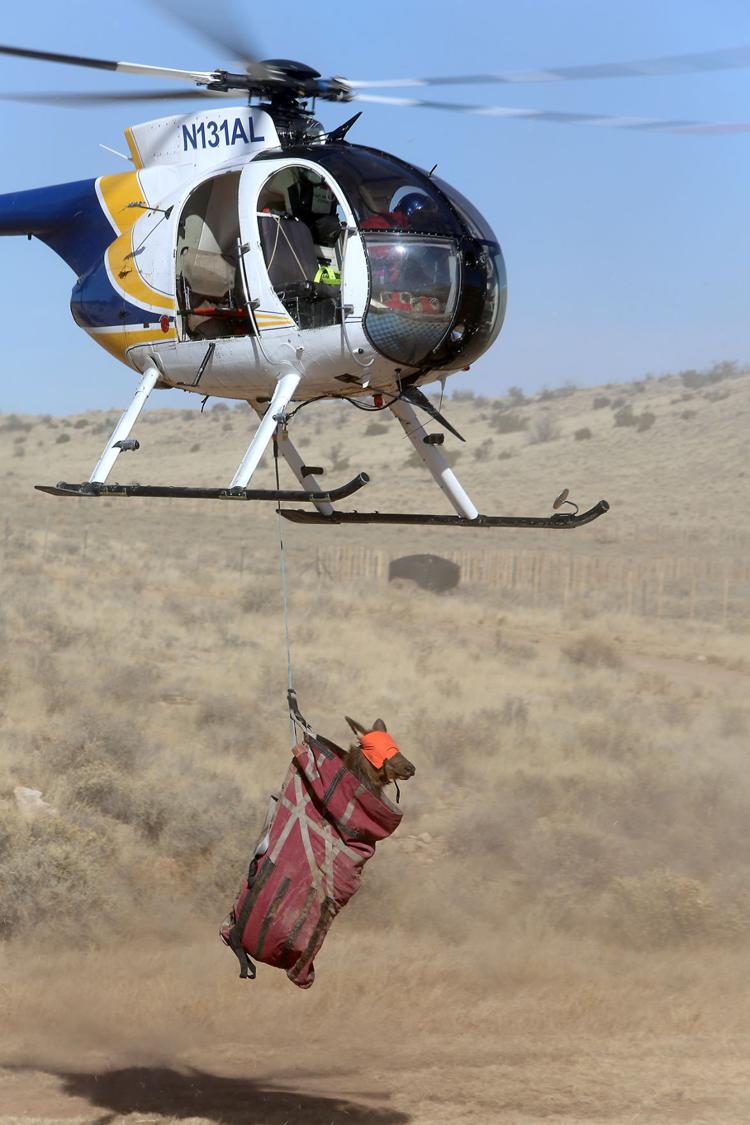 For Arizona wildlife managers, the translocation was a welcome opportunity to further conservation and help another state reestablish an elk population, said Amber Munig, big game program supervisor with the Arizona Game and Fish Department.
It's also a rare occurrence.
This week was just the second time that Arizona has exported its elk to other states. The first time was in the early 2000s when the state sent animals to Kentucky to help that state reestablish its population, Munig said. West Virginia contacted Arizona about getting elk several months ago because the state's population is one of the few that are free of diseases like tuberculosis and chronic wasting disease. It's also robust enough, with sufficient reproduction rates, to support removal of some animals, Munig said.
BRINGING NATIVES BACK
After their cross-country truck ride, the five dozen elk will be let loose on 40,000 acres within two wildlife management areas in southern West Virginia. The landscape is dominated by a mix of dense woodlands and grasslands that were replanted and restored after mountaintop removal mining, said Randy Kelley, a wildlife biologist with the West Virginia Division of Natural Resources.
Returning elk to the state is part of a larger effort to bring back a range of native species, including white-tailed deer, turkeys and bears, McDaniel said. West Virginia's leaders also see potential for elk viewing to provide a tourism-based economic boost to an area where the mining industry has faced a steady, long-term decline, Kelley said.
The state hopes to import 250 elk over four to five years and is creating specific wildlife viewing areas that it hopes will attract people from across the region, McDaniel said.
"For a hundred years people have gone into southern West Virginia and taken resources out and they really haven't left anything for the folks down there," McDaniel said. "Bringing the tourist industry down into West Virginia to see the elk roaming the mountains that they once did 150 years ago. I think it's a win-win for everybody."
Eventually, the state hopes to allow elk hunting as well, he said.
HELICOPTER CAPTURE
To capture the elk, spotter planes and people on the ground helped direct the helicopter to different herds across an approximately 300-mile area around the wildlife area. The helicopter pursued a group of animals for a maximum of three to five minutes before either shooting out a net to capture one or pulling off, so as to not run the animals to exhaustion, Munig said.
The net serves to tangle the animal's legs, allowing the helicopter to land and a mugger to jump out and hobble the animal by putting straps around its limbs. The elk also got blindfolded and given a small sedative to keep them calm, Munig said.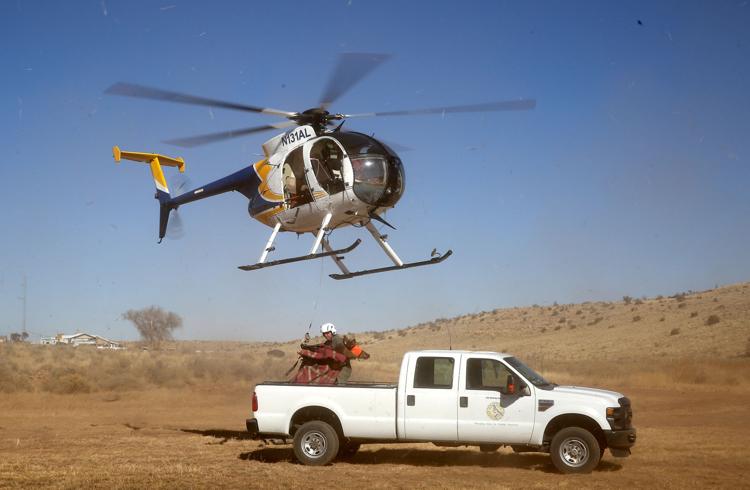 After capture, each elk was loaded into a large, heavy duty sling and flown to a central processing area, where a team of biologists, veterinarians, wildlife managers and volunteers assessed the elk's health, administered shots, took its temperature and attached a GPS tracking device as well as identification tags on the animal's ears. If an animal came in overheated from trying to outrun the helicopter, the team brought in buckets of cold water to pour over its body.
The entire process didn't take more than a few minutes and when it was finished, each elk was released into a holding pen lined with black felt tarps to keep the animals calm and prevent other animal intruders during the quarantine period, said Shelly Shepherd, spokeswoman for Arizona Game and Fish.
The cost of constructing the pen ran about $40,000 and the capture crew was another $40,000, Munig said. All of those costs were covered by the state of West Virginia and the Rocky Mountain Elk Foundation.
For its part, Arizona Game and Fish staff put in time to help organize and carry out the capture and quarantine process.
The state, after all, received a similar favor a century ago.
Overhunting eliminated Arizona's native Merriam's elk by the early 1900s, so the state reached out to Wyoming and first received a delivery of Rocky Mountain elk from Yellowstone National Park in 1913, Munig said. The 80-plus animals formed the core of the elk population in Arizona, she said.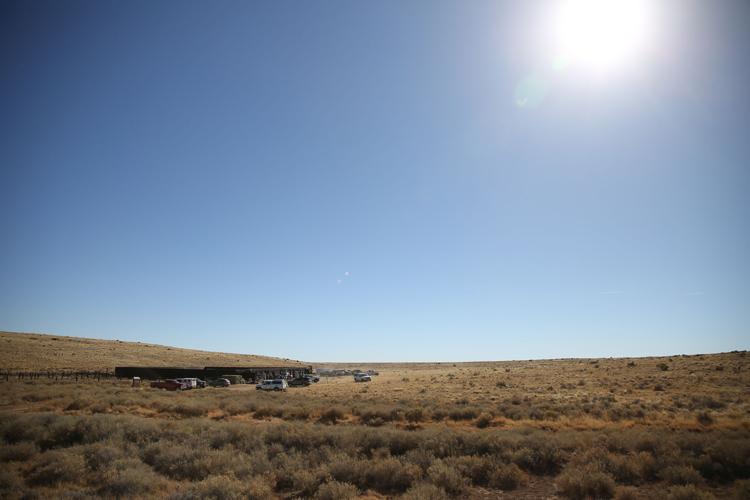 Returning elk to West Virginia, and reintroducing them in Arizona, is about bringing large herbivores back to landscapes that evolved around them, said Jeremy Krones, program manager with the Diablo Trust ranches, which border the Raymond Wildlife Area.
"Even though we extirpated the elk from the East Coast a long time ago and the native elk of northern Arizona not too long ago, we still try to correct our mistakes and I think that's a big part of active land management," Krones said, his jeans dirty after helping process several of the captured elk.
"It's understanding that we as humans, we play a significant role in this and we might take a step back but that doesn't mean we can't take two steps forward," he said.