Questionable penalties in the first quarter put an ugly start on Northern Arizona's blowout win over Division II Western New Mexico.
Despite the final score showing a massive difference, with Northern Arizona winning 55-21 in the Walkup Skydome, unsportsmanlike calls and untimely defensive penalties gave the Mustangs a bit more life than the Lumberjacks (2-1) and their fans wanted Saturday.
"Everyone of these I've played in where you have to play down, I've never been happy, ever," Lumberjacks head coach Chris Ball said about playing a lower-level team. "To get guys motivated to play down is hard and it's adversity. Whenever you're favored or doing well or people are patting you on the back. That's adversity and we didn't handle that early in the game.
" ... You got to teach these kids that no matter who we're playing, or what the score is, you keep playing at a high level," Ball added. "There were times tonight we didn't do that."
After Northern Arizona jumped ahead 14-0 within the first six minutes of the game, Western New Mexico made some headway with a long drive kept alive with an interception being overturned, a defensive pass interference penalty and a roughing the passer call on the Northern Arizona defense.
The home defense finally stopped Western New Mexico to force a field goal, which Lumberjacks safety Jalen Cook blocked to keep the Mustangs scoreless. Northern Arizona's offense stalled on the ensuing drive, going three and out.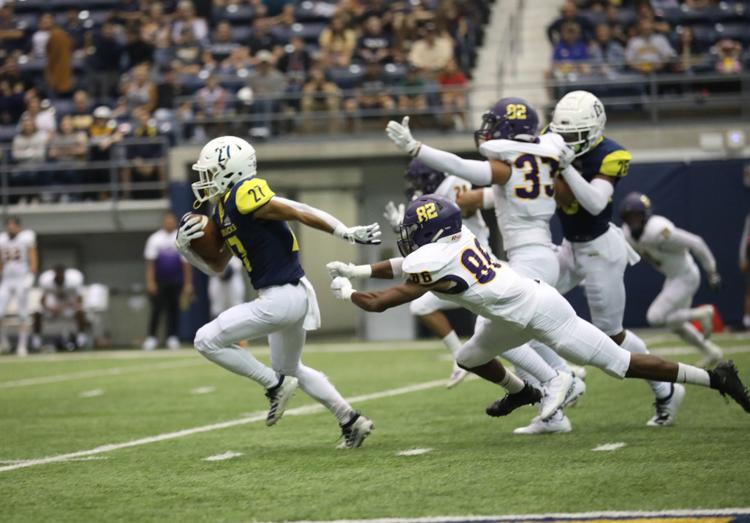 The weird and ugly play in the first quarter continued when Western New Mexico blocked DJ Arnson's punt, with the Mustangs offense taking advantage with a short touchdown run. The unorthodox football kept up when Northern Arizona blocked the Mustang's ensuing PAT attempt, with Anthony Sweeney taking the loose ball 97 yards for a defensive 2-point conversion.
In the first half alone the Lumberjacks had seven penalties for 70 yards, with 45 of those penalty yards coming in the first quarter. For the game Northern Arizona had 10 penalties for 110 yards.
"We had stupid penalties," Ball said. "Personal fouls, we had three of those in the first half. And just stupid stuff that I thought we corrected, and we took a couple steps back. We're not going to be like that. We're going to finish games no matter who we play. We took away some big plays because of selfish stuff."
Lumberjacks quarterback Case Cookus tossed three touchdown passes in the first half to go with 294 yards on 11-of-20 passing. His day ended about midway through the third after he connected with Joe Logan for a quick 63-yard touchdown.
Heath Beemiller came in for Cookus once the game was decidedly done, and the redshirt freshman finished 7-of-11 passing for 125 yards.
RUN GAME WOES
Northern Arizona continued to struggle to gain yards on the ground.
For much of the blowout win, the Lumberjacks were held to under three yards per rushing attempt by the Mustangs -- struggling to find room to run again.
For the game Northern Arizona finished with 3.8 yards per carry, going for 187 yards on 49 carries. Ten different players received rushing attempts, but none could break any open with a team long run going for just 19 yards.
George Robinson, Amaris Aldredge and Logan led the running attack for most of the game, but failed to get any major impact on the ground aside from two short touchdown runs near the goal line. Beemiller tied with Jacob Mpungi as the team's leading rusher with 31 yards.
Saturday's game marked the second time out of three games that a backup quarterback led Northern Arizona in rushing yards.
BIG DAYS
Aside from the ugliness, the Lumberjacks dominated the Mustangs as expected.
Cookus threw for 357 yards and four TDs total, averaging 29.75 yards per completion. Brandon Porter and Hendrix Johnson continued their strong starts to the season with 100 yards and 107 yards, respectively. Johnson eclipsed 100 receiving yards for the first time in his college career.
Despite his struggles to find any room running in the box, Logan made up for it with some big plays as a pass catcher. Logan caught two passes for 128 yards and two touchdowns -- as both catches went for more than 60 yards on swing passes where Logan just bounced around and made defenders miss in open space.
Aldredge added in three catches for 64 yards, showing his worth as a pass catcher out of the backfield much like Logan.
Defensively, Carson Taylor finished with 1.5 sacks, 2.5 tackles for loss and four total tackles. Brandon Worthy had six tackles, two for loss, one sack, one forced fumble and one interception.
GOT THEIR FIRST
It took 9 1/2 quarters for Northern Arizona to get its first take away of the season.
You have free articles remaining.
Brandon Worthy picked off Mustang's quarterback CJ Fowler after the signal caller was hit by two Northern Arizona pass rushers.
The Lumberjacks play their first of two straight on the road, starting with Illinois State (2-1) Saturday at 4:30 p.m.
---
BIG SKY ROUNDUP
JACKSONVILLE STATE 49, E. WASHINGTON 45
JACKSONVILLE, Ala. (AP) — Zerrick Cooper passed for three touchdowns and ran for one, and Michael Matthews scored the winning touchdown with 59 seconds left as Jacksonville State shocked Eastern Washington 49-45 on Saturday night in a battle between ranked FCS teams.
The Gamecocks (2-1) never led until Matthews scored on a 1-yard plunge to cap an 11-play, 73-yard drive that started with 4:38 to play. Eastern Washington had led from the opening kickoff, which Dre Dorton returned 90 yards for a touchdown. Eric Barriere then threw three touchdown passes and the Eagles (1-2) led 28-7 after one quarter.
WYOMING 21, IDAHO 16
LARAMIE, Wyo. — Trey Smith rushed for 152 yards and two scores, including an 80-yard dash early in the fourth quarter that gave Wyoming the breathing room it needed en route to a 21-16 win over Idaho on Saturday, the Cowboys' seventh straight victory dating to last season.
It was the first 100-yard game for Smith, a graduate transfer from Louisville. On his insurance touchdown, he bounced off a defender at the line, shook a would-be ankle tackler a few yards downfield, regained his balance, then won a footrace down the right sideline.
The TD put Wyoming up 21-13, but Cade Coffey's third field goal for Idaho, from 24 yards, trimmed the lead to 21-16 with 7:20 to go.
UTAH 31, IDAHO ST. 0
SALT LAKE CITY — Tyler Huntley and No. 11 Utah didn't use much of the playbook as the Utes romped through the nonconference season. They did put Pac-12 defenses on notice Saturday with a long passing game to compliment the ground-and-pound of Zack Moss.
In the first quarter of Utah's 31-0 victory over Idaho State, Huntley approached speedster Bryan Thompson on the sideline and said a call was coming that would allow him to shine.
MONTANA ST. 23, W. ILLINOIS 14
MACOMB, Ill. — Logan Jones ran for 167 yards and two touchdowns and Montana State defeated Western Illinois 23-14 on Saturday.
Jones, a senior who more than doubled his career rushing total of 152 yards, started in place of injured Isaiah Ifanse. Jones opened the scoring with a 14-yard run in the first quarter and added MSU's only other touchdown on an 87-yard jaunt in the third quarter.
OREGON ST. 45, CAL POLY 7
CORVALLIS, Ore. — The smallest player on the field had perhaps the biggest impact.
Oregon State wide receiver Champ Flemings, a 5-foot-5, 141-pound redshirt sophomore, had five catches for 142 yards and two long touchdowns from quarterback Jake Luton, leading Oregon State to a 45-7 victory over Cal Poly on Saturday.
The win snapped a six-game losing streak for the Beavers (1-2).
NEVADA 19, WEBER ST. 13
RENO, Nev. — Jaxson Kincaide had 11 carries for 75 yards and a score, Brandon Talton made four field goals, and Nevada beat Weber State 19-13 on Saturday.
Kincaide added five receptions for 53 yards, Toa Taua had 85 yards rushing on 16 carries and Carson Strong was 30-of-44 passing for 299 yards for the Wolf Pack (1-1).
The Wildcats (1-1), who came in ranked No. 6 in the FCS Coaches poll, were forced to punt on the first possession of the second half and Nevada answered with a nine-play, 85-yard drive capped by Kincaide's 33-yard touchdown run to take the lead for good at 16-10.