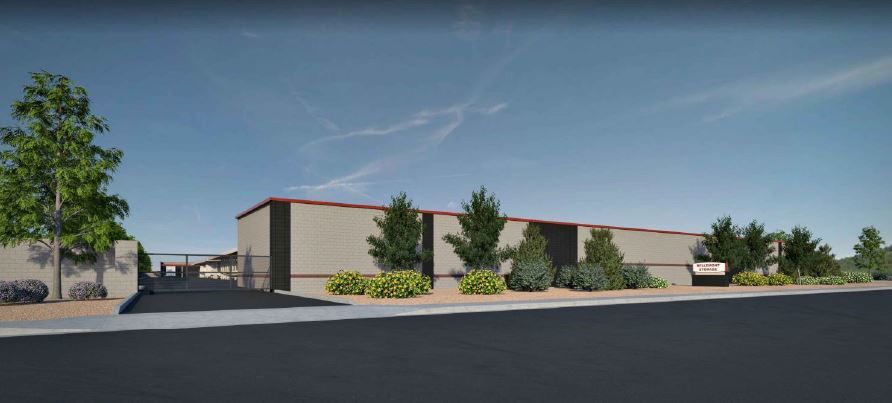 Plans for a 232-space recreational vehicle and boat storage yard in North Bellemont have been approved by the Coconino County Planning and Zoning Commission.
Alongside a virtual public hearing Wednesday evening, the commission reviewed the design for the project and voted to approve a zone change that would allow for a higher fence and more covered spaces.
The storage yard created by Tempe-based Vinson Realty and Investment will be located north of the third phase of Flagstaff Meadows, directly east of the new Shadow Mountain Village townhome community. It will include five covered storage areas, two of which are enclosed garages, and a small office with two parking spaces.
The 4.82-acre property was already a planned community zone with commercial heavy standards; the vote from the commission allows the creation of an 8-foot fence instead of the normal 6-foot maximum height as well as up to 50% lot coverage so all RVs and boats can be stored under a roof.
During a presentation on the development Wednesday, county planner Bob Short said this type of zoning is common in Bellemont and by definition allows for the creation of such a development.
"This use is already permitted in this zone on this lot. In fact, it has been for probably decades. If you know the history of Bellemont, the entire area was zoned [commercial heavy] and over the years, it's slowly turned over to residential to create all the residential developments that are there now," Short said.
Nevertheless, Bellemont residents during the hearing expressed their opposition to the development and its location, especially because there are already RV services in South Bellemont. They referenced concerns with traffic, light pollution and the general appearance of the facility, which they worry could devalue nearby properties.
Several residents said they had hoped for a more community-focused development for the property — public gathering spaces such as a restaurant, coffee shop or dog park.
Andrew Follett, who served as the chair of the Bellemont Area Plan Committee until the plan was approved in Oct. 2019, acknowledged that the facility is a permitted use for the property, but argued that it does not fit the vision of the area plan.
"I would like to express my displeasure on the fact that this property owner is deciding to go ahead and put an unsightly and ugly establishment in the middle of what was hoped to be a nice designed residential area and mixed use area," Follett said. "This in no way, shape or form serves the Bellemont community from a residential standpoint."
Similarly, Bellemont resident Alexander Spannuth noted that the area already has high amounts of large trailer traffic and that a storage yard does not align with the values detailed in the area plan.
"It's just somewhat disheartening to see that the community efforts put forth and planned by many people over many years is kind of being discarded, even though they have the right to do so," he said.
Community members asked that the developer consider improving the appearance of the southern side of the facility similarly to its plans to divide the storage yard from Shadow Mountain Village with trees and other landscaping.
"We're trying to get it as appealing as a self-storage facility can and adding some more trees that are currently not on the site," said Jessica Sarkissian, who represents Vinson Realty. "It is currently zoned for that and that's what the surrounding area was, so we're trying to be cognizant of what's in the area."
A traffic study estimates a total of about seven trips will be made into and out of the site each day, Sarkissian said.
Whitney Gergovich with Vinson Realty explained that he operates several similar storage yards throughout the Valley and is familiar with residents' concerns.
What Gergovich described as a several million dollar investment will operate during normal business hours and will have motion activated lights to avoid illuminating the area more than is necessary. He said the team is seeking the type of clientele that would keep the facility orderly.
"The HOAs [homeowner's associations] don't allow for people to park these types of things in the neighborhoods, so there's really … a high demand for this so we can typically be very selective in the types of customers that we allow to come in," he said.
Commissioners recognized that other developments on the property may have better served the surrounding neighborhoods and suggested increasing landscaping to better obscure the facility for residents, but only made one change to strengthen lighting restrictions before approving the plan.
Developers did not share an estimate of when construction will be completed.