It took the Flagstaff Eagles a little longer than usual to flip the switch, but once they did, they dominated.
Tara Brain and Gracelyn Nez helped change the tone after Flagstaff suffered a first-set loss, and the fourth-seeded Eagles won their 4A Conference volleyball state tournament opening-round match, 3-1, against the No. 13 St. Mary's Knights on Tuesday at Flagstaff High's War Memorial Gymnasium.
"We definitely started out rough, but we always pull through, and you have to work together -- it's about teamwork, trusting your team," Brain said after the 23-25, 25-12, 25-7, 25-16 victory. "We just had to pull those components together, and we pulled it out."
St. Mary's trailed by as much as five points in the first set but used a scrappy defensive effort and a late 5-0 run to tie it at 20-all and outlast Flagstaff, which committed back-to-back hitting errors that led to them facing set point.
Nez, a freshman, had just four kills in the first stanza. But she matched that total during a 7-2 run she sparked with a kill down the line that gave her team a 6-5 lead it would not relinquish. Brain tallied four kills on Flagstaff's final nine points of the second set and had one of her match-high 13 blocks to give her team a 22-11 lead.
"Gracelyn does a good job of putting down the ball, and we can all put down the ball, so we just have to learn how to start off strong so we don't let teams come back in situations like that," said Brain, who entered the night as the conference's leader in rejections and third overall in the state.
Nez ended her night with six blocks to go with 18 digs. Brooklyn Quick recorded eight blocks and Sofia Quintanilla added six for Flagstaff, which didn't allow St. Mary's to put together two straight points off service in the third set. Eagles libero Hutton Hagerman notched 28 digs as Flagstaff, which swept 14 opponents during the regular season, started taking the Knights' heaviest hitters out of the match.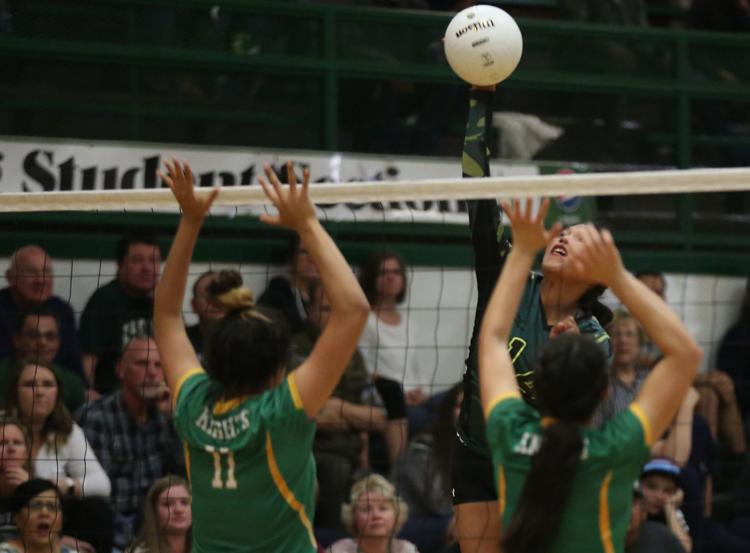 Quick terminated the ball twice during an 8-1 run that ended the third  stanza. She also put down a service ace during an 8-2 run that started the third.
It was Nez's first-ever state tourney action, and Eagles head coach Beth Haglin said her standout freshman played timidly on defense in the opening set before shaking off the jitters. Haglin said Brain was also a bit tentative in the opening set, as the middle blocker was dealing with an injury.
"In between the two first sets, we sat and talked about it," Haglin said of her team's energy and aggressiveness to start the night. "You can't just sit back, this is states, so you got to come out to play even though they are ranked 13th. You have to be ready for them."
Haglin said she had heard people underestimating St. Mary's before the first serve of the match was even fired off.
"Even the people taking money were like, 'I am going to be here Thursday,' and the refs were like, 'I am going to be here Thursday,' and people were saying that. It was frustrating to me because you can't look past anybody," she said.
The longtime Eagles head coach was right. No. 12-seeded Desert Edge upset fifth seed Canyon Del Oro on Tuesday in four sets, 23-25, 27-25, 25-20, 26-24, and advanced to the quarterfinals, in which they will take on Flagstaff Thursday in War Memorial.
Flagstaff's quarterfinal match is set to start at 6:30 p.m. The Eagles will host a Scorpions team that they blanked at Flagstaff High to open the regular season.
Brain and Nez were named to the Grand Canyon Region's All-Region First Team for the season, as were Hutton and Quick. Eagles middle blocker Madeline Wilson made the second team.
Haglin won region coach of the year, with Nez taking player of the year. Brain was recognized as offensive player of the year, and Hagerman garnered defensive player of the year.
Flagstaff's Jazzy Berry and Devynn Hatathlie made the honorable mention list.