The Flagstaff girls basketball team learned a lot about what the top of the 4A Conference looks like on Friday against No. 2 Shadow Mountain.
Two transfers combined for 33 points and the Matadors rolled the fifth-ranked Eagles at Flagstaff High School for an eighth-straight victory, 62-37.
Each playing just their second games of the season after being sidelined due to transfer rules, Heavenly Greer and Zhane Jordan ran together like they've played most the season, and the two helped Shadow Mountain put a stop to Flagstaff's two-game win streak. Jordan, a sophomore, recorded a game-high 19 points and Greer, a junior, added 14.
"They are obviously a quality team and I think it shows where we are in terms of when you compare us with the top teams in the state," said Eagles head coach Tyrone Johnson. "We are a long way off, and the thing of it is, I thought it was a game we could have competed a lot better in, but for whatever reason, it was turnover after turnover -- and unforced turnovers."
The Eagles (6-2, 4-0 Grand Canyon Region) struggled to keep the offense in a flow against the larger Matadors, putting up double digits on the scoreboard in just the third quarter with 13. On the other hand, Shadow Mountain (10-1, 3-0 Skyline Region) improved on each quarter, going 13, 14, 17 and then 18 in the final frame.
Both teams were losers in last season's semifinals of the 4A state tournament, each on opposite sides of the bracket.
"They are the program to beat. So it was great to get them in our house to really see where we are. It's like, "Hey, you guys want to get comfortable with region games? You have to make sure that if you want a deep state run, you have to be able to play against a team like that," Johnson said. "It's eye-opening to see how far away we are."
Flagstaff is still winless at home at 0-2 for the regular season. The first home loss came to No. 3 Seton Catholic Prep, 55-45.
Sheridan Edgewater drained a 3-pointer on a pass from Hailey Armus, pushing Flagstaff into a 14-13 lead after an 8-0 run that started late in the opening quarter and lasted two minutes into the second. It was Flagstaff's last time being out front for the night, as Shadow Mountain controlled the rest of the first half to go into the break ahead 27-17.
Gracelyn Nez and Emma Doskicz each had 11 points for the Eagles, who suffered their lowest scoring output this season. Edgewater contributed six points.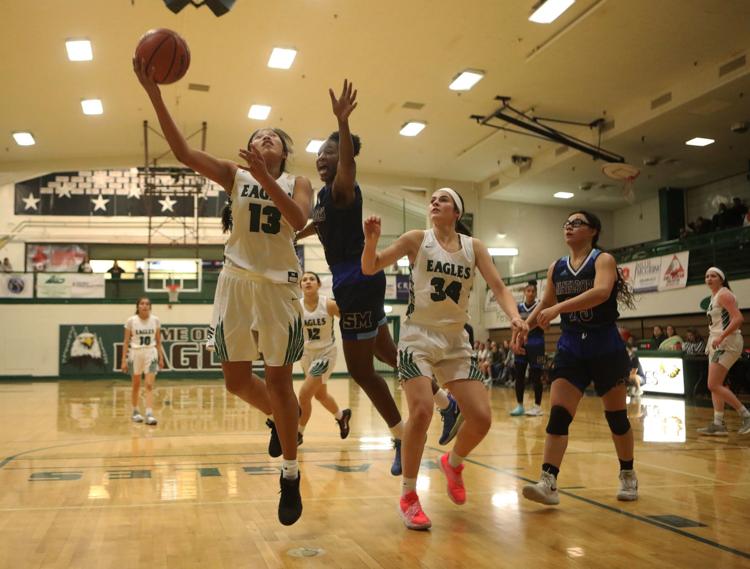 Josephine Faull tallied five points in the loss. The senior grabbed an offensive board and turned it into a basket inside early in the final quarter, cutting Flagstaff's deficit to 11. Shadow Mountain answered with a quick 6-0 tear in about a minute's span to hold a comfortable 50-33 lead with 4:30 left to play.
The Eagles will get in some tournament basketball during the break from the regular season, which will open again for Flagstaff on Tuesday, Jan. 8, in Cottonwood against Mingus Union.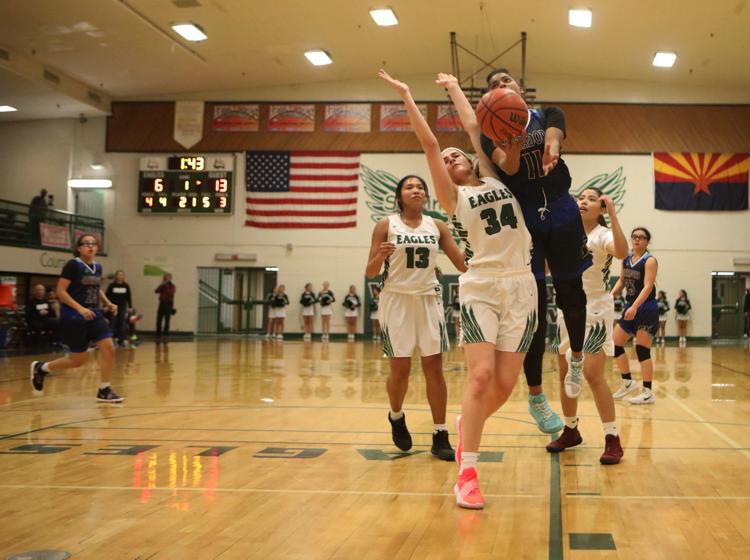 Flagstaff will be looking to make strides when putting in tourney work, if they want to get closer to where their coach feels they should be. 
"What's your psyche about now?" Johnson questioned about his team after the loss. "It's way too deep in the season to be doing the things we are doing."