Northern Arizona men's basketball wanted to change its offense heading into the new season, with a faster pace and ball movement priorities for head coach Jack Murphy and his new-look Lumberjacks.
The changes were glaring in a 97-82 season-opening win at Rolle Activity Center Saturday afternoon over the Jacksonville Dolphins (0-2) behind a 54-point second-half burst.
The Lumberjacks won their first season opener over a Division I school since 2003-04 and scored their highest point total in two years.
Transfer forward Bernie Andre led the way for Northern Arizona with 20 points and 14 boards in 26 minutes -- all team highs. The small-ball forward played a major role for Northern Arizona, keeping plays alive and pushing the pace.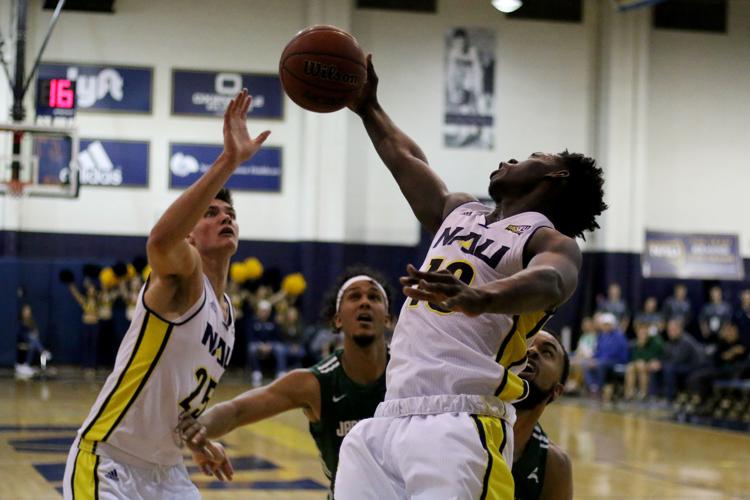 Standing just 6-foot-7, Andre was at a size disadvantage to Jacksonville's 6-foot-9 big man David Bell. Andre had some problems early in the game finding room in the lane and was blocked multiple times.
He said he figured that he needed to use his quickness to take advantage of the Dolphins traditional bigs.
"Regardless of where you put me on the floor, I will do what I gotta do," Andre said. "Rebounds are something I take pride in."
Andre's arrival gives Northern Arizona the type of player it has been missing the past few years: an inside-out force that allows the Lumberjacks to up the tempo and create havoc on defense.
"He gives us what we have been hurt by in the past: a smaller, mobile four man who's strong enough on the glass and mobile enough to be on the perimeter," Murphy said. "For Bernie, to be that good of a rebounder and that big of a force for us is an added weapon."
Northern Arizona started its four newcomers and returner Aziz Seck at the five -- a new position for him. The four first-year Lumberjacks, Ted McCree, Cameron Shelton, Davon Bolton and Andre, combined to score 56 points while the other six Lumberjacks scored 41.
Northern Arizona kept Jacksonville to just 12-for-29 shooting from the field and 1 for 10 from 3-point range to take a 43-30 advantage into halftime. The Lumberjacks defense forced 12 turnovers in the fast-paced half.
Northern Arizona followed the offensive show in the first with a blistering second half, opening on a 25-9 run to pull ahead 70-39. Northern Arizona hit five 3s in the surge -- two by Andre and McCree apiece, and one from Carlos Hines.
"We want to play fast," Murphy said. "We want to put people on their heels, especially here at home. I told the guys before I wasn't geography major in college, but I think Jacksonville is really close to sea level and we're at 7,000 feet."
The Dolphins matched the Lumberjacks' second-half pace, shooting 62.5 percent from the field and 6-for-13 shooting from beyond the arc. Dolphins forward Jace Hogan led the way for his team with 17 points on 7-for-11 shooting, doing damage when Northern Arizona went small.
With the offense clicking for Northern Arizona -- leading by as much as 32 points -- Murphy was visibly frustrated at times with his squad's defensive performance in the second half, but he said his team will learn how to handle leading by so much.
"If we are up 32, I can live with our defense in the second half," Murphy said. "We have to understand that when you're playing with a big lead like that, it's still stops and rebounds."
Northern Arizona finished 10 for 29 from 3-point range, and the only real glaring spot on offense was the team had struggles at the foul stripe in going just 15 for 25.
SHORT-HANDED IN SEASON OPENER
The Lumberjacks played without three upperclassmen in the season opener. Forward Isaiah Thomas is out indefinitely with a foot injury, forward Corey Brown is out with academic problems and likely won't be eligible until January, and guard Karl Harris was out for personal reasons.
Despite the missing trio, 10 players saw playing time, with nine scoring. Brooks DeBisschop, who played 25 minutes, and Hines led scorers off the bench with 12 and 10 points respectively.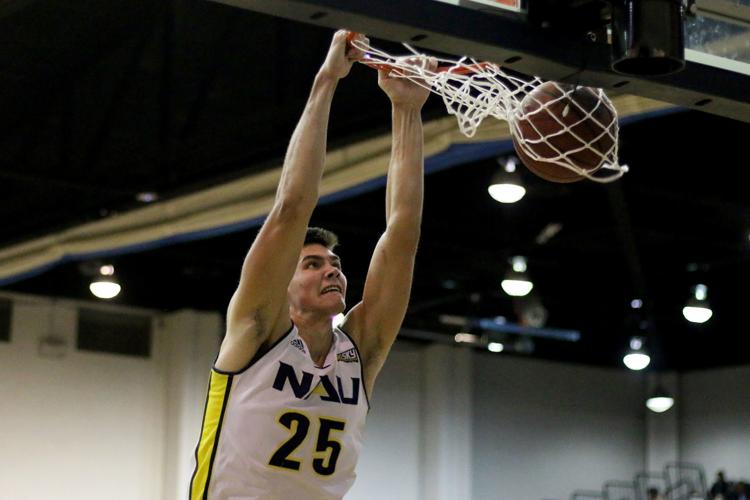 The offensive showing was much improved over last season when Northern Arizona eclipsed the 80-point mark twice in regulation and never scored over 90 against a D-I program.
NEXT UP
Northern Arizona hits the road for its next five games, with three coming next week. First up is South Dakota (1-0) on Monday, followed by Nebraska-Omaha and Hawaii.