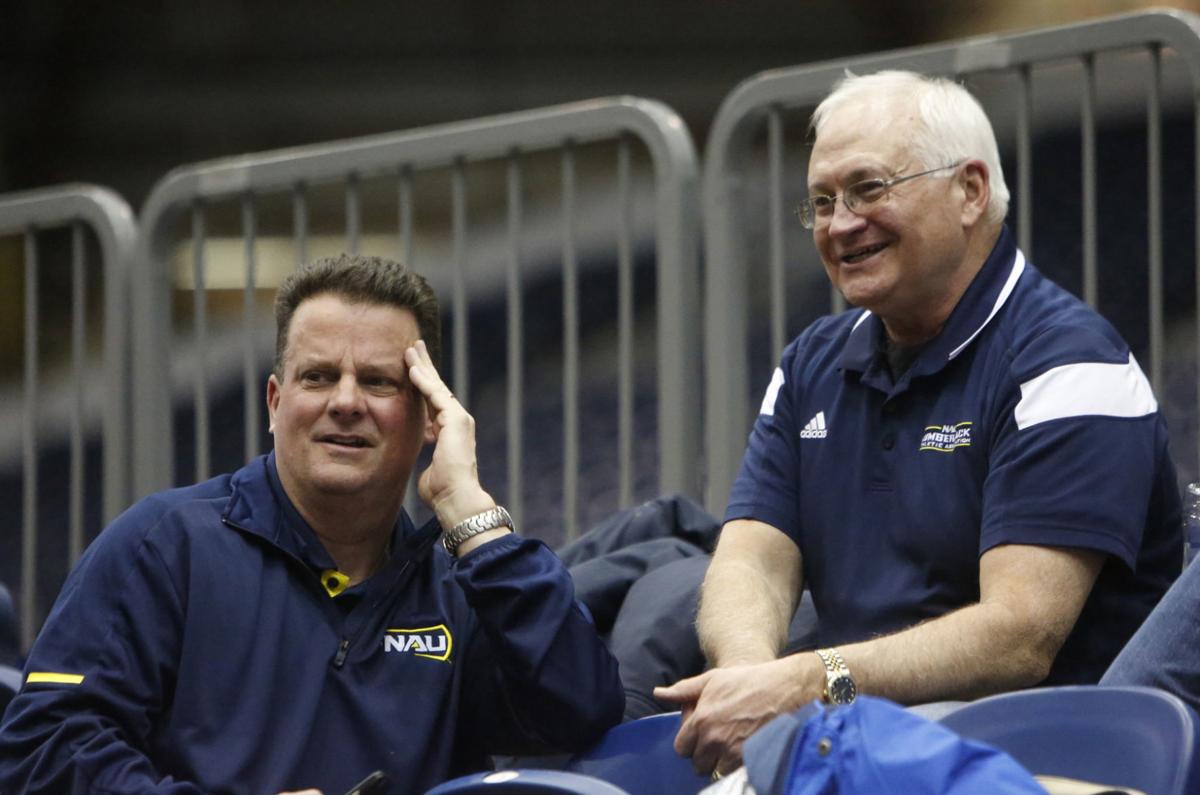 A month into his official tenure as Northern Arizona's vice president for intercollegiate athletics, Mike Marlow is checking items off of his to-do list while plenty of work still remains.
Rolling through more than 200 meetings with coaches, staff, student workers in the athletic department as well many others around the campus, Marlow said he spent his first six weeks in Flagstaff gathering as much information as possible.
"It's a very welcoming community, which has been awesome," said Marlow, who was hired away from Washington State to replace Lisa Campos in December. "It is a campus that wants to collaborate with athletics and expects athletics to collaborate with them. We are full of people that want to succeed across the board."
However, in the past two weeks Marlow has found his department receiving pushback as it pursues the university's first-ever fee dedicated solely to supporting the athletics department to the tune of $3.1 million annually. Hoping to charge each full-time student on the Flagstaff Mountain Campus a $75 per semester fee, Marlow and Northern Arizona's athletics department have held a series of open forums.
Beginning with the first forum on Feb. 12, and culminating in a pair on Wednesday, students have presented concerns about adding $150 to mandatory fees that already total more than $1,000 a year for a full-time student. And the increase to the annual Athletics budget would be nearly 17 percent.
Wednesday's forum included a few students pointing out Northern Arizona's promise not to raise tuition during a four-year stretch is a bit of false advertising if fees can be added at the discretion of the Arizona Board of Regents, who must give the final blessing to the plan.
Another worried the ABOR would simply ignore student concerns, given the recent precedent of athletic fee approvals for Arizona State in the Fall of 2014 and Arizona this past fall. A state audit released in January found Arizona State misusing nearly a half- million dollars on recruitment travel costs, with ABOR and the university countering that it was acceptable in the agreement with the Associated Students of Arizona State University as it was not used in the recruitment or contracts of coaches.
ABOR is also currently involved with a lawsuit brought by Arizona Attorney General Mark Brnovich claiming the regents are violating a constitutional provision that "instruction be as nearly free as possible."
Brnovich cited the current tuition and mandatory fees have risen exponentially in recent years as state aid has plummeted, with NAU's total cost to attend the Mountain Campus 325 percent higher now than it was in the 2002-03 academic year.
ATHLETICS ARGUMENT
In a less eloquent way, another student at Wednesday's forum suggested Northern Arizona's best avenue to generating more funding was to simply be better at basketball and actually win a playoff football game.
Marlow, as well as associate athletic director Matt Howdeshell and Jane Kuhn, vice president for enrollment management and student affairs, noted that all other Big Sky Conference universities have a similar fee in order to stay competitive.
"We are certainly sensitive to the rising costs of college scholarships and the cost of an intercollegiate athletic program, but there are certain basic things we have to provide," Marlow said. "The NCAA tells us what those things that we can provide are, so we have to play within this game as well as we can."
The university's administrators elected to hold off on providing a specific list of projects the fee's projected annual total of $3.1 million would fund. Instead, the plan description included the desire to create an advisory committee of students, athletic administrators and ASNAU members to discuss recommendations to the president.
However, the possible additions or repairs included fixing a leak in the Walkup Skydome roof, putting all-weather turf on one of the practice fields across San Francisco Street from the Skydome and building a performance center to house a multitude of services for students and athletics.
"There's two things we are trying to communicate. One, we have basketball teams practicing on a floor with garbage buckets on them catching raindrops. That's a problem," Marlow said of the Skydome, with an additional concern being the men's and women's programs sharing a locker room in the Rolle Activity Center. "And then we are also trying to be creative finding opportunities for the general student body."
When asked what the plan was to fund maintenance repairs such as the Skydome's roof, Howdeshell and Kuhn said it would remain on the deferred maintenance list until deemed absolutely necessary. Indirectly, the athletics fee could open up space in the maintenance budget for academic buildings as opposed to being split with athletic needs. Kuhn mentioned the work being done to the fieldhouse in the middle of campus as another active project that could potentially benefit from the fee.
Some students also inquired why NAU Athletics can't simply sustain themselves as Arizona and Arizona State do, with Kuhn answering their larger metropolitan areas provide a larger fan base, as well as their presence in the Pac-12 Conference allowing for additional funding via television contracts and the rest of the benefits of being a major Division-I program.
Sitting at $17,259,000 for 2017, including money for personnel, scholarships, operations and administration, the athletics department budget has risen nearly a million dollars since its $16,238,000 total in 2015. Well below the budgets of the other two public schools in the state, Northern Arizona also has yet to benefit from an athletics fee. Arizona's fee comes in at $50 per semester, with students still forced to pay for men's basketball and football tickets. Arizona State's $75 per semester fee matches that of Northern Arizona's proposal.
Currently the ASNAU and student activity fee of $48 per semester provides free attendance to athletic events, but also covers a wide array of other services such as student legal aid, funding for student organizations, campus speakers, activities and performances.
Marlow said he did his homework ahead of his hiring at Northern Arizona, but he had no idea the school was the only one in the state and Big Sky Conference without a dedicated athletics specific fee.
"You know what they say about assuming," Marlow said. "Well I assumed, given Arizona, a program with a $90-plus million budget, was just putting theirs through, well of course NAU has it. I knew the Big Sky schools in the area of the country where I am from had it, so why wouldn't NAU have it? So, yeah, that did catch me by surprise."
Venturing out of state and to Northern Arizona's direct athletic competition, the presentation to the students included a breakdown of other Big Sky Conference schools and their similar fees. Among the semester-based schools in the conference, Montana charges students $71 and Montana State a little higher at $78.75. On the higher end, Southern Utah ($103), Idaho State ($119.02), Sacramento State ($141) and Idaho (167.29) were cited as being much more costly to students.
"The reality is our competition right now is out having voluntary workouts, skeleton drills, etc. Where are our players doing that with convenient access to the locker room and training room?' Marlow said. "If we were to put an artificial turf on one of our practice fields, that benefits football, soccer and other student-athletes who want to get some work done outdoors. That would also benefit the student body for recreational space or intramurals."
Plans to pursue the fee predated Marlow's arrival, but he acknowledged he has done everything he can to assist moving it along in his short tenure.
Officials have proposed to cap the fee at $75 a semester until 2026 and keep athletic event attendance free through the date, when it would then be up for review. In response to what would be done with any portion of the $3.1 million left unspent each year, the athletics department said it would be left to the advisory council on how much could or should be saved annually to look ahead for future maintenance costs of new projects.
Kuhn used the current artificial turf at the South Recreation Fields as an example of planning ahead with fee money. The lifespan of the field was expected to be 10 years, meaning the turf would need to be replaced soon and student activity fee money has been saved to do so.
HOW TO BENEFIT STUDENTS
Hoping to make the fee worthwhile for its student base not interested in the success or performance of the university's athletic teams, the athletics department hoped to brainstorm ideas with the proposed advisory council on how to serve a wide range of students.
"It expands options and opportunities for everybody. Just for example a performance center, there could be unique things done at NAU from a learning perspective so all of the sudden our kinesiology students could have, for lack of a better description, an additional laboratory," Marlow said.
Going beyond just additional classroom space for degrees that could be expanded, Marlow said the athletics department wanted to expand opportunities in many fields.
"We have got to find avenues for the general student body to gain experience here," Marlow said, citing the graduate assistantships and internships Athletics provides in its marketing and communications offices, among others. "It's a small town and there's limited opportunities for our students to gain experience and get some jobs."
In agreement with ASNAU, the fee money could not be used for full-time positions or contracts in Athletics, preventing it from directly upping annual salaries of its coaches as a result of the additional money.
The university will also eventually need to add facilities, as the school is in need of additional women's scholarships to comply with Title IX. Marlow declined to speculate on what sport could eventually be added to Northern Arizona, with additional scholarships to existing sports impossible to add due to NCAA rules. Previous preliminary plans for the development around the university included either softball fields or beach volleyball courts.
"It is a big deal, because our opportunity balance is out of whack. We do need to address opportunities available to young women," Marlow said. "Now what those opportunities will be is something we need to understand the interest level on campus and the conference alignment. At the end of the day too, we want to win. We don't want to have a sport that we don't think we can win in and win big."