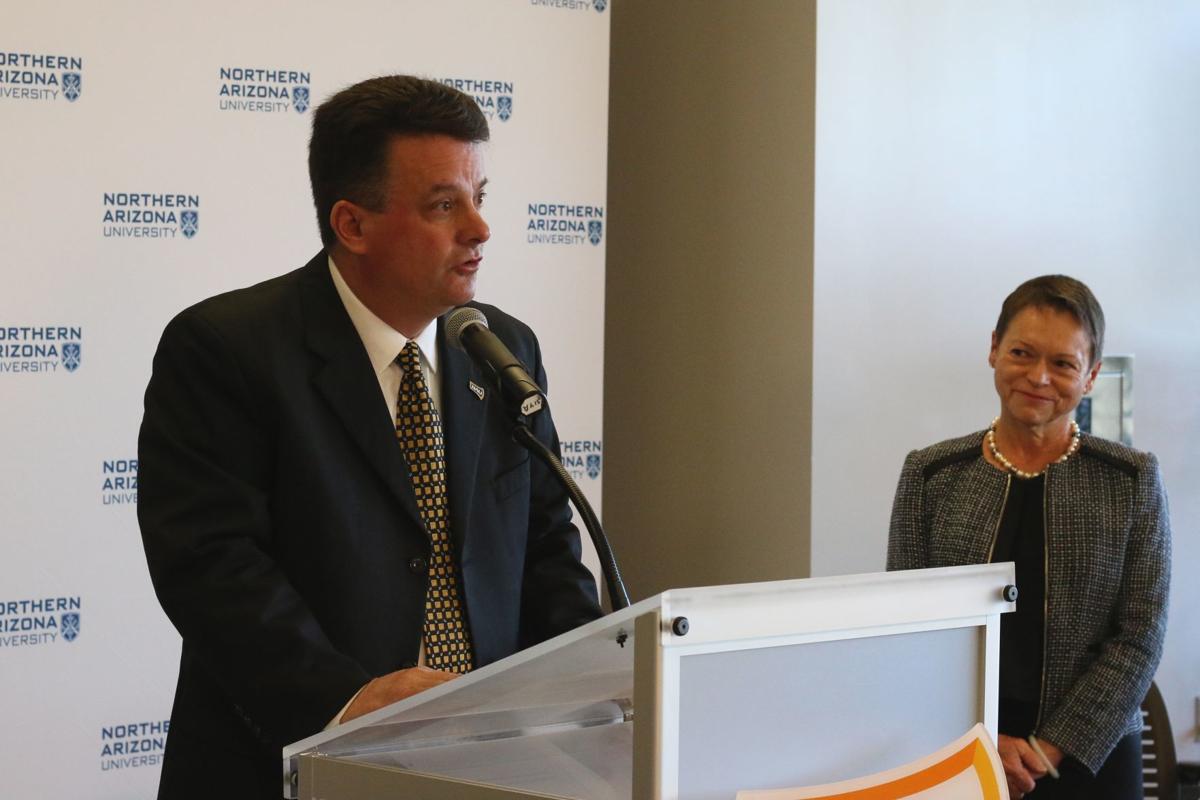 The Arizona Board of Regents approved new Northern Arizona University Athletics Director Mike Marlow's five-year contract two weeks ago, with his base salary set at $200,000.
The number comes in as the third-highest among Big Sky Conference athletic directors, with Sacramento State's Mark Orr ranking first at $250,008 and Weber State's Jerry Bovee second with $202,271, according to the numbers from the fall.
Marlow's potential bonuses took a jump from where they were for former AD Lisa Campos, while also being slightly more challenging to attain in some categories. The bonus for the department's cumulative GPA is now a minimum of a 3.0, leading to a one week's pay bonus and caps out at three weeks for a GPA at 3.5 or higher.
Similarly, APR scores need to be a minimum of 960 for a week's bonus and end at a three-week bonus at a score of 980. Previously the ranges listed in Campos' contract were 3.15 to 3.25 and 955 to 965.
Other slight changes in the bonus structure included the football team needing a top-three finish in the Big Sky for a two-week bonus versus a tie or outright first-place finish. Conference titles in tennis, soccer, volleyball, track and field, golf or cross country will also now lead to an additional week's salary bonus. A national title, such as that of the men's cross country team the past two years, will grant Marlow a four-week's salary bonus.
Termination by Northern Arizona without cause would leave the university paying 50 percent of the remaining base salary, with offsetting language should Marlow be hired to another position. Similarly, Marlow would owe the school 50 percent of the base salary on the contract should he terminate the contract voluntarily.
The new athletic director also worked quickly to fill the other hole left at the top of Northern Arizona's athletics department. Marlow named his former Washington State coworker Uri Farkas as Northern Arizona's new senior associate athletic director for external operations and development at the end of January.
Citing the external operations position as an attractive perk of the Northern Arizona job, Marlow said prior to Farkas' hiring, it allowed him to hire someone he was familiar with. A graduate of Montana prior to stops at Oregon, California and Washington State, Farkas' background provided Marlow with the experience he wanted in the position.
"He started on the academic and compliance side of things, he's worked in alumni relations the last several years with a heavy development focus," Marlow said. "There's a lot of things I really like about Uri, but most importantly is he understands the Big Sky Conference and he has seen intercollegiate athletics at the highest level."
With both Marlow and Farkas seeing the success of Big Sky schools like Montana or Eastern Washington, given their presence in the region, the hope as always is to reach a similar level.
"They have grown to that point, it wasn't always that way, it wasn't always like that," Marlow said of Montana's consistent success in multiple sports. "It is a very realistic goal to say our goal is to make everybody in the league want to be NAU, because there was a time when Montana had that goal and in some circles has achieved it."